Deborah Ramirez's Statement On Kavanaugh Promises Survivors "Will Not Be Silenced"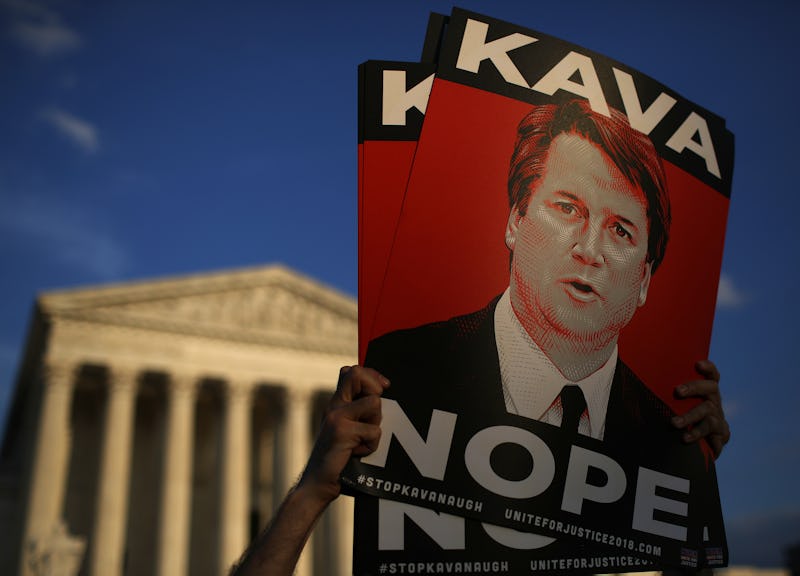 Win McNamee/Getty Images News/Getty Images
The second woman to accuse Judge Brett Kavanaugh of sexual misconduct has slammed legislators supporting the Supreme Court nominee in a statement released just hours before the Senate's expected final vote. In response to news that support from GOP Sen. Susan Collins had made Kavanaugh's confirmation extremely likely, Kavanaugh's second accuser claimed senators were "isolating and silencing" sexual assault survivors by "deliberately ignoring his behavior." However, in her statement on Kavanaugh possibly being confirmed, Deborah Ramirez also vowed survivors "will not be silenced."
"Thirty-five years ago, the other students in the room chose to laugh and look the other way as sexual violence was perpetrated on me by Brett Kavanaugh," Ramirez said in a statement released by her lawyer early Saturday. "As I watch many of the Senators speak and vote on the floor of the Senate I feel like I'm right back at Yale where half the room is laughing and looking the other way. Only this time, instead of drunk college kids, it is U.S. Senators who are deliberately ignoring his behavior. This is how victims are isolated and silenced."
As was first reported by The New Yorker, Ramirez has alleged that Kavanaugh, then a freshman at Yale, exposed himself to her and thrust his penis in her face, forcing her to touch it unwillingly as she moved to push him away, while the two were at a dorm party held sometime during the 1983-1984 school year.
Kavanaugh has denied Ramirez's allegations along with those levied against him by California professor Christine Blasey Ford, who accused him of sexually assaulting her at a high school party in 1982. In a prepared statement delivered to the Senate Judiciary Committee, Kavanaugh attempted to characterize Ramirez's allegation — as well as those from a third woman — as "last-minute smears, pure and simple."
In her statement, Ramirez went on to imply that the FBI investigation into the sexual misconduct allegations levied against Kavanaugh had not been thorough enough, noting that her corroborating witnesses were "not allowed to speak to the FBI" as part of its investigation. According to NPR, the FBI spoke with only nine people as part of its investigation into the allegations of sexual misconduct against Kavanaugh. The bureau has come under some criticism for failing to speak to a number of individuals considered key to the claims, including Ford.
The Senate is expected to vote on Kavanaugh's nomination to the Supreme court Saturday afternoon after weeks of tumultuous and divisive political sparring over the issue. And while last-minute support from Republican Senators like Collins, Jeff Flake and Democrat Joe Manchin on Friday appeared to make Kavanaugh's confirmation to the Supreme Court all but a sure thing, Ramirez appeared hopeful for what Kavanaugh's confirmation hearings might have kickstarted nationally.
"There may be people with power who are looking the other way, but there are millions more who are standing together, speaking up about personal experiences of sexual violence and taking action to support survivors," she said. "This is truly a collective moment of survivors and allies standing together."
"We will not be silenced," she added. "We stand in truth and light."