Kavanaugh Suggested You Should "Ask The Moms" About His Record On Women's Equality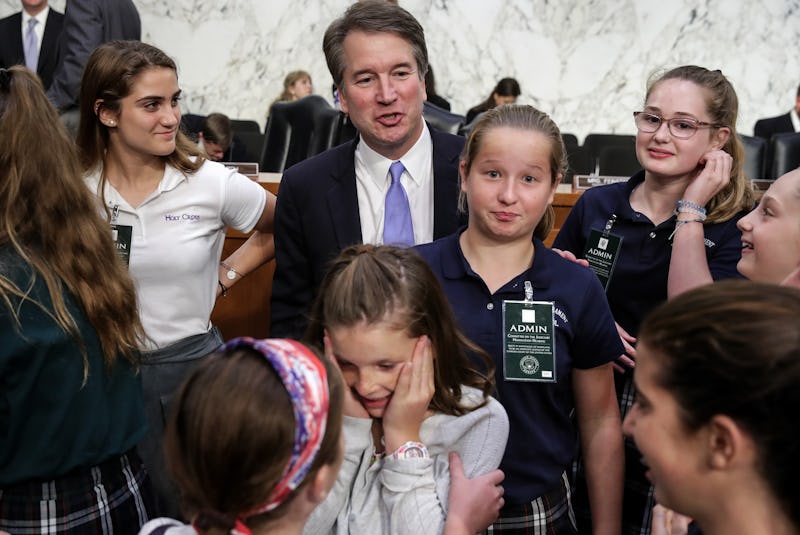 Drew Angerer/Getty Images News/Getty Images
As he pushed back against sexual assault allegations ahead of Thursday's Senate hearing, Brett Kavanaugh brought up his record on women's equality Monday evening. The judge defended himself in an interview with Fox News, and in it, Kavanaugh says he's a champion of women's equality for his decade-plus promotion of female law clerks and his coaching in girls' basketball.
Kavanaugh brought up his record with up-and-coming female attorneys right after telling Fox News' Martha MacCallum that he was a virgin at the time Dr. Christine Blasey Ford alleges he assaulted her. The 53-year-old nominee went on to talk about his high school friends — both men and women, he pointed out, who currently support him — before transitioning into his work toward promoting women's equality. Kavanaugh told MacCallum:
In my job, as a judge for 12 years, I've been promoting women's equality. There was a problem with women law clerks getting hired at the Supreme Court. I am the leading federal judge in the country – the leader in the entire country of promoting women law clerks to get Supreme Court clerkships. For the last seven years, I've been coaching girl's basketball. Ask the moms.
In July, 18 women who served as law clerks for Kavanaugh wrote a letter to the Senate Judiciary Committee to highlight his record of hiring women clerks, according to the Associated Press. The letter encouraged senators to confirm him, calling him "one of the strongest advocates in the federal judiciary for women lawyers."
In the same letter, according to the Associated Press, the women said Kavanaugh hired more women than men as law clerks during his time as a judge and that he has sent 84 percent of these women to Supreme Court clerkships.
Kavanaugh's claim as the top federal judge to secure women clerks spots at the Supreme Court wasn't immediately verifiable. However, according to Above the Law, from 2009-2013, Kavanaugh was the top feeder judge for the Supreme Court, meaning he did send more of his own former clerks on to clerkships at the highest court in the land. In 2014, he secured Supreme Court clerkships for five of his law clerks, two of whom were women, Above the Law reported.
But while Kavanaugh is a top feeder judge, it's unclear how many women he sent on to the Supreme Court throughout his career compared to another top feeder judge, Merrick Garland, who was nominated by President Obama to the Supreme Court only to be denied hearings by GOP congressional leadership.
During the interview, Kavanaugh also gestured toward his time as a basketball coach to show his dedication toward women's equality. He brought in his daughter's team to the hearing, which some on social media saw as too much.
But others, including Kellyanne Conway, defended his character, saying his role as a coach and the support from the mothers of the players he coaches serve as proof of his integrity.
In a letter to the Senate Judiciary Committee leadership, parents of the girls on Kavanaugh's basketball team vouched for the nominee's integrity.
"On the sidelines during games, he led by example. He was composed and respectful," the letter read. "He encouraged his players in a positive way to be as competitive as they could be. Most importantly, though, his players had fun, and they all came away from the experience with great memories of their time playing for 'Coach K.'"
Kavanaugh has a lot to address ahead of Thursday's hearing. With Michael Avenatti threatening to release more damaging information, it's likely Kavanaugh will lean on his female law clerk record and coaching role to push back against the accusations and criticisms of his character.
If you or someone you know has been sexually assaulted, call the National Sexual Assault Telephone Hotline at 800-656-HOPE (4673) or visit online.rainn.org.