Kehlani's Quotes About Making Music For LGBTQ Audiences Shows How Rare It Actually Is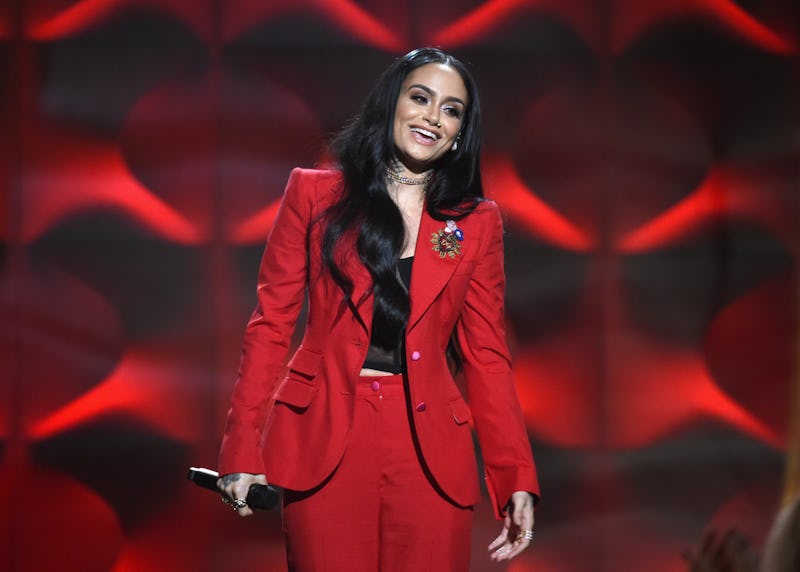 Michael Kovac/Getty Images Entertainment/Getty Images
Kehlani and Hayley Kiyoko's new music "What I Need" video unapologetically features a gay love story, and both musicians have openly identified as queer. But Kehlani's comments about making music for LGBTQ audiences in an interview, published via The FADER on Friday, revealed that it wasn't until fairly recently that she realized the power of using female pronouns for love interests in her songs or appearing opposite other women in her videos.
Kehlani and Kiyoko have been two of the most outspoken LGBTQ advocates in the industry, and both have featured same-sex love stories in their videos and lyrics. And to celebrate the release of their new "What I Need" video, the two singers interviewed each other for The FADER. In the interview, Kehlani opened up about making the decision to use female pronouns in her song, and why her 2017 song "Honey" was a turning point for her. "I like my girls just like I like my honey: sweet," Kehlani sings in "Honey." The reaction from her fans, Kehlani tells Kiyoko, changed how she thought about pronouns in her music.
"I mean, I've been making music about women my whole career, but I never felt the need to write 'she,' necessarily. It wasn't in the forefront of my mind. But now I've seen how people reacted to my song 'Honey,' or when I've used the correct pronouns and put women in my music videos. Just seeing how much people felt like they needed that representation or how much it inspired them definitely encouraged me to step into this new phase of making music."
Kehlani also said the idea that women in the music industry aren't supportive of one another is largely a misconception, and noted that it was especially exciting for her to work with another queer artist.
She told Kiyoko,
"People have this stigma about women in the industry really not f*cking with each other. To some extent it's true, but every single queer person in the industry has this natural pull to each other, this natural incentive to really want to support and work with each other. It's been a blessing to not only meet you but work with you and build with you and make something that really inspired a lot of people."
"What I Need" appears on Kiyoko's debut album, Expectations, and she echoed that seniment, telling Kehlani that the reaction from fans to the video — which opens with Kehlani's character fighting with her aunt, who doesn't accept her sexuality — has been particularly moving. "People watch the opening scene of this video and go, 'I remember my mom or my dad telling me those exact words,'" Kiyoko said. "When I watch that opening scene, it really hits me, because I'm like, 'Wow, I've heard that said to me.' To be able to share that with other people is such a beautiful thing."
While other artists and members of the LGBTQ community like Troye Sivan, Tove Lo, and Halsey, have also used pronouns indicating same-sex love interests in their songs, the practice is still relatively uncommon among musicians in commercial pop music. And some attempts at inclusion have been poorly received by members of the community.
Both Kehlani and Kiyoko recently shared their thoughts on the controversy surrounding the song "Girls" by Rita Ora, Cardi B, Charli XCX, and Bebe Rexha, which many found insensitive to the LGBTQ community. In a note on Instagram on May 11, Kiyoko wrote that the track "fuels the male gaze while marginalizing the idea of women loving women," but said she did not think it was intentional on the part of the artists involved. According to Billboard, that same day, in a series of now deleted tweets, Kehlani said the lyrics were "harmful," and while she also had no personal issue with the artists, she thought "certain quotes weren't progressive." Cardi and Ora later apologized and voiced their support for the LGBTQ community.
Kehlani and Kiyoko's openness and the specificity in their music is rare and exciting, especially given the current sociopolitical climate. Here's hoping more artists follow their lead and help to bring more much-needed LGBTQ representation to the mainstream.