Keira Knightley Just Made A *Seriously* Important Point About Period Dramas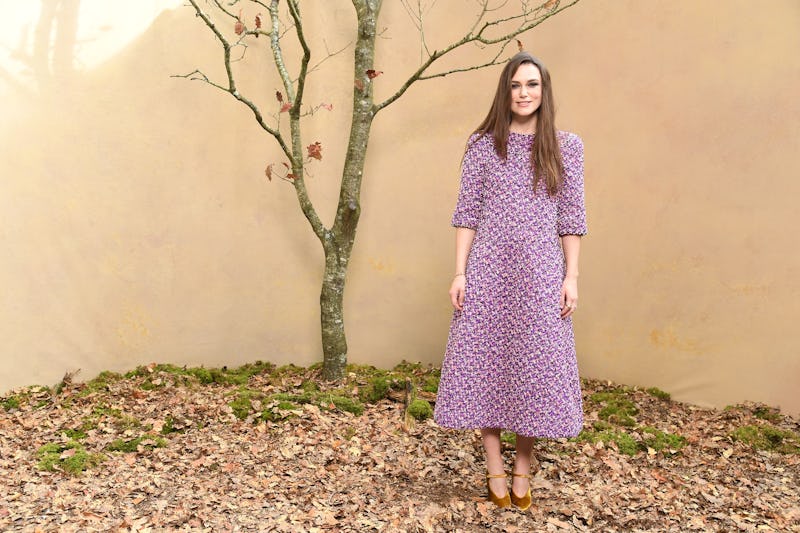 Pascal Le Segretain/Getty Images Entertainment/Getty Images
Let's play a game of word association. If I say "Keira Knightley," I'm guessing one of the first things that pops into your mind is "period dramas" (along with perhaps, "amazing bone structure"). Knightley loves a good historical film, and she's pretty damn incredible in every one she stars in. But her support for the genre doesn't end there, at Toronto Film Festival, Keira Knightley defended period dramas in a seriously feminist way.
Knightley has previously starred in a large number of other period dramas, from Pride and Prejudice where she played lead Elizabeth Bennett to her role as an expert codebreaker in The Imitation Game, Anna Karenina (in the film of the same name) and Russian physician Sabina Spielrein in A Dangerous Method.
But it was while discussing her new movie Colette with The BBC, that Knightley spoke out on the reception of period films. "There's a negativity around them because predominantly they're female," she said. The actress went on to note that despite expectations, there are plenty of inspiring women in these kinds of movies.
"The strongest characters I've found have been in period roles. I also like the idea of breathing life back into what is gone. In a funny way, it's resurrecting the dead," she added.
Knightley was at the film festival to promote her upcoming movie Colette, a story about a female writer named Sidonie-Gabrielle Colette, who is forced by her husband (played by Dominic West) to use his name on her works. As time goes on and the books become successful, she begins to fight against her husband's demands, taking on the restrictive gender norms of the early 1900s. The feminist story proves Knightley's point that period dramas can be a very powerful and interesting way to explore gender issues that still affect society today.
Little wonder than that, as the actress told the BBC, she felt "instantly felt connected" to the role and Colette's history. "I stood very tall when I played Colette," Knightley said. "She was a maverick." The actor added that she believes the role is "very relevant" to the current culture and how gender roles are changing.
"[Colette is] the story of a woman who's finding her voice and her true self and allowing herself to live courageously," she explained. Knightley previously spoke to Associated Press about her favourite kind of roles to play, "I've always looked for strong women. I've always considered my work political," she said.
"[Colette] was set a hundred years ago but it feels so current and it's talking about all of the things that I'm interested in whether it's sexual politics or gender politics or feminism. I was amazed that that was all being discussed 100 years ago and we haven't moved that far along," Knightley continued.
Colette will hit UK cinemas in January 2019 and I, for one, can't wait to settle down in the cinema with a big bucket of popcorn to watch this feminist tale with fabulous costumes.