This Clip From Keira Knightley's 'Colette' Spotlights A Writer Who Deserved So Much More Credit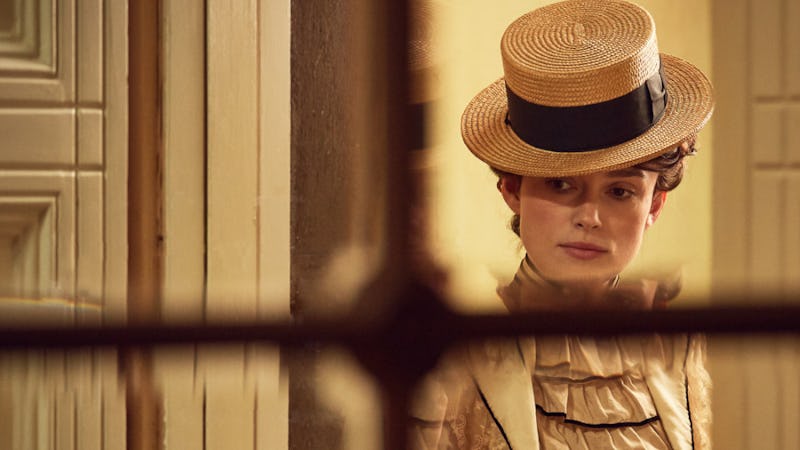 Bleecker Street
Oscar, take notice: Keira Knightley is not playing around. In her new film Colette, the 33-year-old actor puts in one of the most impressive performances of her career portraying the real life French author, Sidonie-Gabrielle Colette. In Paris at the turn of the 20th century, Colette ghostwrote a series of novels for her husband, who went by the single name Willy, and the books became a bestselling cultural sensation. But Colette tired of seeing her husband take all the credit for her hard work, and she eventually stepped out from the shadows to claim her rightful accolades.
The film, out Sept. 21, shows more than just Colette's efforts to break free of her husband's oppression, though — it shows how her fire and drive helped spark a feminist revolution. The books Colette wrote under Willy's name were semi-autobiographical in nature, and told the story of a young French country girl named Claudine who is headstrong and in control of her own destiny — radical ideas at the time. The Claudine books were also scandalous for their portrayals of sexuality, and proved especially popular among young women in France. The film depicts how the books' cultural impact, as pointed out by and encouraged by Colette's lesbian lover Mathilde de Morny, Marquise de Belbeuf (Denise Gough), ultimately sets Colette on a course of independence.
As a woman striving for her independence and recognition in Europe over 100 years ago, Colette naturally faced a lot of resistance from the male establishment. As seen in the exclusive clip below, Colette and de Morny encounter an angry and violent mob at a shared performance, but the abuse they endure — which includes the throwing of furniture at the author — does not deter Colette from seeking out the respect she deserves. If anything, it just leaves her with more resolve to do what's right, thus paving the way for other women to follow in her footsteps.
Without spoiling the film, it deserves to be said that Colette did succeed in earning some much-deserved recognition for her writing in her lifetime. Following her divorce from Willy in 1910, Colette was able to begin her writing career anew, and under her own name rather than her husband's. She released a number of acclaimed works, including the 1910 novel La Vagabonde, which she based on her own experiences as a single woman who begins performing as a dancer after splitting from her husband. She also wrote the 1920 romance Chéri, which was turned into a 2009 film starring Michelle Pfeiffer. Then there is her best-known work, the 1944 novella Gigi, which was adapted into a film in 1958 that won the Oscar for Best Picture. All of these works were likely taken into consideration when Colette herself was nominated for the Nobel Prize for Literature in 1948.
Though Colette passed away in 1954, thus missing out on some of her work's most notable film adaptations — including Knightley's inspiring depiction of her in Colette — she was at least able to experience a portion of the respect she deserved while she was still alive, even if she did have to fight for every scrap of it.