Kelly Clarkson Slayed The 2017 AMAs, And That's All You Need To Know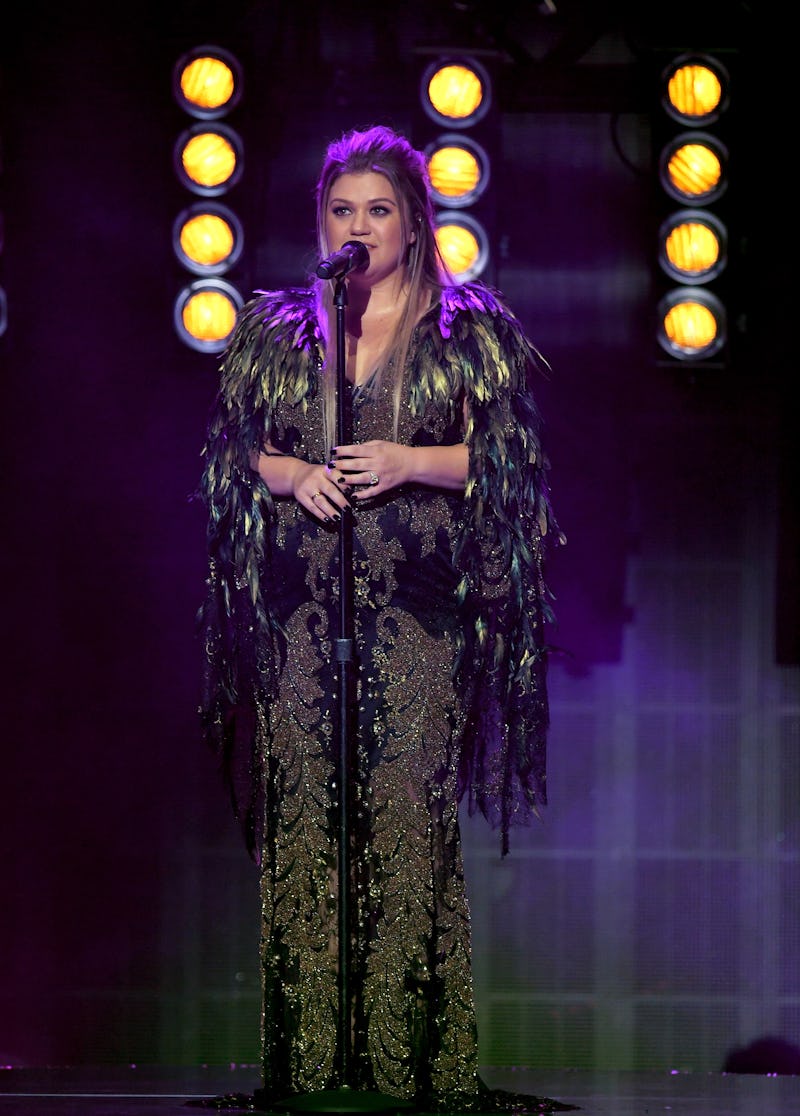 Kevin Winter/Getty Images Entertainment/Getty Images
Sorry, uh, everyone else at the American Music Awards. There is one queen of pop music, and she is back, risen from years of, well, still singing. Kelly Clarkson's 2017 AMAs performance slayed. There is no other way to put it — the American Idol winner (the OG American Idol winner, at that) took to the stage and showed us why she won the thing in the first place. It was one part past, one part present, and all parts amazing belting diva.
Clarkson opened up the 2017 American Music Awards with Pink, singing a duet of "Everybody Hurts" by R.E.M. in tribute to the first responders of the many, many awful things that have happened this year. But after that performance was over, the night got a little lighter — Pink performed on the side of a building, and Clarkson appeared on stage, covered — nay, draped — in feathers like the warrior queen she is, was, and ever shall be, world without end. Clarkson started things out with her first big single, "Miss Independent." I know that "A Moment Like This" fans will grapple with me about which single was most important, but you can't have a scream-sing-in-your-car-while-asserting-that-you're-fine-alone-but-a-relationship-isn't-bad-to-have to "A Moment Like This." Watch the performance at the link below if you don't believe me.
After "Miss Independent" came Clarkson's newest single, "Love So Soft," off her latest album, Meaning Of Life. Both the amazing outfit and the choreography were a nod to the song's video, which also slays. The song has already hit No. 1 on the Billboard Dance Club Songs chart.
Clarkson's performance at the 2017 AMAs once again underlines that she is, without a doubt, the best singer to ever — yes, ever — come out of American Idol. Sure, Carrie Underwood is mega talented, too, but Clarkson smashes every song that she sings, and her ability to sing it all — from standards to hip-hop to country — shows just how talented she is. She's done it all and will continue to do it all, and she genuinely doesn't care what people say about her. She's doing her thang, y'all. I wouldn't care what people were saying about me either if I had Reba McEntire on speed dial, either, if we're being honest.
And though Clarkson has a new album out, that doesn't meant she's put anything else on the back burner. She's a wife and a mother — she walked the 2017 American Music Awards red carpet with her two daughters, Savannah, 16, and River Rose, 3 — and she'll be joining The Voice as a coach in 2018. If you're scratching your head as to why Clarkson would join a show that's in direct competition to the one that made her famous, well, Clarkson has an answer for that. She told Ellen DeGeneres that there was talk of reviving Idol before it got canceled, but Clarkson absolutely could not wait for the producers to call her up. Who knows how long it would take? "I thought, 'When?' In five or 10 years. I didn't know. But I didn't know they meant the next year," said Clarkson. She "had already been in talks with The Voice" when it was announced that Idol would return, so, as my father likes to say, you snooze, you lose. Though to be fair, I don't think that anyone thought that American Idol would be revived two years after it ended.
Though Clarkson has other stuff going on, it's nice to see that she is still performing like she used to — loud, proud, and totally in charge.