Kellyanne Conway Says Any Man In Office Who Has Mistreated Women Should "Step Aside"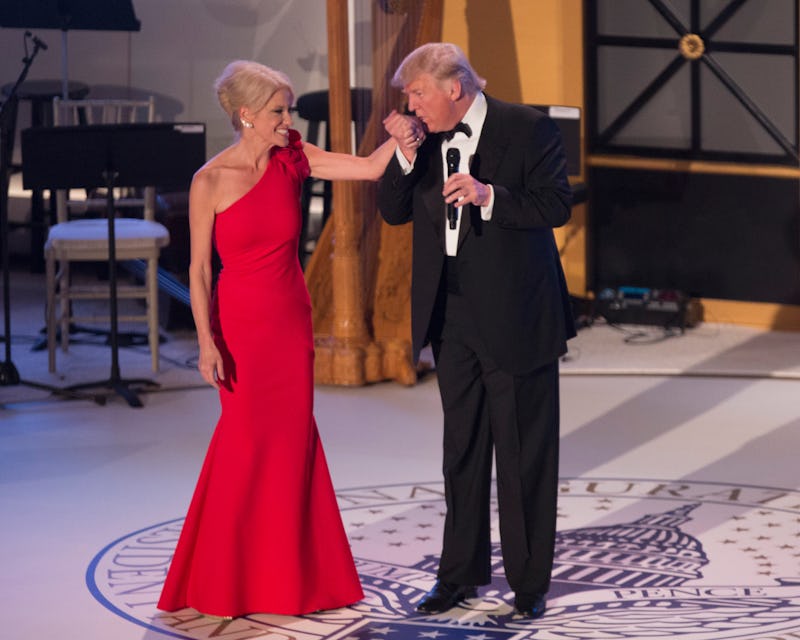 Pool/Getty Images News/Getty Images
On Sunday, Counselor to the president Kellyanne Conway said any public figure who's mistreated women should step down. Conway's comments came in an interview with ABC News' This Week when she was pressed about her thoughts regarding the allegations of sexual misconduct levied against Roy Moore, a Republican candidate running in Alabama's Senate race.
Initially Conway refused to state whether or not she had any doubts about the allegations recently made against Moore, saying only that Moore should step aside "if the allegations are true."
"I said very early in this process that the conduct as described should disqualify anyone from serving in public office, and I'll stand by that," Conway said. "Everybody should know that conduct is disqualifying." She went on to say the allegations about Moore were "disturbing" and had greatly offended her "as a woman, as a mother of three young girls."
However, Conway was careful to say that "Mr. Moore has denied that conduct." Yet as This Week host Martha Raddatz continued to press her on the topic, Conway admitted that anyone in public office who has mistreated women should step down.
"If there's anyone currently in public office who has behaved that way to any girl or woman, maybe they should step aside," Conway said. "In a country of 330 million people, we ought to be able to do better than this."
Currently, at least 16 women have come forward (on the record) to accuse Donald Trump — a man Conway helped get elected — of sexual misconduct. Those accusations range from assault, unwanted groping, nonconsensual kissing, sexual harassment, and walking in on women while they were in various stages of undress. Trump has strongly denied these allegations and has called his accusers "liars."
Moreover, Trump's press secretary, Sarah Huckabee Sanders, said the White House's official position is that all of the women who have accused the president of sexual misconduct, assault, or harassment are lying. "We've been clear on that from the beginning," Sanders told a reporter from CBS News during an Oct. 27 press briefing.
In a bombshell report published Thursday by the Washington Post, Leigh Corfman accused Moore, Alabama's Republican Senate candidate, of allegedly initiating a sexual encounter with her when she was just 14 years and he was 32. Three other women also told the Post that Moore had either supposedly pursued or attempted to pursue them when they were between the ages of 16 and 18 and he was in his 30s. None of those women reported having been forced into in a relationship or sexual activity with Moore. Moore, who is now 70, has denied the allegations, calling them "completely false" and "a desperate political attack by the National Democratic Party and the Washington Post on this campaign."
The allegations have left Republicans in Washington divided over whether or not to support the Alabama Senate candidate. And in a statement delivered Friday by his White House press secretary, President Trump appeared to be trying to cast doubt over the allegations against Moore.
Like most Americans, the president believes that we cannot allow a mere allegation — in this case, one from many years ago — to destroy a person's life. However, the president also believes that if these allegations are true, Judge Moore will do the right thing and step aside.
But Trump's decision to stress that allegations Moore pursued romantic or physical relationships with teenagers were "from many years ago" and "a mere allegation" appeared in stark contrast to remarks from other high-profile members of the Republican Party.
"Innocent until proven guilty is for criminal convictions, not elections," former Republican presidential nominee Mitt Romney said in a tweet Friday. "I believe Leigh Corfman. Her account is too serious to ignore. Moore is unfit for office and should step aside."
"The allegations against Roy Moore are deeply disturbing and disqualifying," Republican Sen. John McCain wrote in a tweet. "He should immediately step aside and allow the people of Alabama to elect a candidate they can be proud of."
But Conway appeared to echo Trump's message about not allowing an allegation to destroy someone's life in her interview on ABC News"I also want to make sure that we as a nation are not always prosecuting people through the press," Conway said. "He has denied the allegations. It would be a very dangerous precedent for any of us, for any person in this country to just be cast aside as guilty because of press reports." But even before Conway and Huckabee Sanders made these statements, the White House's attitude towards sexual misconduct allegations were clear.