Kellyanne Conway Consulted For The The Planned Parenthood "Sting" Video Makers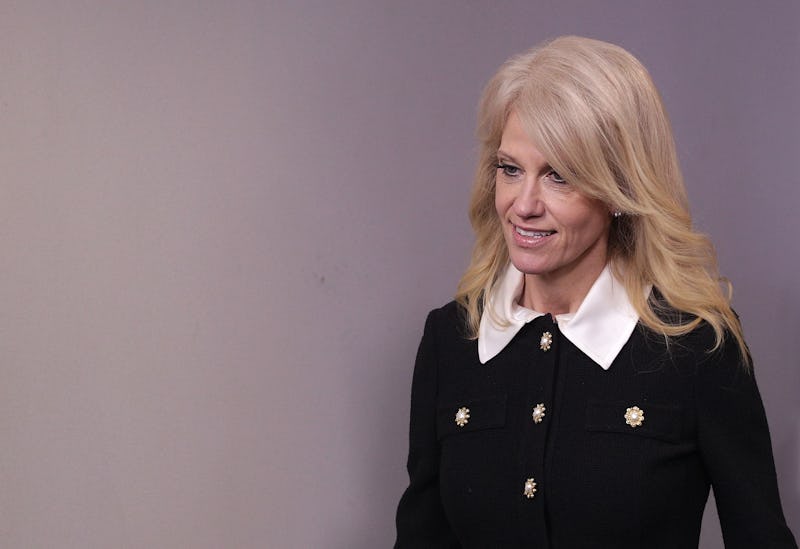 Alex Wong/Getty Images News/Getty Images
Last week, Rewire reported that recently-revealed financial disclosure forms show that Kellyanne Conway consulted for the Planned Parenthood sting video creators via their organization called the Center for Medical Progress (CMP). The CMP is currently under criminal investigation in California for allegedly using false identities to secretly record conversations with abortion providers and to inaccurately characterize Planned Parenthood as profiting from the sale of fetal tissue after abortions.
News that Conway once consulted for the Center for Medical Progress came via her Executive Branch Personnel public financial disclosure report, which was released by the White House on March 31. In addition to consulting for the CMP, Conway's financial disclosure report also revealed that she has previously consulted for a variety of other anti-choice and conservative advocacy groups, including the Susan B. Anthony List, Students for Life of America, Concerned Women for America, and the National Right to Life Committee, according to Rewire.
Conway's consultancy for CMP is particularly controversial because of the recent legal troubles in which the organization has found itself. Two CMP employees — David Robert Daleiden, the founder, and Sandra Susan Merritt, a project lead — were recently arrested and charged with 15 felony counts for invading the privacy of medical providers by allegedly fictitiously depicting themselves as employees of a biomedical research company seeking to buy fetal tissue. Daleiden and Merritt recorded their interactions with these medical providers and posted them on CMP's website, where they erroneously accused Planned Parenthood of profiting from the sale of fetal tissue. The pair were arrested and charged because, in California, it is illegal to record a conversation without both parties' consent.
While the accusations made in the videos have been disproven — Planned Parenthood does not profit from the sale of fetal tissue; it merely recoups the costs involved in preserving any fetal tissue it chooses to donate — the video nonetheless caused massive outcry among pro-life supporters and advocacy organizations and became fuel for politicians to seek to limit abortion rights. According to CNN, "The videos became an intense topic on last year's campaign trail, with Republicans using them as evidence to call for the dismantling of Planned Parenthood, while Democrats rallied around the organization."
To be clear, Kellyanne Conway was not in involved with the making of the Planned Parenthood sting videos; she merely previously consulted for the embattled organization which produced them. However, Conway's previous involvement with the organization, in addition to her consulting for a myriad of other highly conservative advocacy organizations, serve to shed some light on Conway's former professional pursuits and on the conservative influences which have likely shaped her worldview and her subsequent role as a Presidential adviser.