Kellyanne Conway Denied The Acosta Video Had Been Altered In A New Interview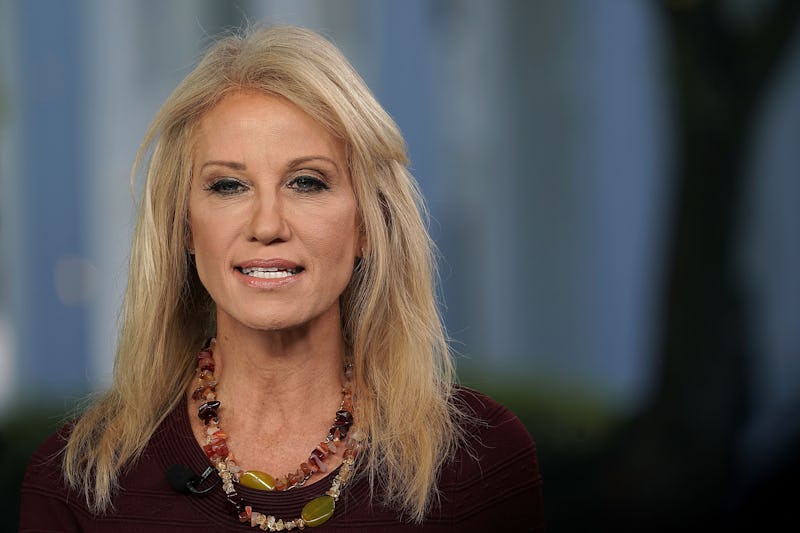 Alex Wong/Getty Images News/Getty Images
The White House has been under fire both for revoking Jim Acosta of CNN's press pass and for the video Press Secretary Sarah Huckabee Sanders tweeted as the reasoning. Experts say the video was altered to exaggerate the moment where Acosta brushed a White House aide's arm when she tried to take the microphone from him. Sunday on Fox News, Kellyanne conway would have none of that. Conway said the Acosta video wasn't "altered" but rather "sped up."
She was speaking with Chris Wallace who broached the subject on Fox News Sunday and said that the video was "altered to make it look more like a physical confrontation than it was."
Conway immediately pushed back on the language Wallace used. "Well, Chris, first of all, what do you mean by 'edited' or, as others are saying, 'doctored' video?" Conway asked. "He either put his hands on her and grabbed the mic back or he did not and he clearly did."
"No, he clearly did," Wallace responded. "But the video was altered."
Conway then doubled down on the argument about the video. "By that do you mean sped up?" Conway asked. "Well that's not altered. That's sped up. They do it all the time in sports to see if there's actually a first down or a touch down. So I have to disagree with the, I think, overwrought description of this video as being doctored as if we put somebody else's arm in there."
Chris Korman, a sports writer for USA Today's For The Win, wrote an opinion piece saying that the comparison to sports doesn't make sense. "Even the most casual of sports fans would know that instant replay relies on slow motion, so as to allow for a better look at plays that happen quickly in real time," Korman wrote.
As for the video, an independent expert hired by the Associated Press found that the video had been altered, the news agency reported. Abba Shapiro told the AP that the beginning had been slowed and then later, when Acosta brushed the aide's arm, the video was sped up to make it look like his arm was moving faster than it really was.
White House News Photographers Association President Whitney Shefte also denounced the White House for sharing the video. "As visual journalists, we know that manipulating images is manipulating truth," Shefte said. "It's deceptive, dangerous and unethical. Knowingly sharing manipulated images is equally problematic, particularly when the person sharing them is a representative of our country's highest office with vast influence over public opinion."
Conway was not the first person from the White House to defend the video. That was Trump. "It wasn't doctored," Trump told reporters before leaving for France on Friday. "They gave a close-up view. That's not doctoring."
Another slowed down version of the video has also made the rounds on Twitter, and details how the White House aide touched Acosta several times while trying to grab the microphone. It includes the moment dramatized in the version Sanders released. It has been viewed 2.5 million times, far fewer than the 12.7 million views of the video that Sanders uploaded.
Acosta has maintained that he did nothing wrong. "I didn't put my hands on her or touch her as they're alleging. It's unfortunate the White House is saying this," Acosta said on CNN after the press conference. "I think I handled myself professionally."
The White House has still not restored his press pass.