Kellyanne Conway Thinks The Kavanaugh Allegations Are Like A "Conspiracy"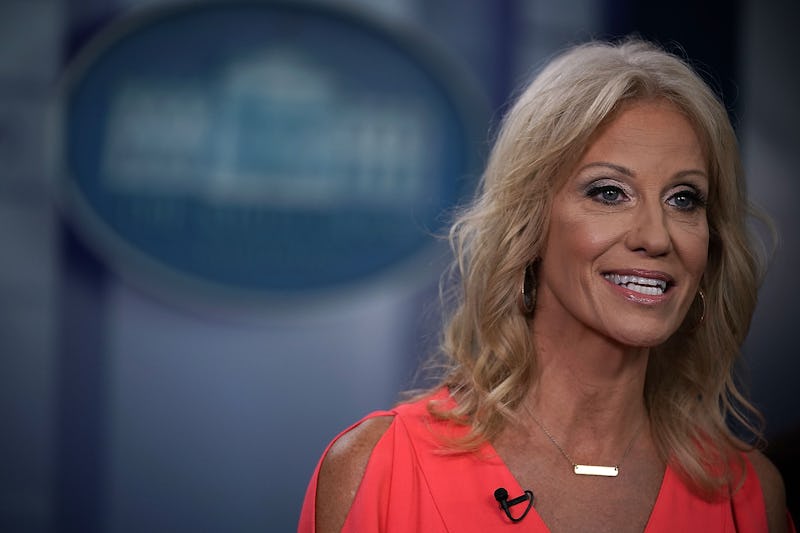 Alex Wong/Getty Images News/Getty Images
Throughout the Trump presidency, White House advisor Kellyanne Conway has been one of the president's staunchest advocates and defenders. Now, she's come to bat for Supreme Court nominee Brett Kavanaugh, whose confirmation process has now been hampered by several allegations of sexual misconduct against him. Conway addressed the Kavanaugh allegations in the broader context of the #MeToo movement, saying in an interview on CBS This Morning that the movement was putting too much responsibility on Kavanaugh's shoulders.
"I don't think one man's shoulders should bear decades of the Me Too movement," Conway told CBS.
Kavanaugh stands accused of having attempted to rape Christine Blasey Ford when the two of them were both in high school. On Sunday, then, The New Yorker published allegations from another woman, Deborah Ramirez, who claimed that Kavanaugh exposed his genitals to her at a drunken party during their first year at Yale. Michael Avenatti, the lawyer who has risen to prominence representing adult film tycoon Stormy Daniels, also said that he possesses "credible information" regarding Kavanaugh and the sexual misconduct allegations. Kavanaugh has unequivocally denied all of the allegations against him.
Conway took Kavanaugh's side when speaking with CBS This Morning, saying that the allegations were "starting to feel like a vast left-wing conspiracy."
"I know there's pent-up demand for women to get their day, women who have been sexually harassed and sexually assaulted," Conway said on CBS, "And I personally am very aggrieved for all of them, but we cannot put decades of pent-up demand for women to feel whole on one man's shoulders."
"What exactly is the standard for ruining one man's life based on decades of allegations that have nothing to do with him?" she said.
Conway took a different tactic in defending Kavanaugh than President Trump, who has started to claim that the women's claims are less credible because they took so long to report. "I am with him all the way," Trump said of Kavanaugh, according to the AP.
Kavanaugh also released a second statement when The New Yorker published the second allegation, according to CNN.
"This alleged event from 35 years ago did not happen. The people who knew me then know that this did not happen, and have said so. This is a smear, plain and simple," Kavanaugh wrote in his statement. "I look forward to testifying on Thursday about the truth, and defending my good name — and the reputation for character and integrity I have spent a lifetime building — against these last-minute allegations."
In her interview on CBS, Conway noted that the allegations against Kavanaugh were different because they came from when he was so young.
"This may be the first time we've heard allegations against someone as a teenager who did not prey upon women thusly as he became powerful," she told CBS. Even while defending Kavanaugh, though, she said that she still considered the allegations to be a serious matter.
"I take these allegations very seriously, as does the president," said Conway. "This president is defending his nominee to the United States Supreme Court. That nominee needs to defend himself against these allegations."