Kellyanne Conway's Husband Is Suddenly Throwing MAJOR Shade At Trump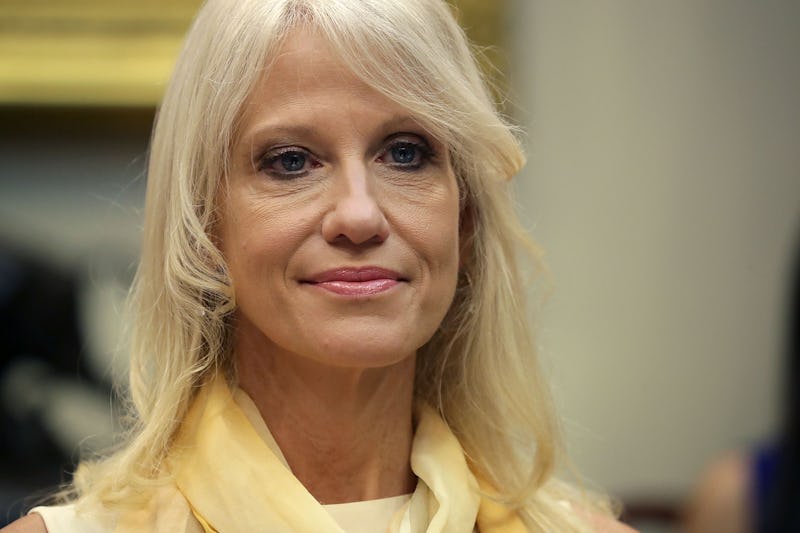 Chip Somodevilla/Getty Images News/Getty Images
On Tuesday, the HuffPost reported that presidential adviser Kellyanne Conway's husband George has taken to criticizing Trump on Twitter. As the outlet noted, this year Kellyanne's husband has been increasingly active on social media — and, indeed, nearly half of his around 200 tweets and retweets this month seem to criticize the president to some extent. The HuffPost reached out to both George and the White House for comment on the issue, but neither have responded.
As the HuffPost explained, George, a lawyer, was not always very active on social media. In fact, as the outlet stated, his account shows that he did not write one tweet in 2015 or 2016 — or, if he did, the tweets were deleted. The outlet also reported that, in 2017, George published a handful of tweets — 31 — six of which Ashley Feinberg of the HuffPost noted "could be considered critical of President Trump."
However, as the outlet reported, 2018 has constituted a much more active Twitter year for George. While the post characterized his 10 and 43 tweets in January and February as relatively non-critical of the president overall, it reported that half of his around 200 tweets and retweets in March can be perceived as critiquing Trump.
Indeed, as Law and Crime reported, on March 23, George cited a tweet by CNN White House correspondent Kaitlan Collins.
"This is why officials are so hesitant to speak for Trump. He says one thing, then does the opposite," Collins' tweet read. "He says he's happy with McMaster, they defend him, then he fires him a week later. He says he'll sign the bill, they publicly say as much, then he tweets he's considering a veto."
In commenting on Collins' tweet, George wrote, "So true. It's absurd. Which is why people are banging down the doors to be his comms director." As Law and Crime described, George's tweet is perhaps particularly ironic considering that it has been reported that his wife, Kellyanne, may at least temporarily replace Hope Hicks as White House communications director following the latter's resignation. However, Kellyanne has not confirmed whether or not she will take on the role, instead telling Fox and Friends on Friday that, "I'm here to support the President however he sees is most important."
In addition to his March 23 tweet, the HuffPost also reported that, throughout the month, George has retweeted a variety of tweets from other users that appear critical of the Trump administration. For example, on March 22, George retweeted Josh Dawsey. Dawsey is a reporter for The Washington Post and had published the following tweet:
President Trump has struggled mightily to find top-flight lawyers, as attorneys and firms seek to avoid a difficult client, bad publicity & a sprawling probe. His lead lawyer resigned today, frustrated with the situation.
Moreover, on March 23, George retweeted a tweet from POLITICO's managing editor, Sadeep Reddy, who had shared a POLITICO article about Trump's governing strategy.
Trump's habit of overpromising and underdelivering has created a credibility gap unknown to the presidency in the modern era.
These tweets constitute just a few of the many retweets the HuffPost cited from George's account that appear to disparage the president to some extent.
Unlike his wife, George has never been professionally affiliated with Trump's administration. However, back in June 2017, Trump reportedly considered George his top choice to be head of the Department of Justice's Civil Division. Yet, George publicly turned down the role (though he was never officially nominated for it). At the time, Slate reported that George had released a statement saying that he was "profoundly grateful" for being selected to serve. George also added:
I have reluctantly concluded, however, that, for me and my family, this is not the right time for me to leave the private sector and take on a new role in the federal government. ... Kellyanne and I continue to support the President and his administration, and I look forward to doing so in whatever way I can from outside the government.
Those on social media will likely be closely watching to see if George continues to publish tweets that do not necessarily flatter the Trump administration — or if he will alter his social media use in light of the increased attention his tweets are receiving.
Read More About George & Kellyanne Conway
George Conway Rips Into Trump's Travel Ban On Twitter
Kellyanne Conway Is Under Investigation For Potentially Violating Federal Law
Kellyanne Conway's Advice On Opioid Abuse Is To Eat Ice Cream & Don't Do Drugs