Kellyanne Conway Switched Up Her Twitter Bio To Send A Harsh Message Before Midterms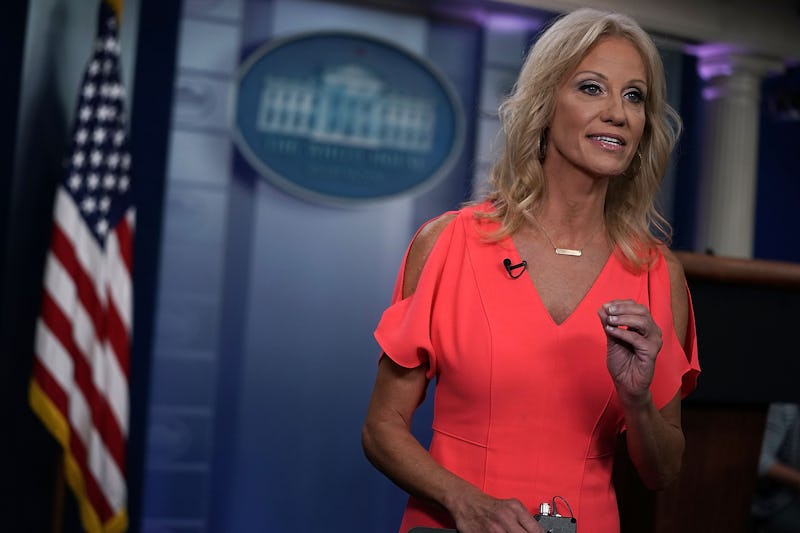 Alex Wong/Getty Images News/Getty Images
A Twitter bio can say a lot about a person. After all, it's the super limited, often carefully-crafted info that the Twitter user reveals for all visitors to know. Recently, a well-known Trump counselor changed her subheader, and the edit focuses on one thing: jabbing hard at an elected official in her home state. Kellyanne Conway's new Twitter bio slams a senator from New Jersey who is up for re-election.
Conway, a White House counselor and popular cable news face, gave her bio a midterms twist, writing, "Jersey Girl embarrassed by Bob Menendez."
According to The Hill, Conway's new Twitter bio isn't the only tweak to her account; the new description was put there after Conway removed her White House title from the bio last week with no explanation. Her bio was blank for a period of time, the Washington Examiner reported, and the White House declined to comment on the record to the newspaper, though she was introduced with her typical title of "counselor to the president" in a Fox News appearance later Tuesday night.
Sen. Bob Menendez, the subject of Conway's most recent bio, is up against Republican candidate Bob Hugin in a race for his seat. Menendez faced corruption charges in a trial last year in which prosecutors accused him of accepting extravagant gifts and campaign contributions, but ultimately, the Department of Justice dropped all the charges. Menendez has denied the charges.
According to The Hill, Menendez has a strong lead over Hugin per recent polls, despite the so-called scandal (another poll last month revealed that 64 percent of voters in New Jersey thought the corruption and bribery charges against Menendez were "about the same as what most other politicians do"). The race has still been "surprisingly close" for a state that usually sits in deep-blue territory. Cook Political Report has deemed this New Jersey senate election as a "toss up."
Menendez has crossed Conway's radar before. According to The Independent, during an interview on Fox News in 2017, Conway insulted the senator, asking, "What's Bob Menendez doing back here? That's the best my state of New Jersey can do?"
Though the title is no longer on her Twitter bio, Conway is still tweeting out messages that praise the president, his administration, and Republican candidates. One of her recent tweets lauds the president's initiatives and lists employment opportunities she believes came from the initiatives.
Though Conway lives in Washington, D.C., she's made trips back home to stump for the GOP; according to Insider NJ, she was in the Garden State last month to help campaign efforts for CD-11 Republican candidate Jay Webber. Most recently, Conway was a guest on Fox and Friends Sunday night, when she talked about the midterm elections and which party would gather the female vote.
"We can do the math, we see the economy — in fact, the economy for women is the best it's been in decades, literally," Conway said. "Women know, even beyond the economy, what this president has done in terms of law and order and respecting our military and our veterans. Border security is national security."
Conway continued, saying that women "know the difference between what offends them and what affects them."
While Conway's Twitter bio status may be somewhat of a mystery, her political position isn't, and it's a pretty sure bet that she'll be out in full force for the GOP on Election Day.