The "Kellyanne Leaks" Twitter Account Claims To Have Overheard Conway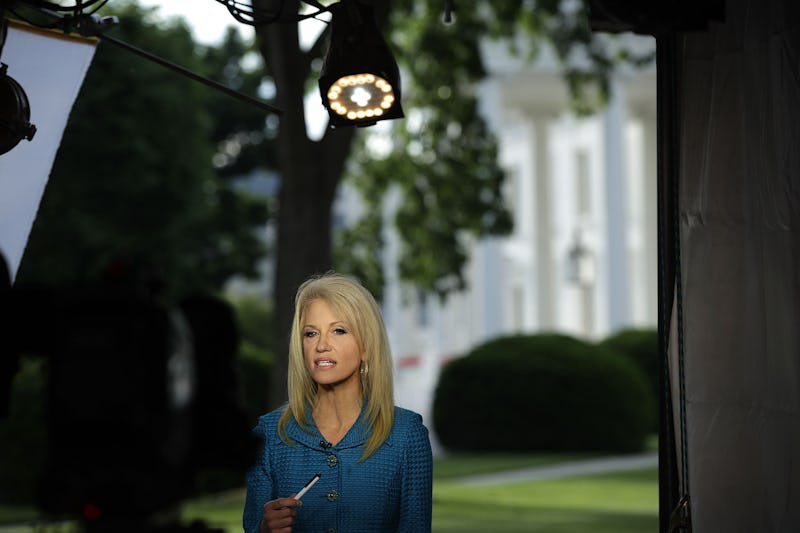 Alex Wong/Getty Images News/Getty Images
Last week, Kellyanne Conway was allegedly overheard revealing off-the-record information about the Trump administration to several reporters at a British embassy party, according to POLITICO. (Kellyanne denied this in a Fox & Friends interview, stating, "I never divulge what the president tells me. I never would.") In the wake of this alleged incident, a new Twitter account, known as "Kellyanne Leaks," emerged last Friday, and it claimed to have been privy to Conway sharing this information at the party and mocked the president's counselor for this reported sharing. (Trump, of course, has recently repeatedly decried White House information "leakers.")
According to POLITICO's Playbook, the @KellyanneLeaks Twitter account was created by an anonymous source who claims to have overheard Conway's remarks at the British embassy party last Thursday. The account posted photos of Conway at the event.
Among other topics, the account addressed Conway's alleged discussion of the "line" Trump supposedly told her to give the press about whether or not tapes of his interactions with former FBI director James Comey existed — and how she supposedly altered it. (As noted, Conway has denied that she passed on any information given to her by the president.)
According to a tweet on @KellyanneLeaks, Trump allegedly told Conway to say "Comey will have to wait and see about the tapes," a directive which she then supposedly "chose to convert that to 'no comment'" when answering questions from the press.
The account also reported that Conway allegedly mocked Trump's Chief of Staff, Reince Priebus, at the event, allegedly employing a "dopey voice," to make fun of Priebus' warning to Trump's staffers to not leak information to the press. Conway also allegedly took shots at Marc Short, the White House Director of Legislative Affairs, with the account reporting that "At one point @KellyannePolls said "Honestly, what the f*ck does Marc Short do all day?"
POLITICO claims that the tweets on the account (and their reports on Conway's revelations) have been confirmed by two other anonymous sources. However, the publication also said that the White House, via press secretary Sean Spicer, has denied that account accurately depicts what Conway said at the party, along with Conway herself.
Spicer reported that Conway herself denied the claims and said that she was very close to Short and that she was not making fun of Priebus, but rather mocking "reporters for palace intrigue stories 'and how wrong they've been.'" Spicer also disputed that Conway had "pushed back" on how the President told her to frame her discussion of the Comey tapes, saying that Conway was "simply explaining what the lawyers said the White House can say."
Even though the @KellyanneLeaks Twitter account seemingly emerged in the aftermath of the party in which Conway allegedly revealed sensitive information, it still appears to be actively tweeting. Indeed, over the weekend, the account responded to one of Trump's tweets about James Comey, chastising the president for calling Comey a "leaker" and implying that Conway constituted a veritable leaker, saying "Testifying to Congress ≠ leaking about you and @Reince at a foreign embassy."
The account is seemingly not holding anything back when it comes to portraying Conway as a "leaker" — the account's profile pointedly notes that "if a NYT, Politico, or WaPo article hits @Reince45 (or other W.H. staff), good chance @KellyannePolls leaked."
It will certainly be interesting to see if the account continues to tweet and respond to President Trump, particularly as he admonishes "leakers," and/or if the source behind the account decides to shed his or her anonymity.