Let's Talk About Kendrick Lamar's Problematic VMAs Performance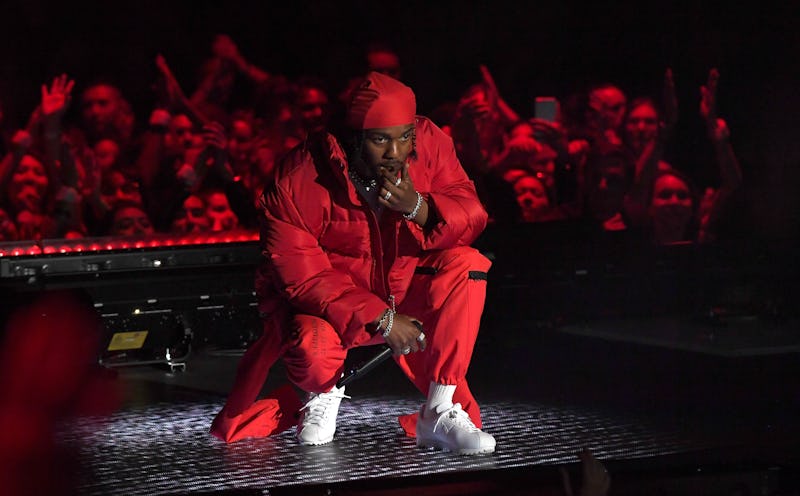 Kevin Winter/Getty Images Entertainment/Getty Images
Kendrick Lamar literally set the stage on fire at the 2017 Video Music Awards, opening the show with a performance of "DNA" and "Humble." But, while the performance kicked the night off right, it also suffered from a major case of cultural appropriation. Kendrick Lamar appropriated Asian culture at the 2017 VMAs, but you probably won't hear anybody talking about it. Lamar rocked the stage surrounded by a handful of dancers dressed as ninjas doing various martial arts and later climbing a wall of fire. One performer did stunts with a sword while covered in flames. Needless to say, fans at home loved it, but a scarce few were quick to point out that Lamar's performance suffered one major flaw: cultural appropriation.
Lamar's VMAs performance isn't the first time he has used Asian themes on stage. In accordance with his new album Damn, which features multiple references to "Kung Fu Kenny," Lamar has performed multiple times with martial arts style dancers, and embraced Kung Fu themes in his work. And, while Lamar hasn't ventured too deep into the waters of using Asian props in his work, his reliance on this Kung Fu theme is worth talking a look at, especially considering how the artist himself has tackled the subject of cultural appropriation.
Lamar isn't the first rapper or hip-hop artist to take inspiration from Asian culture, specifically when it comes to the idea of Kung Fu. (Remy Ma, French Montana, and Fat Joe delivered a particularly cringe-worthy and offensive example at the 2016 BET Awards, when they performed "All The Way Up" surrounded by dancers dressed as Geishas.) But just because Kung Fu has a historical presence in hip hop doesn't mean we still shouldn't be talking about it now. And that's what is most surprising about Lamar's performance: that we aren't talking about it.
When Miley Cyrus took the VMAs stage in 2013 to perform "We Can't Stop," her use of black dancers and twerking sparked many discussions on the white singer's debated objectification of black women, as well as her appropriation of black culture. It was a difficult and necessary discussion for us to have, and though it might still be a topic of debate, it certainly taught a lot of fans about the dangers of capitalizing on a culture that is not one's own. So why aren't we talking about Lamar's use of Asian culture in his performances?
Regardless of whether or not Lamar intends to be disrespectful of Asian culture, it's important to note the deafening silence coming from the very same fans who went after Cyrus for her 2013 performance. Ask yourselves why the use of Asian culture as props doesn't incite the same response from the public. It might be because Asian culture has always suffered from the stereotype of being "foreign." Something un-American and distant that can be used as decoration or a Halloween costume. Or maybe it has something to do with the lack of Asian and Asian American artists and celebrities that attend events like the VMAs. I don't have the answers, but I do know that it's something worth talking about.