Kendrick Lamar's "LOVE" Is Romantic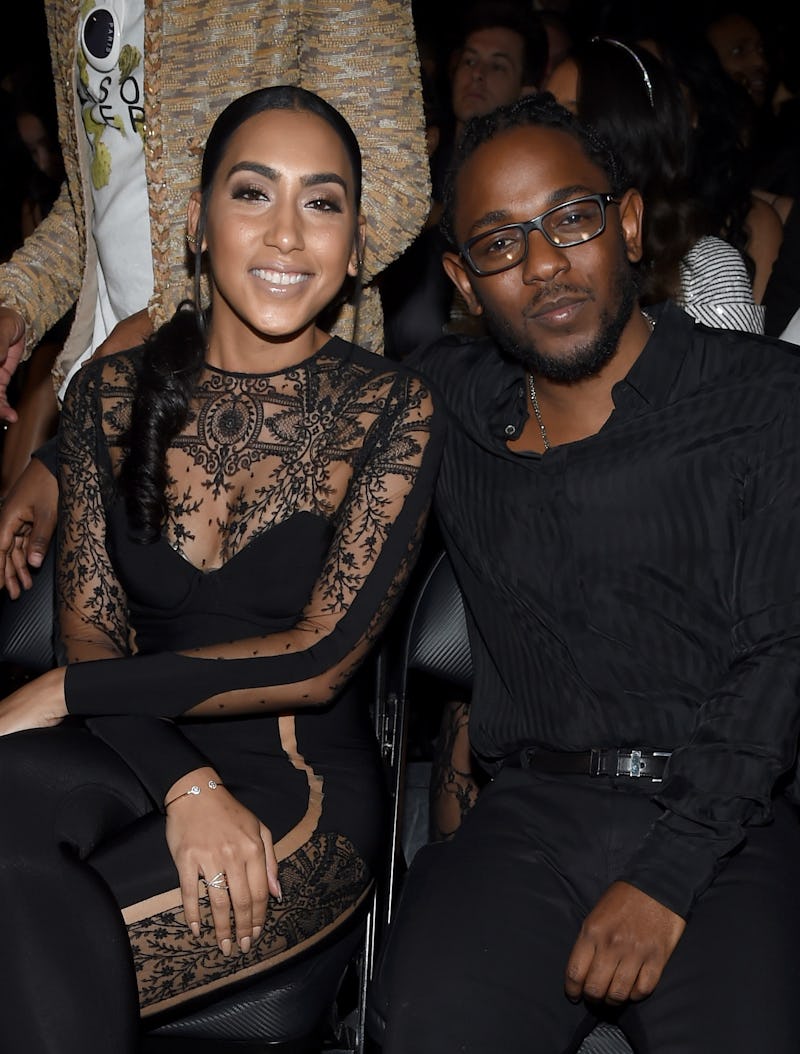 Larry Busacca/Getty Images Entertainment/Getty Images
The dichotomy of love versus lust has perplexed everyone from the most pragmatic thinkers to relentlessly hopeless romantics. However, even hardcore rappers can't escape showing their softer side. Reigning rap royal Kendrick Lamar explores casual sexual intimacy and fiercely devoted commitment on his newest album, DAMN. Although he has not spoken out about his new music, on the song "LOVE" Lamar seems to examine his own relationship with his fiancée, Whitney Alford.
The high school sweethearts got engaged in 2015, but managed to keep their private life under the radar. Despite Lamar's discography consisting of unapologetic black pride anthems such as "Alright" and "Humble," Alford appears to emerge as the Compton rapper's most beloved muse on the introspective track "LOVE." Let's be honest — who else would K. Dot rap about being his "only for life" and "homie for life" other than his fiancée?
The 3-minute track features a smooth crooning assist by soul singer Zacari as Lamar not only declares how much he wants to be with Alford, but also asks her rhetorical questions to reaffirm their unconditional love before walking down the aisle. He raps, "If I didn't ride blade on curb, would you still (love me)/ If I made up my mind at work would you still (love me)." Translation: Lamar ponders whether Alford would stick around if he wasn't successful enough to buy fancy cars with big rims.
In case you haven't heard the rapper talk about Alford before, he doesn't really have to second-guess her affection for him. Lamar told Billboard back in 2015, "I wouldn't even call her my girl," he told the magazine. "That's my best friend. I don't even like the term that society has put in the world as far as being a companion — she's somebody I can tell my fears to."
Lamar continues on "LOVE": "Already on ten, our money come in/ All feeling go out, this feeling don't drought/ This party won't end." He expresses his commitment like a wedding vow to Alford by rapping that his feelings for her have been and always will remain the same.
And if his words aren't enough to show his devotion, Lamar adds, "I bought the big one to prove it/ Look what you made." "The big one" sounds like an expensive engagement ring that only a highly successful rapper like Lamar could offer his bride-to-be. His tongue-in-cheek follow-up line can either mean "look what you made me do" as in spend a lot of money or "you've made such an emotional impact on my life that you caused our love to exist in the first place."
Analysis aside, there's no question Lamar is hopelessly devoted to Alford. Whether he's calling her the one who gives "me a run for my money," or venting that if "don't got you I got nothing," Lamar couldn't give a DAMN. about all of his success without Alford by his side.