Kendrick Lamar's 'DAMN.' Features Some Backward Lyrics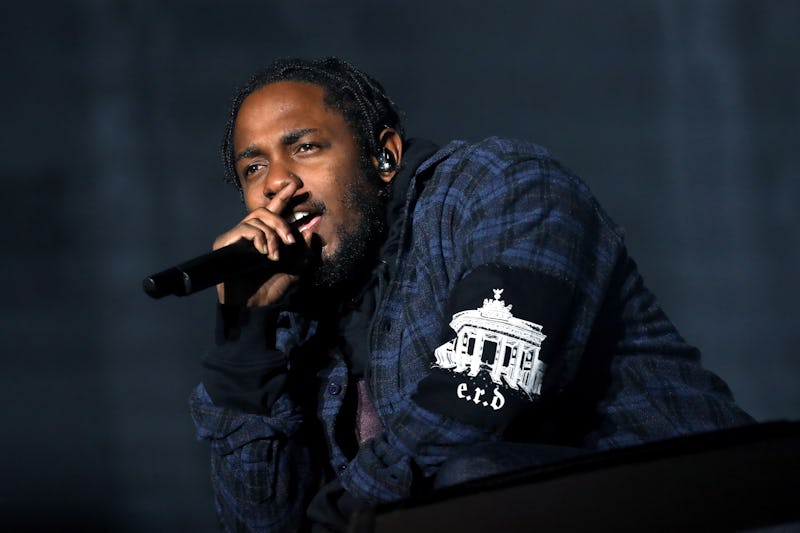 Rick Kern/Getty Images Entertainment/Getty Images
If you're a big fan of K-Dot, part of the appeal is his work's difficulty. The 29-year-old has always been unabashed about combining a pop sensibility with more experimental twists. It's business as usual with his latest record, which includes snatches of vocals played in reverse. So what are the backward lyrics on DAMN.? It's an interesting technique, in part because of what we usually associate with the sort of music that uses the same reversed lyrics technique, aka something closer to the end of the rock spectrum.
Noisey has previously reported on a whole bunch of punk, grunge, and death metal bands that used reversed recordings, which, when flipped, played Satanic messages. Examples include Darkthrone's track "As Flittermice as Satans Spy," which closes on a line that, when played the right way round, says, "In the name of God, let the churches burn."
Kendrick Lamar is a Christian, so it seems particularly notable that he employs the technique twice in the album, once in the song "FEAR." and in the album's final line in "DUCKWORTH." If the album ends on this moment, couldn't we argue that this is more than a glitchy sound effect, but instead says something significant about the record as a whole?
But let's start with the decoding. Pigeons and Planes flipped the lyrics in the 20 seconds or so on "FEAR.," which boasts a backward recording. It goes as follows:
Every stone thrown at you resting at my feet
Why God why God do I gotta suffer
Pain in my heart carry burden for the struggle
Why God why God do I gotta bleed
Every stone thrown at you restin' at my feet
Why God why God do I gotta suffer
Earth is no more, won't you burn this muf*cka?
While we get to hear the lines the album ends on in reverse the right way round earlier in "DUCKWORTH.," the very fact that they're reversed suggests they're equally significant. They run as follows:
Whoever thought the greatest rapper would be from coincidence
Because if Anthony killed Ducky, Top Dawg could be servin' life
While I grew up without a father and die in a gun fight.
The last line is accompanied by the sound of a gunshot. So what exactly is the significance of all this? Let's not disregard when Lamar has chosen to drop this album: Easter weekend, with rumors that this Good Friday release could be followed by a whole different album on Easter Monday.
The "FEAR." lyrics sound awfully close to Christ's crucifixion. But why would the rapper apply the same technique to a description of something horrible that could happen: his own death in a gun fight? Well, the internet has some theories, thanks in part to Lamar's producer, who dropped the following tweets like they were no big deal.
Huh? What? But, if this isn't the real version, when would we get that? All you rabid fans out there have some convincing sounding theories.
So, if the above is actually true, then the reason these two segments are recorded in reverse is to highlight and connect them. Lamar is potentially drawing a connection between Jesus dying on the cross and himself, or himself as a symbol of wider Black America dying an unjust death at the hands of an angry mob (or, to make it contemporary, angry police force).
And it's wonderfully clever, right? Using a technique commonly associated with burying Satanic suggestions to create a Christian metaphor. As usual with Lamar, it's all about expecting the unexpected. So get excited. If the above is anything to go by, it looks like we'll be getting a whole other album before you've even digested the many joys of DAMN.