'RHOA's Kenya Moore Gave Her Baby Daughter The Most Meaningful Name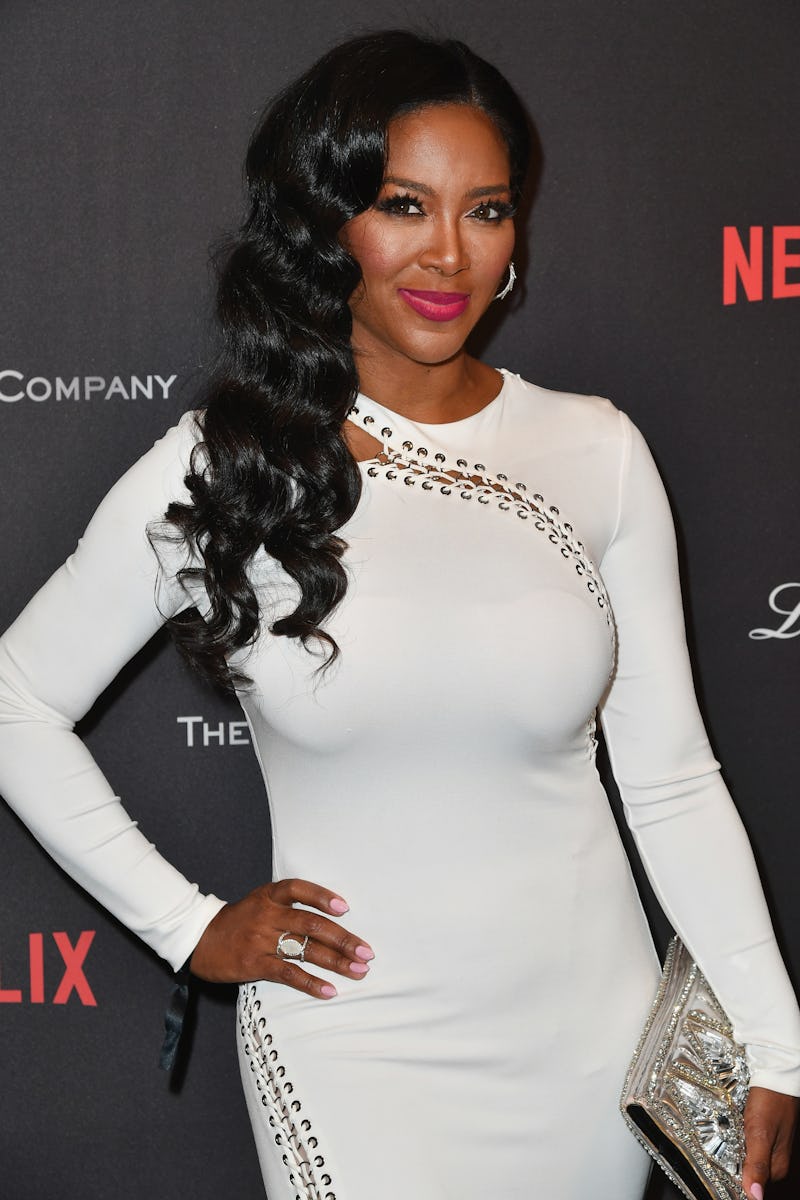 Earl Gibson III/Getty Images Entertainment/Getty Images
On Sunday, Nov. 4 Real Housewives of Atlanta alum Kenya Moore gave birth to a baby girl following the revelation that she had been diagnosed with preeclampsia, according to People. The 47-year-old reality star reportedly conceived through in vitro fertilization and gave birth to the baby, whose name is Brooklyn Doris Daly, at 9:39 am via emergency cesarean section. The newborn weighed in at 5 lbs and 12 ozs and is the first child for Kenya and her husband Marc Daly. People notes that the baby's name holds important significance to the couple with Moore telling the mag, "Brooklyn because that's where we met and fell in love, and Doris after my grandmother who passed away last year and who raised me."
Despite the early arrival, People indicated that both mother and baby are doing well and shared that "Brooklyn is very alert and active." The newly-minted mother was originally due to give birth sometime around the Thanksgiving holiday. Kenya's pregnancy complications appear to have been looming for at least the past week. On Oct. 27, she took to Instagram to share a photo of her extremely swollen feet. Along with the pic, she captioned,
"I gained 17 lbs in ONE week due to severe swelling and water retention, high blood pressure, and excess protein in urine. This is NOT normal! I took more tests. Baby is fine but if they come back higher #babydaly will have to come same day."
A few days later, the TV personality shared her preeclampsia diagnosis on Instagram Story. On Oct. 31 Kenya explained, "I will have to deliver #babydaly early but I'm being closely monitored to determine when. Thank you for all your love and well wishes."
Still weeks away from her due date, The former Miss USA updated her fans revealing that she was in the hospital expecting the baby's arrival very soon. On the night of Saturday Nov. 3, she explained,
"If you want to make God laugh have a plan... won't be long now. Pray for us."
Kenya and her hubby recently celebrated Brooklyn's impending arrival with lavish baby shower bash. They went all out for the fairytale-themed event in which every one dressed in majestic costumes. Many of Kenya's Real Housewives of Atlanta friends were in present at the event, including; Kandi Burrus, Cynthia Bailey, Porsha Williams, Shamea Morton, Miss Lawrence, and Claudia Jordan. Married to Medicine stars Toya Bush Harris and Dr. Heavenly Kimes were also in attendance as well as Real Housewives of Potomac star Gizelle Bryant. Although she was not on hand for the soirée, RHOA's NeNe Leakes sent her love by sharing a photo on her Instagram page. In the caption, she wrote,
"OMG! You guys look so amazing! Congrats @thekenyamoore wish i could have been there #babydaly."
Although Kenya won't appear as a regular cast member for RHOA's Season 11, she still somehow managed to steal the headlines on its premiere date with baby Brooklyn's arrival ironically coinciding with the show's Nov. 4 kick-off. The "Gone With The Wind Fabulous" entertainer officially confirmed her exit from the show in a statement to Bravo's The Daily Dish. She shared, "I have decided to take this season off to focus on my high risk pregnancy in a healthy and drama free environment." She added, "I thank Bravo for this amazing platform that has allowed me to grow, flourish and appreciate the value of what is truly important in life."
Kenya, who announced her pregnancy during RHOA's Season 10 reunion special, appears to be over the moon about her new life as a wife and now a mother. She once told People, "For me to have a family of my own, to me, that's what makes me feel like I'm at the pinnacle of happiness."
With the arrival of her new baby girl and her hubby by her side, it seems that Kenya now has everything she could have ever wished for and more.