Kerry Washington Wants To Bring More Women BTS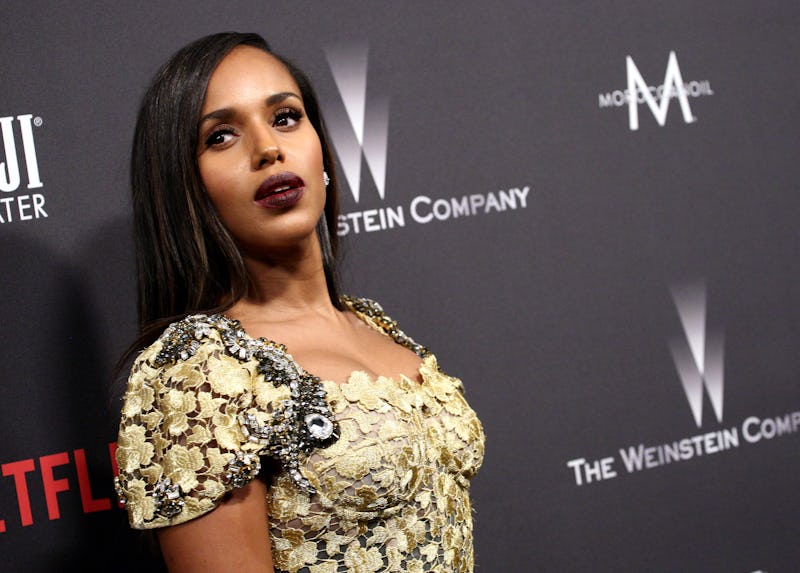 Tommaso Boddi/Getty Images Entertainment/Getty Images
As the star of the hit show Scandal, the producer of female-led projects such as Confirmation, and a passionate activist for women's rights, Kerry Washington is pretty much the definition of female power in Hollywood. Yet during a talk at the Women at Sundance Brunch on Jan. 23 cohosted by Refinery29, DOVE Chocolate and the Sundance Institute, the star made clear that while being one of the most powerful women in the industry certainly has its benefits, it also has its frustrations — in particular, the knowledge that more often than not, she's the only woman in a room full of men, literally or figuratively.
"We've all been the only woman in the room, where you feel like you have to stand up for the entire gender, and the entire race, or both, and it's not OK," said Washington, speaking alongside producer Kimberly Steward. "Us being in the room alone is exhausting."
Washington's success from Scandal, she said at the brunch, has been a blessing, allowing her to gain more control and respect within Hollywood. Yet as she's learned from her many experiences being the only woman present in a male-dominated world, it's crucial to have others working alongside her. Having greater influence means the ability to bring more women into the fold, both in front of the camera and behind-the-scenes.
"I'm trying to take advantage of it as much as possible, because I know how rare it is," Washington said of having a production deal. "[I'm trying] to pull as many people into that room with me as I can." Still, she acknowledged that it's easier said than done; male execs, she said, "want us to feel lucky to be in the room" and not ask for anything extra. But "a big part of it is the courage to say great, I'm so happy you've given me this deal, but I'm also going to hire another woman to help me run this company, and I'm also going to do a film about a woman, and I'm gonna hire an Academy Award-nominated woman to write it, and to just never accept that us being in the room alone is enough."
As a producer, Washington makes it her mission to be inclusive in hiring, she said. "I look for work that makes us feel less alone, not by forcing us all to be part of one kind of hero's journey, but realizing that heroes come in many different shapes and sizes and hues and genders," she said. As a producer, she's passionate about "hiring other women, and hiring people of color, and hiring people that are part of the LGBTQ community, just making sure that people that we as a society have labeled as other have a seat at the table to be leaders, and to make the table look like what the real world looks like."
And making female-driven films and TV shows, particularly those starring women of color, is crucial in order to take down the "myth of risk" about women-led projects not doing well, Washington said. "It's not really risky to create content for 51 percent of the world," she said, yet she recalled how, when Scandal first aired, other studios slowly adjusted to the idea that a show having an African-American female lead wasn't a recipe for disaster. Women, Washington said, need to remember that making projects by and for women isn't risky, but necessary, and pitch their ideas to studio executives with confidence.
"I think part of it is sitting in a position not of, 'please help me, please give me,' but 'this will work,'" Washington explained. "We just have to say to people —which I know men do and we have to get better at doing — this will work, just do it. And the truth is, if it doesn't work, so what? So many movies don't work, and who cares? We should do it anyway. We have just as much a chance of having it work as anyone else."
Powerful advice from a woman who clearly knows her worth and isn't afraid to ask for what she wants.