Kesha Is Back With A Surprise For Her Fans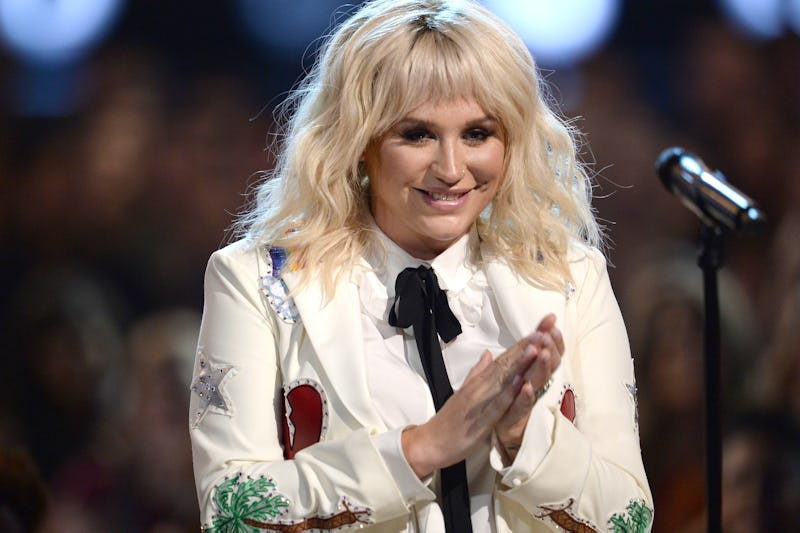 Kevin Winter/Getty Images Entertainment/Getty Images
It's been a while, but Kesha is finally back with new music. The singer took to Instagram to tease her upcoming single called "Praying." In a series of videos, Kesha speaks directly to her Animals. "I have a surprise for you," she says in one clip, before noting, "Your support and love and kindness has gotten me through, hands down, the hardest time of my entire life."
Kesha, of course, is almost certainly referencing her ongoing legal battle with producer Dr. Luke. The case involves Kesha attempting to get out of her recording contract after accusing Dr. Luke (real name Lukasz Gottwald) of sexual assault and other abuse. Gottwald repeatedly denied the allegations and filed a defamation lawsuit, which recently was dismissed. (Kesha's mother, Pebe Sebert, and Gottwald released a joint statement about the dismissal.) The California lawsuit alleging sexual assault has also been dropped, but Kesha's New York case remains ongoing, in which she's still trying to break her contract.
Based on her new emotional plea to her supporters, Kesha has come out the other side of all the legal drama with something she's excited to show the world. "My new song 'Praying' comes out tomorrow," she says in another clip on Instagram. "And I couldn't have done this without you. I f*cking love you."
According to Variety, Kesha wrote the song with Macklemore's Ryan Lewis. It's her first solo song in four years, and the first time fans have heard from her since she collaborated with Zedd on his 2016 single "True Colors." That same year, Kesha told the New York Times Magazine she'd written 22 new songs she was hoping to release in 2017. It's not clear whether "Praying" is one of those songs.
It's also unclear what her new songs will sound like. In that same interview, Kesha said she was perceived as fun because of songs like "Tik Tok," claiming that's all her label wanted her music to be. "I was like, 'I am fun, but I'm a lot of other things,'" she said. She also admitted she'd like her new music to show another side of her, which actually may not be easy. New York Times Magazine reported that there's a clause in Kesha's original contract that insists she remain "reasonably consistent in concept and style to the artistic concept and style" in any original recordings.
But, based on her tour last year, it seems like she may go country, since she put a downhome twist on her pop songs. Or at the very least, she may want to try her hands at folk music. Recently, she covered Bob Dylan's "I Shall Be Released" and last year covered Dylan's "It Ain't Me Babe" at the Billboard Music Awards.
Kesha has been teasing a new project on Instagram for the last few days, posting a series of rainbow images. This is fitting, since her Instagram bio is simply, "Ima rainbow." She also posted a collection of shots, which when combined, look a whole lot like an album cover. If so, this would be her first new album since 2012's Warrior. In the set of photos, a shadowy Kesha stands in the middle of an ocean as the sun sets, a rainbow in the righthand corner, the words "The Beginning" emblazoned across it.
While Kesha hasn't confirmed whether "Praying" is part of an album called The Beginning, it would be a fitting title for the singer who's been trying to restart her career for years now. Luckily, fans can finally stop praying for her return, though, they'll clearly want to know more about these cryptic messages.