Why Kesha's Performance Of "Praying" At The 2018 Grammys Will Be So Meaningful For The Singer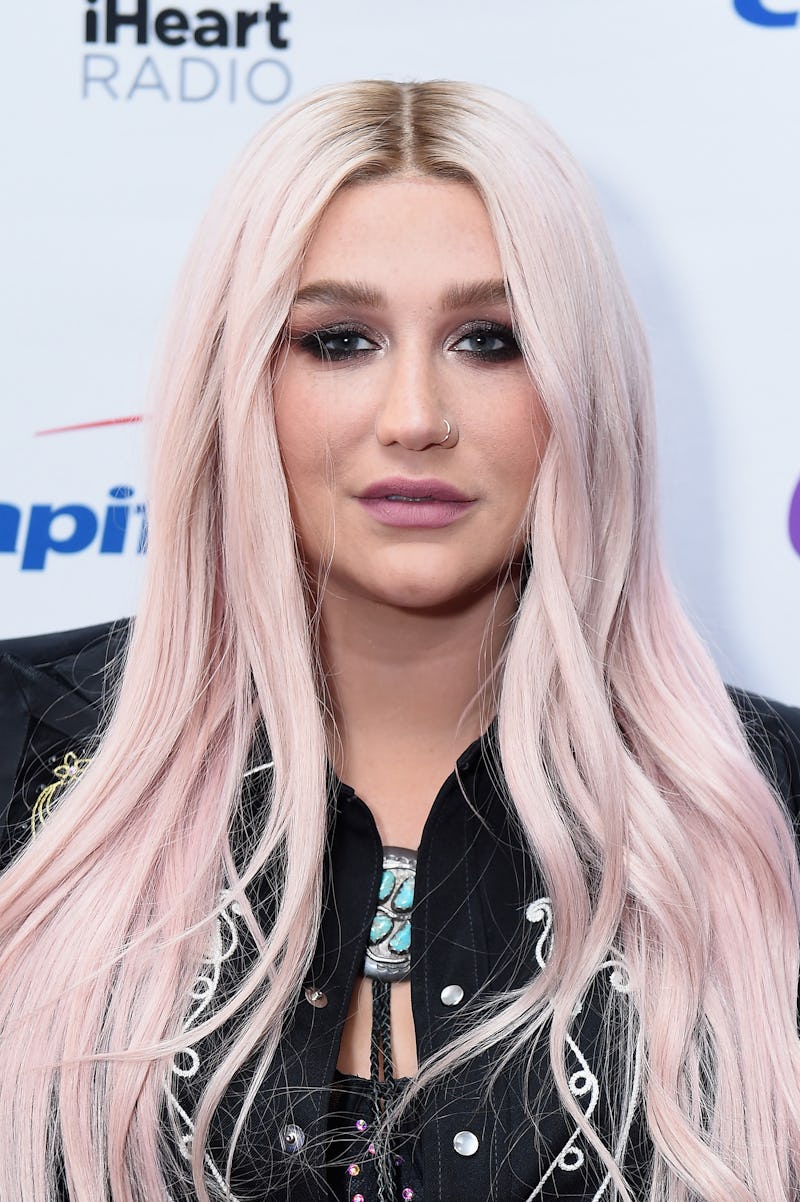 Michael Loccisano/Getty Images Entertainment/Getty Images
In July 2017, Kesha released "Praying" as the first single off her recent album Rainbow. On Sunday, Kesha will perform "Praying' at the 2018 Grammy Awards and the performance will be so meaningful for the singer. Rainbow is Kesha's first album since 2012, and it as released after an intense 3-year long legal battle with the Sony Music Producer Lukasz "Dr. Luke" Gottwald regarding sexual and physical abuse allegations. Gottwald repeatedly denied the allegations, no criminal charges were filed, and he filed a defamation lawsuit, which was dismissed. Kesha was determined to produce new songs, and Rainbow represents a triumphant return for the star against all odds.
Kesha has been open about how the abuse from Dr. Luke and her treatment by the media contributed to her mental health struggle. "Praying" is partially inspired by overcoming these challenges, and it's a departure from the danceable pop hits that first brought her fame. When producer Ryan Lewis approached the singer with an early version of the song, she knew co-writing and singing the track would be the perfect project, according to Billboard. "Working with Ryan Lewis and Ben Abraham on 'Praying' was amazing and so cathartic," she told Billboard in 2017. It was also an opportunity to restart her career on her own terms, and that accomplishment will be honored when Kesha takes the stage at the Grammys tonight.
Early on Saturday, Jan. 27, Kesha took to Twitter to talk about how meaningful the song is to her. She tweeted:
"when i wrote praying, with ben abraham and ryan lewis, i just felt as if i had gotten a huge weight off of my shoulders. it felt like an emotional raw victory for myself, one step closer to healing. I never could have known what would've happened these past few years."
The statement was posted along with a picture of the entrance to Madison Square Garden, where the Grammy Awards will take place.
In addition to sharing some of the personal story behind the song's creation, she also dedicated her performance to fans going through a difficult time. She wrote:
"i just want to say that i needed this song in a very real way, im so proud and nervous and overwhelmed to be performing it at the grammys on sunday, and if you need it i hope this song finds you".
The singer's return to music has demonstrated her resilience, and her performance will likely be emotional.
In July, the singer told Sirius XM radio how recording Rainbow helped process the difficult period in her life. "I think it's healthy to talk about feeling really down sometimes," she told the station. "And I think the beautiful part is that you hold onto hope and you don't give up, and you keep going and you keep showing up for yourself, and for me it was I would roll out of bed and I would get in the car and I would drive to the studio and keep making songs, and that was my way to cope with how I was feeling depressed."
"Praying" and her most recent record Rainbow are both a defiant statement in the face of these difficulties. It will be powerful to watch the singer perform the track live on such a large stage.
The Grammy Awards will air on Sunday, Jan. 28 on CBS. The event takes place at Madison Square Garden. Kesha is nominated for two awards, including Best Pop Solo Performance and Best Pop Solo Album. Her appearance at the Grammy Awards is certain to meaningful for both the star and her fans.