Kesha's 'A Ghost Story' Cameo Has An Incredible Backstory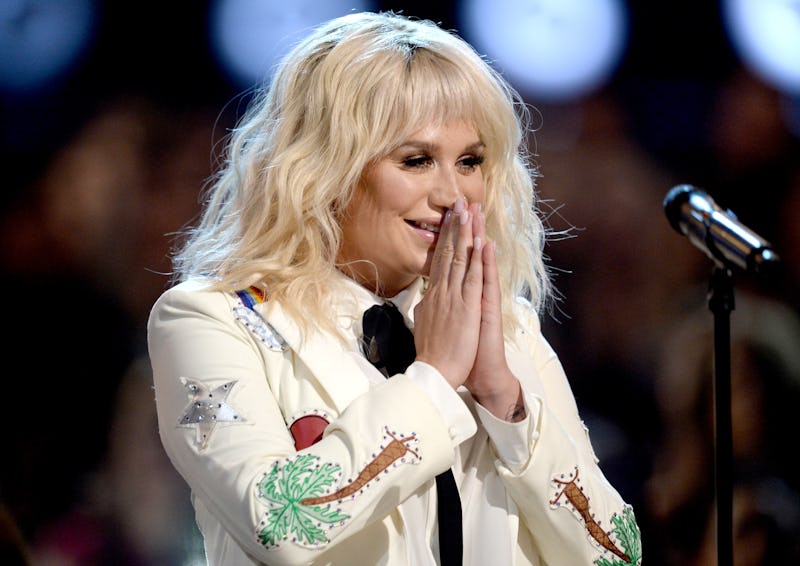 Kevin Winter/Getty Images Entertainment/Getty Images
When I sit down with director David Lowery, the mastermind behind Sundance Film Festival's A Ghost Story, I have a myriad of burning questions, like: What's the deal with that Rooney Mara pie scene? Was it really Casey Affleck under the sheet the whole time, and most importantly: Why did Kesha have A Ghost Story cameo? Well, as it turns out, Lowery is the singer's biggest fan. Yes, really.
"I love her — sincerely — there's no irony in that whatsoever," he says, sitting across from me in a midcentury modern chair at A24's Los Angeles office. "I've been a fan of her music since her first album."
Before diving into how, exactly, Kesha was summoned to the scene, it might help to know a little about the film. It follows a ghost (played by Casey Affleck under a white sheet) who, after dying and becoming said ghost, returns home to comfort his now widowed wife. But the film unfolds in a circular, non-linear trajectory, and encompasses many decades and centuries of people living in the house. In one scene — which takes place at an unknown point in time — a group of 20 and 30somethings host a party in the house. And there, one of the guests in attendance is the "TiK ToK" singer herself.
"When we were getting ready to do the party scene, my producer, Toby [Halbrooks], asked me what type of music I wanted, and I instantly responded with Kesha," he says. "I want everyone to be listening to a Kesha song, and dancing to a Kesha song, and somehow that turned into seeing if we could get her to write a song for a movie. And somehow that turned into her getting on a plane and flying to Texas to just hang out for a day while we shot the scene."
But the road to getting Kesha on camera (say that five times fast) was not a straight-forward one. Luckily, Lowery knew a guy. "We didn't know her beforehand. We had no point of connection," the director says. "But one of our friends is a musician. She was traveling and went to a party in Tennessee that Kesha just happened to be at. [Our friend] went up to her and said, 'My friends in Dallas are making a movie and they would love for you to be in it.'"
That simple gesture worked, and Kesha was en route to Dallas just three days later. "It was so weird because here's this artist who I really admire and respect — and I wanted to make sure we weren't wasting her time — and yet for most of the day she was just dancing in the background of the scene with no music playing — just owning it. It was the most amazing thing, she just really went for it. I kept saying, 'You don't have to be in this take if you don't want to,' and she's like 'No I'm having fun, this is great.'"
It appears that Kesha is a very open-minded and generous person. Not only did she make room in her schedule to appear in a brief scene in this indie feature, she wasn't even familiar with Lowery's work — who's known for Pete's Dragon and Ain't Them Bodies Saints — before she agreed to appear.
"She just took a blind leap of faith that this would be a fun endeavor to embark upon," he says, leaning forward in his chair. "She was just hanging out and providing a lovely joie de vivre to that entire sequence that I don't think would have been there without her. She literally is the life of the party."
To make a sweet cameo even sweeter, Kesha did end up collaborating on the song that plays during the party scene. "It's a true honor and a joy to not only have her in my movie but to have one of her songs in the movie. I hope to make more films with her in the future and give her a little bit more to do," he concludes.
And if all of his films are as inventive and compelling as A Ghost Story, how could the singer say no?