Kesha's Heartfelt Message Supporting Selena Gomez & Gaga Is Worth A Read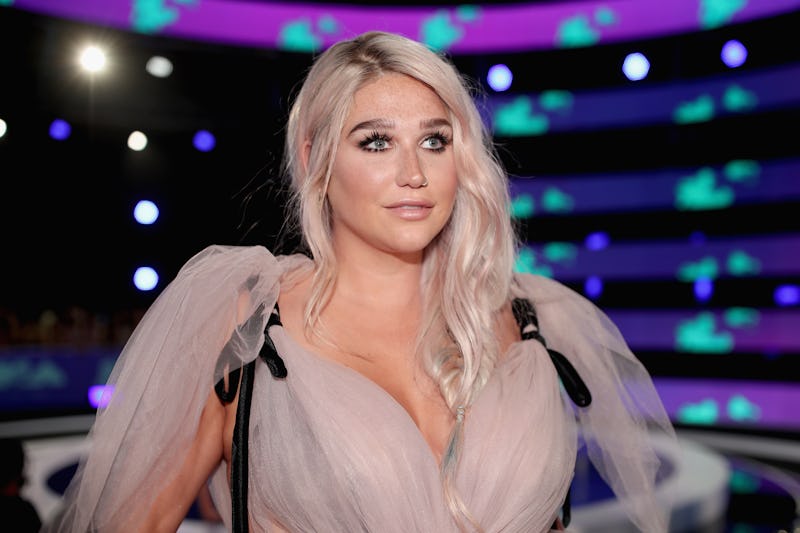 Christopher Polk/Getty Images Entertainment/Getty Images
Earlier in the week Selena Gomez revealed she had undergone a kidney transplant, and fans also learned that Lady Gaga was taken to the hospital for severe pain related to her fibromyalgia. The news of which prompted fellow singer Kesha to share a note supporting Gomez and Gaga that's heartfelt and encouraging. It's something we can honestly all benefit from reading,
On Tuesday, Sept. 12, Gaga shared a note to Twitter confirming that she suffers from fibromyalgia, after having been vocal about her battle with chronic pain since 2016. "I wish to help raise awareness," Gaga tweeted about her diagnosis, "[and] connect people who have it." As a result of her fibromyalgia, Gaga shared the news that she was hospitalized on Thursday, Sept. 14, and forced to cancel a scheduled appearance at Rock in Rio.
Gomez first revealed that she had lupus in an interview with Billboard back in 2015. The singer explained that she had been through chemotherapy, which is a common treatment for people with severe forms of lupus. Earlier in the week, Gomez also shared that she had received a kidney transplant during the summer, and had been "laying low" while she recovered. "It was what I needed to do for my overall health," she said in the photo's caption.
Kesha — who has also been vocal about her own struggles with an eating disorder, depression, and anxiety — took to Instagram to share a note of support with Gomez and Gaga, writing, "My heart is with Selena Gomez and Lady Gaga. We're all human [and] need self care." Such a powerful piece of advice for all of us to keep in mind — self care is important. We all need to do what we can to take care of ourselves both physically and emotionally.
"I hope both these icons heal safe [and] feel good," Kesha continued in her message. "Such wonderful role models for being so honest with a very critical world." By being honest about their health issues, Gomez and Gaga have undoubtedly helped raise awareness for lupus and fibromyalgia.
Additionally, E! News reported that by supporting the Lupus Research Alliance through a number of initiatives Gomez has helped raise over $500,000 for the organization. So you could definitely say that her efforts are having an impact.
Meanwhile, Gaga also showed her support for Gomez on Twitter saying that she was sending "prayers" and "love."
"You are are a warrior princess," Gaga tweeted. "What an inspiration." It's so great to see these ladies showing public support for each other, and helping to raise funds and awareness about diseases at the same time.
Gaga's struggles with fibromyalgia are the subject of her upcoming Netflix documentary, Gaga: Five Foot Two, which will be available to stream Sept. 22. While speaking at a press conference during the Toronto Film Festival, Gaga explained that her chronic pain helps fuel her to create new music, Variety reports. "My pain really does me no good unless I transform it into something that is," Gaga explained. "It's hard," she said, "but it's liberating, too." She also noted that she hoped "people watching [the documentary] that struggle with chronic pain know they are not alone."
As Kesha noted in her Instagram message to Gaga and Gomez, it's a very critical world we live in. But like the singer recently said in an open letter to her 18-year-old self, "There will always be a rainbow at the end of the storm." Kesha, Gaga, and Gomez each have millions of fans, so it's great that they're using them to promote awareness and lift each other up.