Kesha Explains Why She Named Her Album 'Rainbow'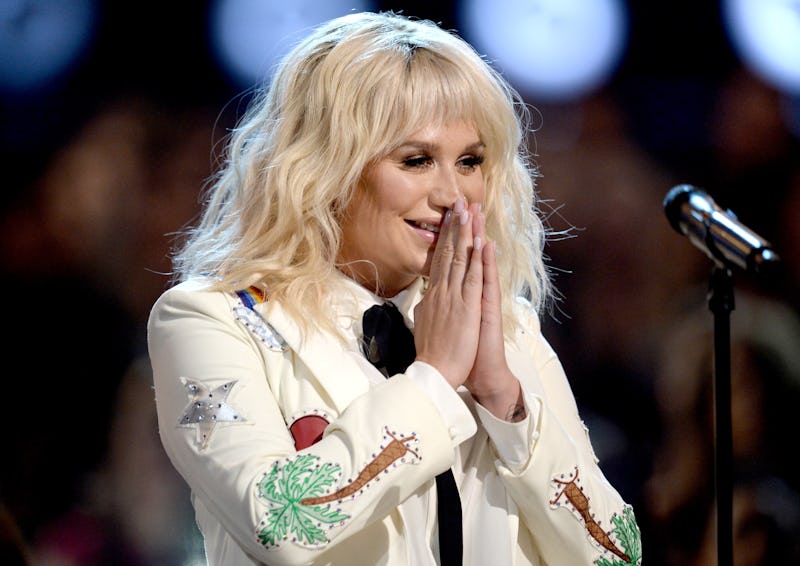 Kevin Winter/Getty Images Entertainment/Getty Images
Seeing a rainbow appear after a thunderstorm isn't just a miracle of nature. Pop singer Kesha named her third album Rainbow not only as an homage to the multicolored spectacle, but also as a way to represent the healing she's gone through and the way she's changed since her youth.
On Elvis Duran and the Morning Show, Kesha said:
"The reason I wanted to name this record Rainbow is because I kind of associate healing with kind of going back to my child-like mind because before I got all twisted and turned and beaten and heartbroken and all those things. Everything was magical and I didn't understand it and the world was so big and beautiful and I trusted everyone and everything and it was just so perfect and wonderful. I've done a lot of healing. I kind of reference that a lot what's left in my heart is still made of gold, you know? You heal what you can and keep going."
After five years without putting out an album and dealing with an ongoing lawsuit between herself and producer Dr. Luke, Kesha's resilience led her back to the studio. "It's kind of a testament that you got to show up for yourself," she said on the show. With new motivational songs such as "Praying" and "Woman," the "Tik Tok" singer has returned in full force.
By going back to her colorful, fun-loving roots while showcasing her feminism, the "We R Who We R" singer is making a spellbinding statement: She is unstoppable. From a stint in a rehabilitation center to her seemingly endless court battle, Kesha has weathered many storms. She told Elvis Duran she hopes Rainbow shares that message vividly:
"I want to spread good vibes, so if that's the role I'm in now and if this song is helping people heal then I like that. I don't think everything that I do is going to be perfect or flawless. I definitely would love to help people, I love if they can relate to my music then that's beautiful."
Life is not always sunshine, sparkles, unicorns, and rainbows. However, Kesha's career is proof that staying true to your heart and taking time to improve yourself is worth the fight.