Kevin Durant's Mom Can't Stop, Won't Stop Defending Her Son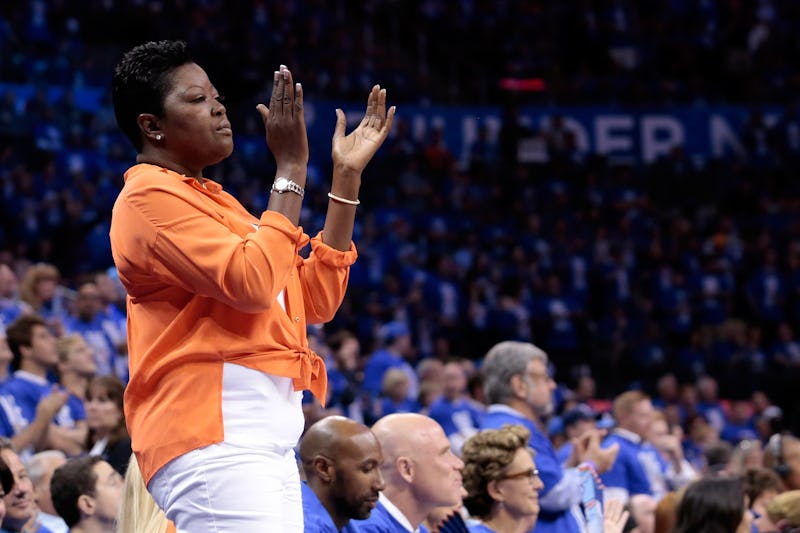 Brett Deering/Getty Images Sport/Getty Images
While Kevin Durant has been moving forward in his career, he has had an incredible group of people behind him throughout his entire journey. Many athletes count their family, particularly their mothers, as their greatest inspiration, and Durant certainly has a special woman constantly by his side. So, who exactly is Wanda Durant?
Kevin's mother is usually passionately cheering for her son from the stands, and she has been his biggest fan and greatest supporter from the beginning. But aside from rooting for Kevin, she now uses her natural gifts as a speaker and a philanthropist, telling her and her family's own story to inspire others.
Now that Kevin is in the NBA Finals with the Golden State Warriors, Wanda is sticking by her son through thick and thin. Just recently, Wanda publicly defended her son against ESPN commentator Stephen A. Smith, who called Kevin's move to Golden State "weak" in a Twitter post in 2016. Wanda responded on First Take,
"I thought [what he said] was quite harsh. It's like, 'who are you, Stephen A., to come at my boy like that?'"
That sounds like an incredible mom right there, and this instance is just a small glimmer into their very tight bond.
Most people learned of Wanda's story and her inspiration to Kevin after he shared some beautiful words for her to close off his 2014 MVP acceptance speech.
Kevin said through tears,
"We wasn't supposed to be here. You made us believe. You kept us off the street. You put clothes on our backs, food on the table. When you didn't eat, you made sure we ate. You went to sleep hungry. You sacrificed for us. You the real MVP."
Wanda and Kevin's story continued to spread to non-sports fans when Lifetime released a television film, The Real MVP: The Wanda Durant Story, on Mother's Day in 2016. The movie was produced by Queen Latifah and her production company, Flavor Unit Entertainment, and highlighted the life of Wanda as she raised both Kevin and his brother, Tony, on her own. The film's title was inspired by Kevin's emotional ending statement during his MVP speech, in which he reiterated that Wanda was the true recipient of the honor.
Now that she is a well-known face in the sports world herself, Wanda has taken her experience, compassion, and knack for speaking to embark on her own career as a motivational speaker. According to her official site, Wanda is a "strong leader, advocate, and philanthropist whose passion is to help single mothers, women, and children." She is an active supporter of many organizations including, The Kevin Durant Charity Foundation, The Tony Durant Reach Higher Foundation, Community Kinship Coalition, Single Parents Network, Baller Moms, and many more.
It is a beautiful thing to see a mother and son love and support each other so honestly and openly. Kevin has clearly expressed that he owes much of his success to his mother's tenacity and love, and there's no doubt that Wanda will forever continue to beside him, cheering and inspiring him along the way.
While at Kevin's season opener with the Warriors in late 2016, Wanda simply told NBC Bay Area, "I love basketball, and I love watching my baby play." She couldn't have put it any better.