Kevin Hart Just Explained That Moment At The Super Bowl & It's Relatable AF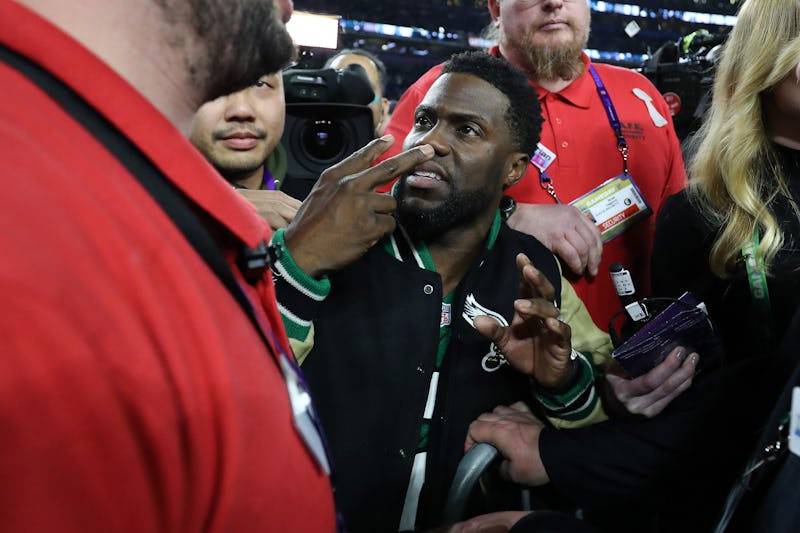 Elsa/Getty Images Sport/Getty Images
This weekend marked the Philadelphia Eagles' first Super Bowl win — and naturally, fans were excited to celebrate their team's victory. One of those fans was Kevin Hart, who tried to get on the Super Bowl stage after his team's win. The actor was stopped by a security guard — and now, he's sharing the motivation behind his actions on Instagram. (And, yes, alcohol was involved in Hart's viral Super Bowl stunt.) In his Instagram video, posted on Monday morning, Hart explains that he had been drinking and wanted to "go on stage with the trophy." The video, which appears to have been filmed shortly after the actor was denied access to the Minneapolis stage on Sunday night, makes clear just how excited Hart was for an Eagles win. And many fans can relate to that.
"To all the kids out there, I just want to say, 'Don't drink.' You know, when alcohol is in your system, you do dumb stuff. Me trying to go on stage with the trophy — definitely in the top two stupidest things I've ever done," he says in the Instagram video, which contains some strong language and a lot of slurring. "But who cares? The Eagles won the Super Bowl! Yeah, I'm still a little tipsy, but the world can kiss my ass..."
Hart also admits in the video that his wife, Eniko Parrish, tried to stop him from attempting to get on stage, but he didn't listen. The Jumanji: Welcome to the Jungle star says in the video that he told his wife to "chill out" and still tried to get on the stage — though his plan "didn't work out" and he was stopped by security.
It looks like Hart is taking the incident in stride, though. He added some funny hashtags to the Instagram post, including #iShouldHaveListenedToMyWife, #iWasCaughtUpInTheMoment, #ThatSecurityGuardDidHisJob, and #iWantedToHoldTheTrophy, along with a number of others. Hart also captioned the Instagram post "Who gives a sh*t....Fllllyyyy EAGLES FLY!!!!!," so it looks like he's not too bothered about Sunday's events.
In addition to his attempts to get on stage, Hart also appeared on the NFL Network on Sunday night. While speaking to the network, the comedian said "f*ck" on live TV as he talked about the Eagles' win. During the clip, Hart quickly realized what he'd done, and he laughed before dropping the mic and walking away from the GameDay Prime hosts. After Hart dropped the "F" bomb, former football player and NFL Network analyst Deion Sanders personally escorted Hart away from the interview, the Huffington Post noted.
"Philadelphia's a great city. I thought, I hope this is an example of what we can do," Hart said on the NFL Network. "We gave a f*ck..." If swearing on national TV wasn't awkward enough, there's also the fact that it doesn't look like Hart was scheduled to speak on the NFL Network in the first place. As E! News points out, he appears to have interrupted an interview with Eagles player Fletcher Cox, who looks quite entertained by the whole situation.
Even with the snafus, though, it looks like Hart's biggest concern is still rooting for his team. He ends his Instagram video by saying, "Who gives a sh*t? Go Eagles! Fly, Eagles, fly!"
Eagles fans have plenty of cause to be thrilled about Sunday's events. But, as Hart learned the hard way, it's possible to take things too far. (And just because you're a big-name celebrity doesn't mean you'll get to go near the Vince Lombardi Trophy.) Still, his response to the situation is infused with his classic brand of humor — and it's safe to say he won't be crashing other stages anytime soon.