Kevin Hart Just Announced On Twitter That He's Stepping Down As Oscars Host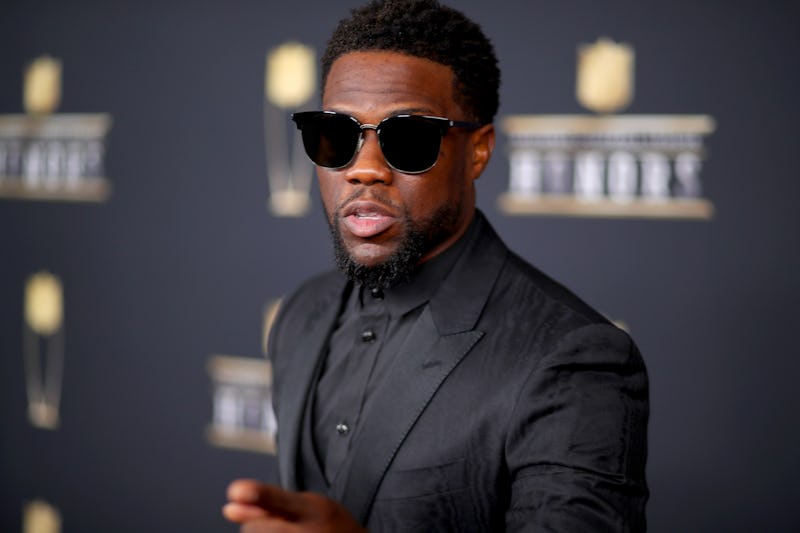 Christopher Polk/Getty Images Entertainment/Getty Images
On Thursday evening, after being accused of homophobia, Kevin Hart stepped down as the Oscars Host for 2019. It was an unprecedented move, two days after the announcement of his hiring, and it came after a series of his tweets and quotes from years ago began to re-surface and circulate on Twitter. In what seemed like a full-circle moment, Hart took to Twitter around midnight to announce his decision to relinquish the role that he had described as the "opportunity of a lifetime," two days earlier.
Hart tweeted, "I have made the choice to step down from hosting this year's Oscar's....this is because I do not want to be a distraction on a night that should be celebrated by so many amazing talented artists. I sincerely apologize to the LGBTQ community for my insensitive words from my past."
He continued, "I'm sorry that I hurt people.. I am evolving and want to continue to do so. My goal is to bring people together not tear us apart. Much love & appreciation to the Academy. I hope we can meet again."
Only once before has another comedian backed out of being the Oscars host, and that was comedian Eddie Murphy in 2011. Ironically enough, Murphy dropped out immediately following the announcement that his colleague and show producer backed out after making an anti-gay remark.
The Academy has not yet stated whether it has accepted Hart's decision to bow out as host. Earlier in the day, Hart had posted an Instagram video claiming the Academy had asked him to apologize in order to keep the role. At that point, Hart refused, saying, "I passed on the apology ... because I've addressed this several times ... I've spoken on it, I've said where the rights and wrongs were."
Hart continued,
The same energy that went into finding those old tweets could be the same energy put into finding the response to the questions that have been asked years after years after years. We feed internet trolls and we reward them. I'm not going to do it, man. I'm going to be me. I'm going to stand my ground. Regardless, Academy, I'm thankful and appreciative of the opportunity. If it goes away, no harm, no foul.
Hart obviously had a change of heart, because he tweeted his apology soon after that video. However, it's not yet clear whether Hart has any intention or desire to continue on as the Oscars Host (if the Academy permits it), or if he truly is beating The Academy to the punch and completely pulling his name from selection.
As you'd expect, Hart's Twitter mentions are now a virtual warzone between those celebrating his actions and those condemning the fact that he didn't immediately apologize (not to mention the fact that he wrote those tweets to begin with). It's likely that the Academy will give a prompt answer of confirmation or denial about Hart's Oscar status in the coming days.
Two days prior to this, Hart had taken to Instagram to say he was "blown away" by the opportunity to host the Oscars. He promised, "I will be sure to make this years Oscars a special one."