Khloé Kardashian Picked One Sister To Be True's Legal Guardian & Yes, There Was Drama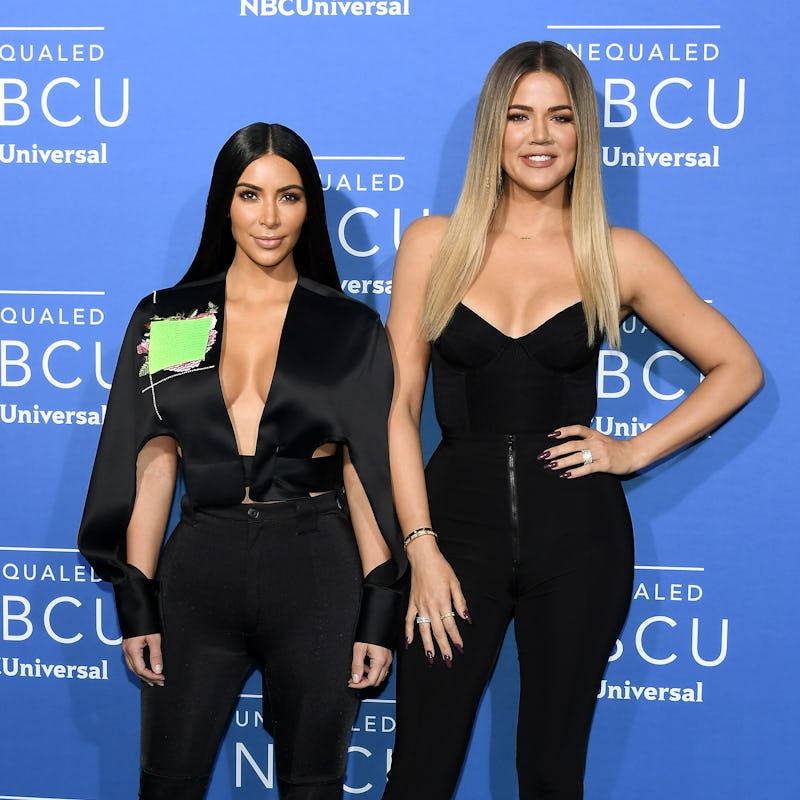 Dia Dipasupil/Getty Images Entertainment/Getty Images
It's already been a particularly dramatic season of Keeping Up With The Kardashians where the sisters' relationships with each other are concerned, and now, it seems that drama is about to get kicked up a notch. In a trailer for Sunday's new episode of KUWTK, Khloé chose Kim to be daughter True's legal guardian if anything ever happened to her, and after Kourtney caught wind of this, of course her feelings were hurt.
Being that this season was filmed while Khloé was still pregnant, True wasn't born yet, and Khloé didn't have any experience being a mom herself yet. But at that point, she felt like the way that Kim parented her children would be similar to her approach to parenting when True does arrive, and that's why she thought she'd be the right one for the job.
In the clip, Kim, Kourtney, and Khloè were all sitting together at a table in Khloé's kitchen when she decided to announce the news. Immediately, you could see the reactions on Kourtney and Kim's faces that would predict the way the rest of this conversation would go; Kim couldn't hide her instant smile, while Kourtney definitely couldn't hide the fact that she was hurt over Khloé's decision.
Khloé laid it all out there for her sisters, telling them:
"So I can't make anything official until after the baby is born, but I am going to probably have Kim as the legal guardian if, God forbid, something happens, just because I don't know my parenting style until I have a baby, but from what I envision my parenting style to be, I do think it will be more like Kim — a little more stricter."
In her interview in the clip, Khloé expanded on her decision, saying:
"Watching Kimberly be a mom, I really respect her parenting skills — not that I don't respect Kourtney's; I relate to how Kim parents more. But at the end of the day, this family is so close and we love each other so much and if anything, God forbid, were to happen, I know my daughter is in the best of hands no matter who her legal guardian is."
During their conversation, Kourtney acted like this was NBD, although she did get a little sassy, telling Khloé, "Guess what? You don't have to give me an explanation. But in the interview of her own, Kourtney did admit that she was feeling "a little bit disappointed" about the whole thing.
"Honestly, you don't know what your parenting style is until you have kids," Kourtney said. "So I think once Khloé has her own daughter and is really a mom, then maybe she will realize that we have more in common than she thinks as far as parenting styles. You never know! Khloé might switch back to me."
Being that Kourtney's felt like the odd sister out for a lot of the episodes in this season of KUWTK so far, it's totally understandable that her feelings would be hurt. To hear that your sister chose someone else over you to take care of their baby? That can't be easy. But Kourtney handled it well, and like she said, there's totally a possibility Khloé will change her mind when she's a more experienced mom.
And what Khloé said in the promo is right: No matter who ends up being her baby's guardian in the unlikely event that something terrible happens, she's in the best possible hands. Once again, having a big family is coming in clutch.