Khloé Kardashian Kinda, Sorta Commented On The Tristan Thompson Cheating Scandal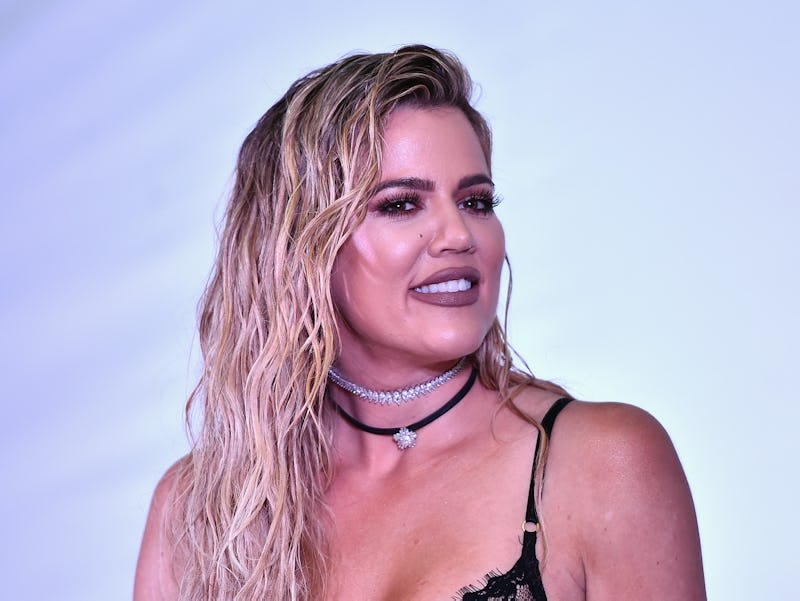 Alberto E. Rodriguez/Getty Images Entertainment/Getty Images
Khloé Kardashian is finally opening up about how she's doing about after the Tristan Thompson cheating scandal. Well... kind of. As Marie Claire noted, Khloé Kardashian commented on the Tristan Thompson cheating accusations by posting a cheeky response to an E! News Instagram post about the scandal. While it wasn't a direct comment from Kardashian about the allegations specifically, it did serve as the first time she publicly acknowledged the news.
E! News posted a photo of Kardashian with her sister, Kourtney Kardashian, and said that the Revenge Body star is "living in her own personal hell" in relation to the cheating allegations against the father of her daughter, True Thompson. The rest of their caption read, "If there's any sister that understands a bit of what Khloe is going through it's Kourtney Kardashian." They continued, "Link in bio for the exclusive story on how Khloe is learning to cope by leaning on her sister."
The post got Kardashian's attention, as she responded with some of her classic humor. She commented, "Oh damn.... I hope I don't crush her by leaning on her! I love my little @kourtneykardash."
So, no, it wasn't a direct comment on the allegations exactly. But, it was the first time that Kardashian responded to a story that reported on the accusations, even though it was done in a silly way.
Ever since the cheating allegations against Thompson emerged in April, Kardashian has kept a low-profile on her social media accounts. Aside from some tweets relating back to her app and a couple of posts on Instagram, including a name announcement for her daughter, the reality star has not been an especially active social media user as of late. Seeing as though Kardashian gave birth to her first child on April 12, it's pretty understandable that she'd take a step back from the limelight for a little bit.
Yet, the Keeping Up With the Kardashians star could be getting ready to make a return to her frequent social media posting, if her recent Instagram comments are any indication. In addition to her comment on E! News' photo, the reality star also left a cute note on one of her siblings' Instagram pics. On an insanely adorable post from Kylie Jenner that showed the starlet posing with her daughter, Stormi, Kardashian couldn't help but gush over her two family members in the comments section. She wrote, "Both of my cuties!!!!!" Do these recent Instagram comments mean that Kardashian will be posting a lot more on social media in the near future, including a more direct comment on Thompson's cheating scandal? Only time will tell.
In case you forgot about the cheating allegations against the basketball player, the accusations emerged only days before Kardashian was to welcome her first child. The Daily Mail reported on April 10 that Thompson was spotted getting close to a woman in a NYC nightclub on April 7. Then, TMZ reported that the Cleveland Cavaliers player allegedly cheated on the reality star back in October 2017 and shared a video of a man appearing to be him with two women in Washington D.C. Thompson has not commented on the reports, and none of the Kardashians commented on the news when it was first reported. (Bustle reached out to Thompson and Kardashian for comment at the time.) However, a couple of famous family members have recently opened up about the entire scandal.
In an appearance on The Ellen DeGeneres Show on April 30, Kim Kardashian revealed what she thought about the whole situation, and she did not hold back. She told the host, "Like, I don't even know how to describe it besides it's just so f*cked up." Kim continued, "We really were rooting for Khloé — and we still are. She's so strong, and she's doing the best that she can. It's a really sad situation all over."
Similarly, Kris Jenner made an appearance on The Ellen DeGeneres Show on May 4 where she discussed the allegations and how Kardashian is handling them. Jenner said that the scandal was "unexpected" but that the Revenge Body star's focus is now all about her daughter. She said, "Khloé is amazing. I'm so proud of that kid. I get choked up because she's such a good mom and honestly, I get so emotional."
While Kardashian's family members commented on the scandal in a more direct fashion, it's still interesting to note the reality star's tongue-in-cheek response to the allegations herself. And, considering that she's been more active on social media, it's possible that fans can expect a more specific comment on the whole situation from Kardashian in the future.