Khloé Posted Something Cute On Instagram, But It's Not What Fans Will Have Hoped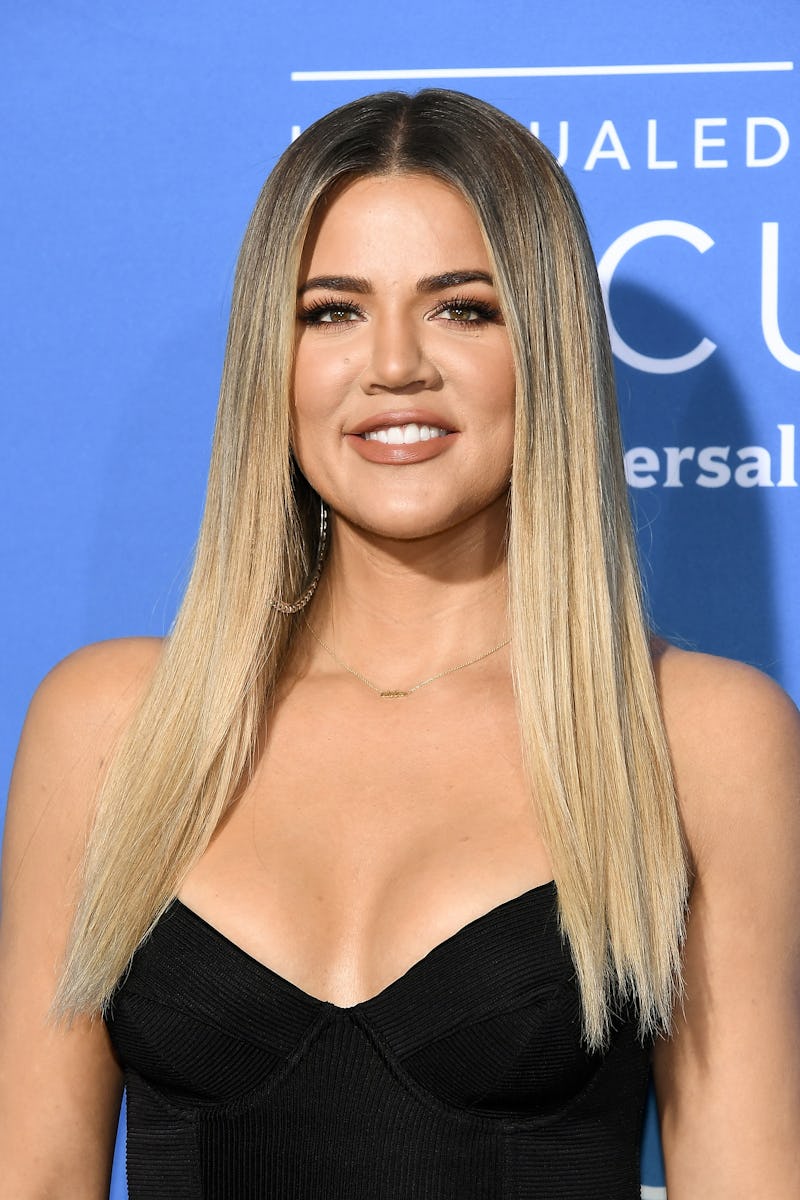 Dia Dipasupil/Getty Images Entertainment/Getty Images
When a member of the Kardashian family goes off the social media grid, it's like a massive piece of fans' daily scroll through their feeds is missing. And that absence has been felt big time lately since Khloé Kardashian dropped off the map. But, as noted by Cosmopolitan, Kardashian is still on Instagram even though she's not posting, as evidenced by her recent comment on one of her sister's posts.
Since word got out about Tristan Thompson's reported cheating, Kardashian has been near radio silent on social media, leaving fans to wonder what her next move will be. So far, she hasn't even posted the first photo of her baby, True — just a photo of pink balloons as a simple way of announcing her birth. But if you think that means she's not using the app, think again. On Wednesday, Kylie Jenner posted a new photo of herself and daughter Stormi from the beach vacation on which they're celebrating Travis Scott's birthday, and Kardashian just had to comment. Seeing the photo, it's easy to understand why; Stormi somehow keeps getting cuter every single day, and it would be impossible to scroll past these adorable chubby cheeks without at least saying something. Kardashian's newest niece is pretty much the best.
Here's the photo Kardashian commented on:
And this is her comment:
Kardashian is correct: Jenner and Stormi are both cuties. It's so good to see that she's still out there, since she hasn't been communicating with her followers or even sharing photos at all in the weeks that have passed since True's birth. But does that mean we should expect a comeback soon? Not necessarily — that will happen only when she's ready.
Now that we have proof Kardashian still exists, it's important to remember that she deserves all the space and breathing room she wants at a time like this. Finding out that your partner has been unfaithful is difficult, and figuring out motherhood for the first time is difficult. Put both of those things together, and it's easy to assume that this time might be overwhelming for this new mom. It's hard to blame her for wanting to take a step back from social media, especially since so many people have been sharing their opinions on her personal situation online.
It's impossible to know exactly what Kardashian is feeling right now since she hasn't shared that information herself, but it's probably safe to say that if she isn't posting, she wants to be given some privacy. And we have been given a few updates, even if they're not straight from Kardashian herself. When Kim Kardashian appeared on The Ellen DeGeneres Show earlier this week, she said that right now, it seems like Kardashian "just wants a clear head and just wants to be alone with her baby and figure that out," so she deserves the space to do just that.
Of course, as a fan, it's hard not to be worried about how Kardashian is doing. Since she (and the rest of her family) are usually so open on social media and on Keeping Up With The Kardashians, it feels strange not to hear from her or know how she's coping during a time like this. But staying away from Instagram — and all of the unhelpful comments that would inevitably show up on her posts — might just be what's best for her right now.
In the meantime, as fans, we just have to respect her privacy and wait for her return, as impatient as many of us might feel right now. When Kardashian is comfortable, she'll be back — and hopefully, she'll come bearing plenty of photos of True.