Khloe's Response To Criticism Of That Kim Kardashian "Skinny" Video Is Pretty Disappointing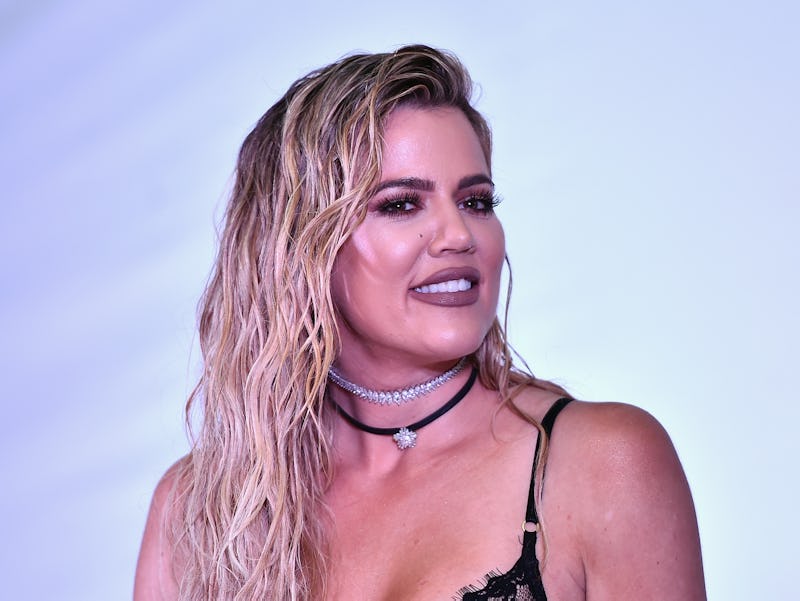 Alberto E. Rodriguez/Getty Images Entertainment/Getty Images
With their platform, the most casual comments from the Kardashian-Jenner clan can sometimes cause huge ripples. And Khloé Kardashian's defense of those "skinny" videos is proof that the reality TV family hasn't totally figured out how to navigate the line between private and public. The new mom seemed dismissive of the criticism that some fans had over Instagram stories commenting on her sister Kim Kardashian's weight. The videos, in which the Kardashians were seen praising how "skinny" Kim looked, were uploaded on July 30, but days later in an Aug. 2 interview with E!, Khloé remained unapologetic. She defended the conversation, telling her interviewer, "[Kim] looks great and I'm praising her for looking good!" She added, "I think people are taking those comments so far. It's also we're teasing each other too. But yeah, people just take anything and just run with it."
The footage in question was posted to Kim's story on Monday, and it showed the reality star gleefully responding as Kendall Jenner, Khloé, and Khloé's friend Malika Haqq all discussed her weight. Kendall said, "I'm really concerned, I don't think you're eating," while Khloé called her sister's waist "anorexic" and her arms "pin thin," and Malika joked that the 37-year-old had been living off "different flavors of oxygen." And upsettingly, each comment seemed to delight Kim more than the last. She urged the group to "tell her more," and giggled, "I'm not that skinny — I'm down to 119 pounds."
It was that last comment, along with the implication that "anorexic" was a compliment and something to be taken lightly, that largely triggered the controversy. Bodies come in all shapes and sizes, and Kim casually throwing out 119 pounds as "not that skinny" was understandably upsetting to a whole range of people. That group included Brooklyn Nine-Nine's Stephanie Beatriz and Shameless' Emmy Rossum, who had their own associations with that particular number. Beatriz posted an Instagram Story commenting, "Kim Kardashian saying what she weighs and her sisters complimenting her being so skinny is like eating my brain rn," before sharing:
There's only one time in my life when I ever weighed 119 pounds. It was right in the middle of a terrible relationship, and intense eating disorder, and I thought that I could be thinner and look even better. Everyone kept complimenting me on how I looked, and I felt desperate to stay at that weight. It sucked.
After reading that heartbreaking note, Rossum chimed in with her own experience, tagging Beatriz in her own Instagram story and sending back:
The only time I was 119 pounds is when I had MONO. On a magazine shoot and everyone was "freaking out over how good" I looked. I had lost ten pounds and was gaunt and sick and felt faint … It totally messed with my head. I love you and I'm with you.
Both women seem to be attempting to convey to the Kardashians and their own fans how hurtful it can be to focus myopically on weight and appearance. For both Rossum and Beatriz, the moment when society felt the best about their exteriors coincided with a time that they felt the worst about their interiors. And they drew that connection to not only help their fans out, but maybe also educate the Kardashians a bit on how to avoid that kind of mentality and triggering language in the future.
If that was their intention, it doesn't seem like the message really got through. When asked how she deals with the "haters" responding on Instagram, Khloé told E!:
I turn off my social. It's good to take a break and disconnect because it doesn't matter in my real world. People's comments like that – my friends and family, they know who I am, they know our intentions and our hearts, and that just doesn't matter in my every day life.
Watching her turn away from the issue and saying that this sort of thing "doesn't matter" will no doubt be disappointing to many fans. This is an opportunity to address your fans and make sure you're spreading body positivity, but it's one that unfortunately, the Kardashian-Jenner Family appears to be letting pass by.
If you or someone you know has an eating disorder and needs help, call the National Eating Disorders Association helpline at 1-800-931-2237, text 741741, or chat online with a Helpline volunteer here.