Khloe Kardashian Got Super Real About Her Latest Bikini Video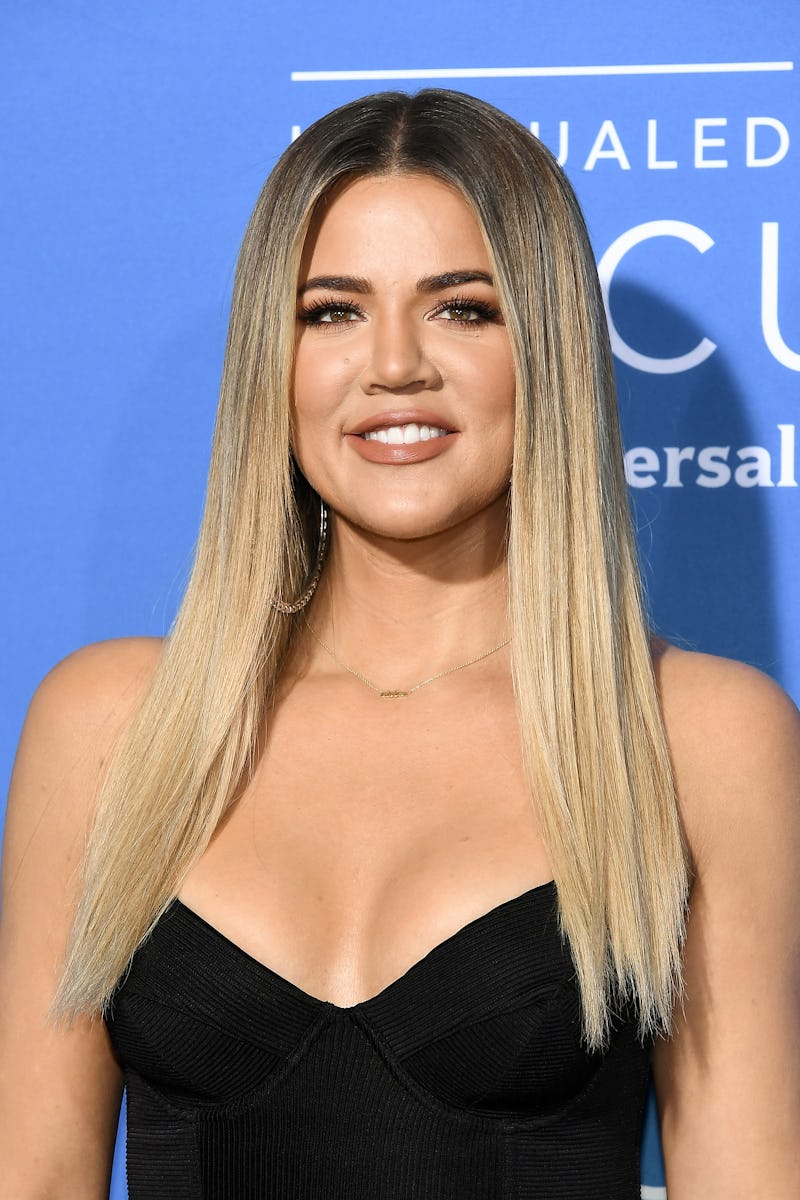 Dia Dipasupil/Getty Images Entertainment/Getty Images
If you keep up with Khloé Kardashian, then you would know that the new mom is all about keeping it real. And her latest tweet proved that she's still all about that. Khloé Kardashian commented on her latest bikini video and got super honest about how her post-baby body was represented on Instagram.
As you might recall, Kardashian's sister, Kendall Jenner, previously posted a video on her Instagram Story in which she showed off the pair's "Sister Sunday" hangout. In the short clip, she highlighted the Revenge Body star as she was laying down by the pool. But, it turns out that Kardashian has a little something to say about the image presented in the video.
She tweeted that she was a little late to the game when it came to her sister's post, "And I'm just seeing that Kendall posted a video of me in a bikini..." The reality star continued to joke that her sibling (being a supermodel and all) really knows her angles and was able to take the best video possible. "Thank God she knows her angles LOL cuz I do not look like I did in that video LOL laying down is a game changer," she said. You can always count on Kardashian to keep things totally real. It makes sense that she would be so outspoken (and in such lighthearted way) when it comes to an issue relating back to her body image, seeing as she's done so in the past.
In late May, the Keeping Up With the Kardashians star was very open about her decision to head back to the gym with her trainer, Coach Joe, as soon as she got the OK from her doctor. She noted on her website (via People) that even though she is physically not the same as she was pre-baby, it's totally alright with her.
Kardashian related, "Not going to lie, it's a struggle to get back into the groove. Mentally, I'm strong but physically, it's just not the same. But every day, I'm one step closer, baby!" While the reality star was excited about getting back into the gym, and showing off her body on Instagram post-workouts, there were, of course, some haters who tried to get her down.
She said that there were those who attempted to shame her for getting back into her workout routine so soon after having a baby. But, she wasn't having it. She wrote on her website, "What I'm annoyed about is that I've read a couple of times on Twitter that, you know, they feel that I'm focusing too much on my body." Kardashian continued to say that her gym sessions aren't completely about getting back to her pre-baby weight, they're also about getting her back into something she simply enjoys doing. The KUWTK star continued, "the truth is, I've worked out five or six days a week before I got pregnant and that's my sanctuary and something I love to do."
If Kardashian wants to start working out again after welcoming her first daughter, True Thompson, that's obviously her right to do so. Since her workouts are helping her get into a positive mental state, isn't her happiness really all that matters when it comes to these gym sessions?
Between the updates on her website, and her many tweets about the subject, Kardashian has not been afraid to let her fans know all about her workout progress. Recently, on June 21, she once again revealed how, despite some relatable insecurities, she's happy about where she's at. It's nice to see that she can still keep things real about everything that's going on in her post-baby journey, whether it's a gym update or even a fun clarification about her sister's angle-friendly Instagram post.