Khloe Kardashian's New Baby True Videos Will Make Your Heart Burst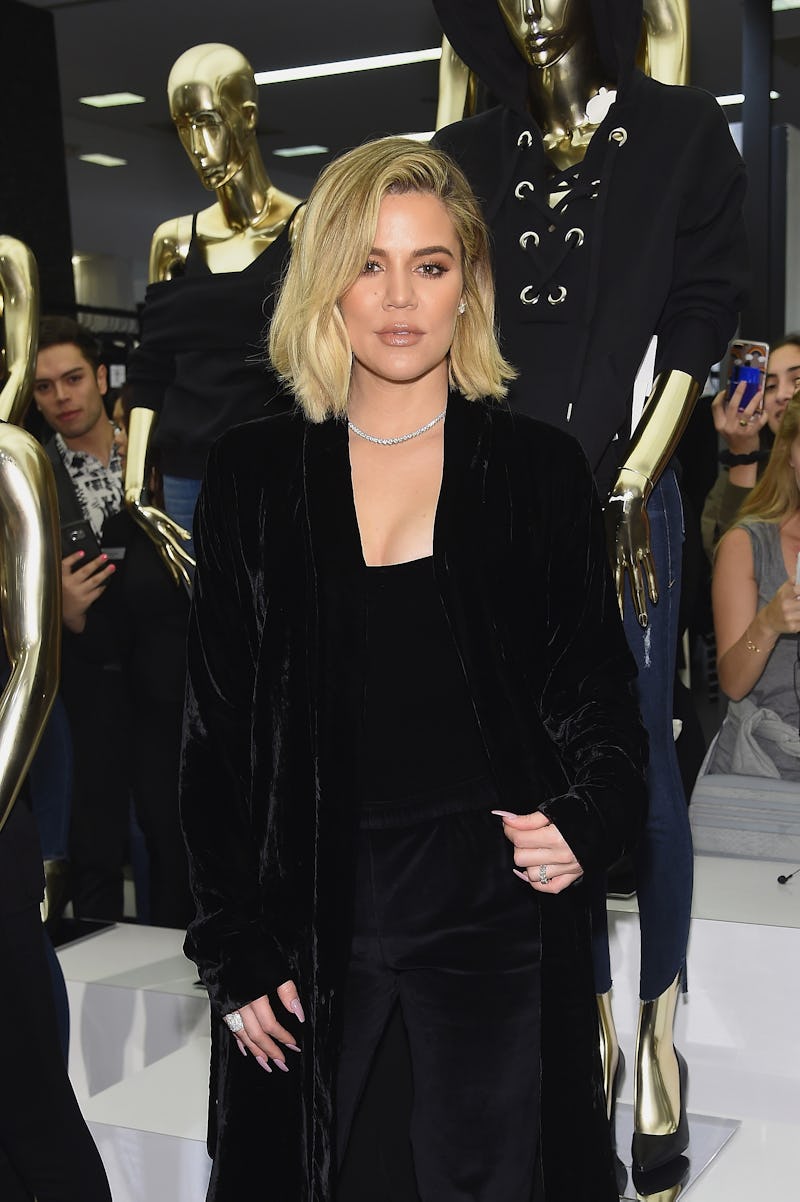 Jamie McCarthy/Getty Images Entertainment/Getty Images
On Saturday, May 12, Baby True Thompson turns one-month old and Khloé Kardashian posted videos of Baby True Thompson on Snapchat and Instagram to celebrate the milestone. It's the public's first look at Baby True since Khloé revealed a bit of her daughter's arm in a Snapchat selfie on Thursday, May 10. In an adorable Instagram post, Khloé spoke to True, who looks up at her mother. "Happy one month old, mama. I love you pretty girl." Khloé wrote the following caption to the video: "Happy One Month True," surrounded by hearts emojis.
Khloé posted a similar Snapchat video of True, but in the video, True looks like she is wrapped in a soft, snuggly blanket. In the Snapchat video, Khloé asks True a different question. Khloé said to True: "Good morning, mama. How's my little love? Do we have the hiccups?" Aww. If you listen closely, you can hear Baby True's baby hiccups and it's just so adorable.
Khloé gave birth to True in Cleveland, Ohio, on April 12, exactly one month ago. The new mom revealed her daughter's name in an Instagram post on April 16. Khloé wrote the following in the post:
Our little girl, True Thompson, has completely stolen our hearts and we are overwhelmed with LOVE. Such a blessing to welcome this angel into the family! Mommy and Daddy loooooove you True!
True is the latest new member of the Kardashian family, following Kylie Jenner's daughter Stormi, and Kim Kardashian's baby daughter, Chicago.
On Wednesday, May 9, Khloé celebrated True's one-month birthday a few days early on Twitter. She wrote the following:
I can't believe my baby will be a month old tomorrow [sad face emoji] why does this make me happy and sad all at the same time. Thank you Jesus for my sweet peanut [purple heart emoji]
On May 11, Khloé graciously tweeted a correction after a fan pointed out that True's one-month birthday is actually on May 12:
Guess what... until this tweet I thought it was the 12th the entire day lol [face palm emoji] so, technically you are right. Lol I'm so immersed in feedings, sleeping and diapers -REPEAT!! Wow lol ok so we have two days
Speaking of milestones, Sunday will be Khloé's first Mother's Day as a mom. She recently shared on her app and website Khloé With A K that she doesn't have concrete plans for her first year celebrating the special day. She wrote:
I've always loved Mother's Day and celebrating Kris Jenner, MJ and my sisters — but this year will be even more special because now I'm a mommy, too! As of now, there aren't any special plans (that I know of, LOL). I'm really enjoying spending quality time with True and loving just hibernating with her.
Khloé announced her pregnancy back in December 2017 with an Instagram photo of her pregnant belly being cradled by her hands and those of her longtime boyfriend and True's father, NBA basketball player Tristan Thompson. Khloé wrote in the sweet photo's caption:
My greatest dream realized! We are having a baby! I had been waiting and wondering but God had a plan all along. He knew what He was doing. I simply had to trust in Him and be patient. I still at times can't believe that our love created life! Tristan, thank you for loving me the way that you do! Thank you for treating me like a Queen! Thank you for making me feel beautiful at all stages! Tristan, most of all, Thank you for making me a MOMMY!!! You have made this experience even more magical than I could have envisioned! I will never forget how wonderful you've been to me during this time! Thank you for making me so happy my love!
And now, Khloé and True are celebrating a one-month birthday and first Mother's Day this weekend. Aww.