Khloé Kardashian Is Sharing Sweet Photos Of Her Late Dog After The Latest 'KUWTK' Episode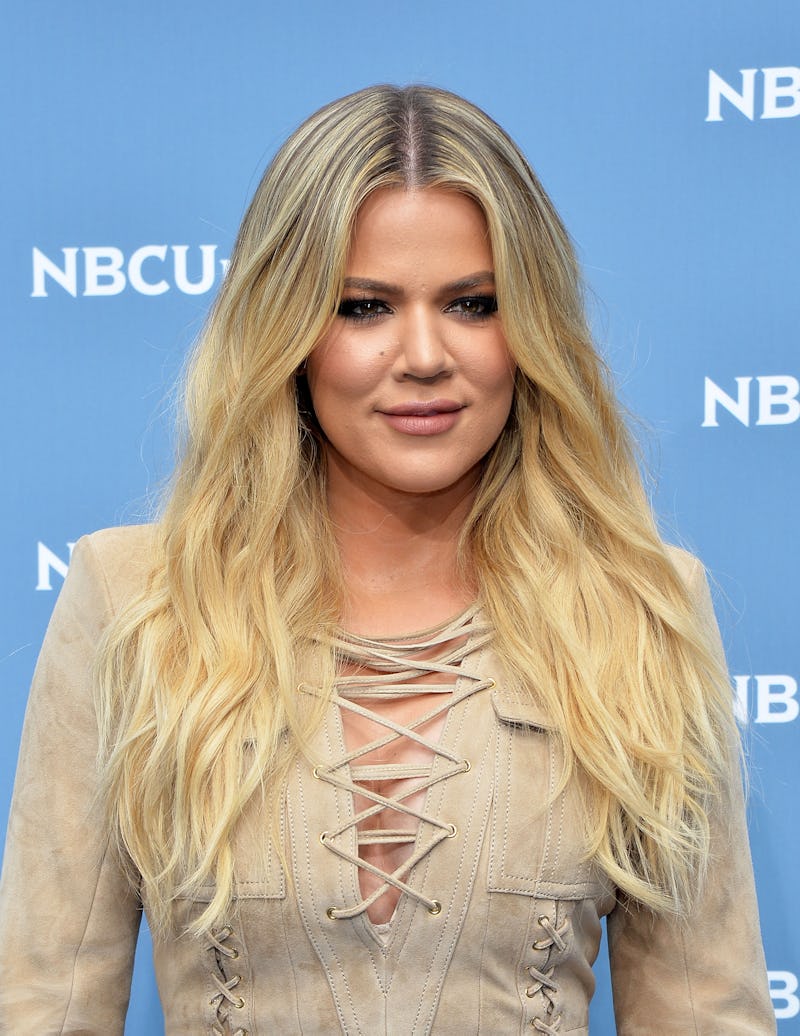 Slaven Vlasic/Getty Images Entertainment/Getty Images
Losing a pet is like losing a member of the family, and unfortunately, it's something that the Kardashians are all too familiar with — especially Khloé. After Sunday's episode of Keeping Up With The Kardashians, Khloé Kardashian shared photos of her dog, Gabbana, who died earlier this year. Not only is it obvious that she truly misses her, but it also seems like she still holds a huge place in her heart. And as anyone who's lost a pet can attest, photos like the ones that Khloé has been posting become even more precious after they're gone.
Back in January, Khloé first shared the sad news that Gabbana had died. Although the dog originally belonged to Kris and Caitlyn Jenner while they were still married, after their split, Gabbana became Khloé's and lived with her for the rest of her life. Obviously, she was heartbroken at the time, and on Sunday night's episode, Khloé had to make the hard decision to put Gabbana down after her health was getting worse.
Even before the episode aired, Khloé tweeted that this was going to be a hard episode for her to watch, and it was easy to see why. Who wants to relive such a hard time in their life?
But it seems like the episode also gave her the chance to relive some of the happier memories she had with Gabbana, and she shared so many of those on her Instagram story. This one kicked off the series of photos, where Khloé shared how much she missed Gabbana. It's hard to blame her — this dog was so loved.
She also shared another photo of her and Gabbana cheesin' together...
And another one that featured them in the car, driving together. Almost all dogs love car rides, and it seems like Gabbana definitely fell into that category. Look at that precious, happy face.
One of the most adorable photos Khloé shared of Gabbana was one that included North, Penelope, Mason, and Reign gathered around her. It seems like the entire fam couldn't get enough of Gabbana, so even though she's gone, she had a pretty good life with so much love.
In Khloé's original Instagram announcement of the sad news, she wrote:
"She was more than a pet. She was my first child, my companion and my friend. She was incredible! She made sure I was never lonely even during lonely times. The house will never be the same. I never thought I would be this devastated over loosing a dog but 14 years, is a long time together. She filled a significant role in my life and I'm forever grateful."
Gabbana might be gone, but it definitely doesn't seem like she'll be forgotten anytime soon. She and Khloé were lucky to have each other, and Khloé will have all of these memories for the rest of her life. And who knows? Maybe she'll end up adopting another pup to love. How adorable would True be with a puppy?