Khloé Kardashian's Dog Died & Her Photo Tribute Will Bring Tears To Your Eyes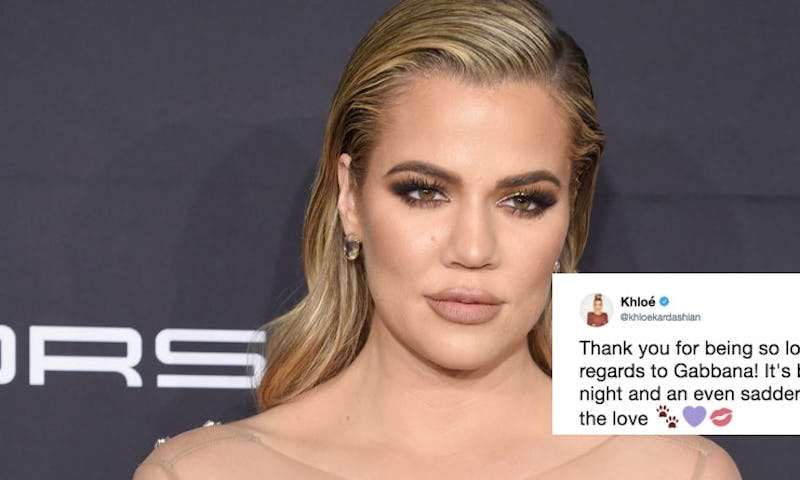 Jamie McCarthy/Getty Images Entertainment/Getty Images ; Khloe Kardashian/Twitter
Fans of Keeping Up With The Kardashians know how the famous family feels about their furry pals, and on Tuesday, Jan. 30, two of the sisters shared some some pretty devastating news. According to Instagram, Khloé Kardashian's dog Gabbana died recently, and fans are mourning with the reality star all over the internet. Kendall Jenner also posted about the family's loss on Instagram with an equally heartbreaking tribute.
Along with a series of photos, Khloé's Instagram announcement read:
"Last night my sweet Gabbana passed away. She was more than a pet. She was my first child, my companion and my friend. She was incredible! She made sure I was never lonely even during lonely times. The house will never be the same. I never thought I would be this devastated over loosing a dog but 14 years, is a long time together. She filled a significant role in my life and I'm forever grateful. I love you Goober!! I'll remember you always!"
Losing a pet is never easy, especially when you consider your friend to be more like family. And for Khloé and the rest of her loved ones, that's totally true. The 14-year-old dog has been with her family for over a decade, and she affectionately referred to the late pup as "my first child, my companion and my friend." People reported that the black lab was adopted with the Kardashian-Jenner clan's other family dog, a chihuahua named Dolce. The small dog has also passed away, after being killed by a coyote prior to Gabbana's passing, presumably in 2012. And according to Kylie Jenner, she paid tribute to the pup by naming one of her first lip kit collections Dolce K.
People also shared that Khloé took custody of Gabbana when the pup was 11 years old, at the height of the divorce between her parents, Kris and Caitlyn Jenner. And as if the news couldn't have gotten any sadder, the pictures of Khloé cuddling and hanging poolside with the gorgeous pet will bring tears to your eyes.
Along with Khloé, Kendall also dedicated a sweet post to the late pup on Instagram, and fans offered words of encouragement to the model in the comments section. On the social platform, Kendall wrote, "I'll miss your kisses forever Gooby. I know you're up there swimming, little fishy," and seriously, whose heart isn't breaking right now?
Mourning a loss inevitably creates a somber atmosphere, but through losing a loved one, people also come together, creating a comforting support system. Case in point, fans offered support for the family on Instagram, with comments ranging from "sorry for your loss" to "she'll be in doggy heaven watching over you now."
On top of that, KUWTK fans also took to Twitter, sharing words of encouragement, stories about their own experiences with losing pets, and one fan, in particular, created a lovely tribute video to Gabbana.
Khloé even thanked fans for their support. She wrote on Twitter on Tuesday evening,
"Thank you for being so loving and kind in regards to Gabbana! It's been such a sad night and an even sadder day. Thank you for the love"
It's no secret that Khloé has been through a lot over the past few years. From dealing with divorce, both her own and her parents', to now expecting her first child with her partner Tristan Thompson, the reality star has seemingly experienced a whirlwind of emotions. Khloé wrote that Gabbana's loss has been "devastating" to deal with, especially since she's been right by her side through it all.
Thankfully, Khloé has a slew of family members and friends to help her through this sad time. And paired with words of encouragement constantly pouring in from fans, it'll take some time, but you can bet she'll be just fine.