Khloé Defended Herself From Mommy-Shamers Again, Since People Just Won't Leave Her Alone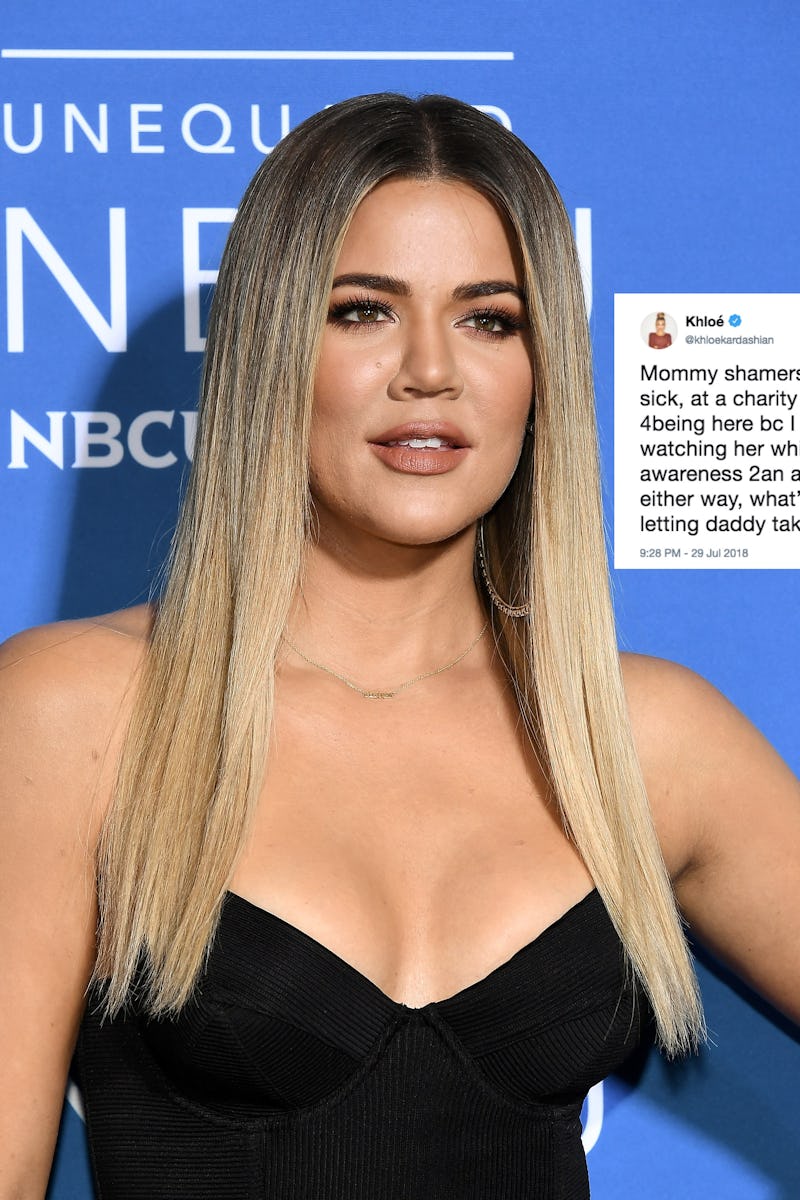 Dia Dipasupil/Getty Images Entertainment/Getty Images; Khloe Kardashian/Twitter
It's only been a little over three months since True Thompson was born, but Khloé Kardashian has learned quickly how prominent mom-shaming can be. And now, she's speaking out about it — for what feels like the hundredth time since her journey into motherhood began. On Sunday night, Kardashian called out mommy-shamers after she was called out for leaving her baby to go to a charity event, and it's hard to blame her for being so frustrated.
According to Entertainment Tonight, the event in question was Sunday night's "If Only" Texas Hold 'Em Poker Tournament in Inglewood, California, which benefited City of Hope, an organization that helps those suffering from cancer and other illnesses. As Kardashian pointed out in her tweet, she wasn't feeling very well to begin with, but obviously, she felt like the event was important enough to attend despite that.
"Mommy shamers r at a high right now," she wrote. "I'm sick, at a charity event & I'm getting slack 4being here bc I have a baby? Her dad is watching her while I'm trying 2bring awareness 2an amazing organization. But either way, what's wrong w a new mom letting daddy take over 4a few hours?"
Kardashian's got a really good point here — it's a little much to call someone out for going out to an event without their kids. True was with her dad, so obviously she was left in capable hands, and if a new mom gets the chance to take a break from caring for their newborn, which can be extremely taxing, she shouldn't have to feel guilty about it. Besides, a Texas Hold 'Em tournament probably wasn't the best environment for a 3-month-old to be in, so True staying home was probably best for her, too.
And to be totally fair, attending events like this is part of Kardashian's job. Of course, even though it's 2018, plenty of moms are shamed if they choose to work over staying home with their children, but going back to work after giving birth to your child is pretty much the norm. Why should it be any different for Kardashian?
What makes this situation even more unfair is the fact that Kardashian hasn't truly been able to enjoy motherhood without being shamed for her choices from the start. In fact, before True was even born, Kardashian was shamed for traveling to Japan with her sisters while pregnant, and since then, it's been more of the same — like when she was shamed for not breastfeeding True, despite the fact that she was very open about how difficult it was for her not to be physically able to do that for her baby.
Mom-shaming is never OK, even when the mom in question is a celebrity. We all might have our own opinions about how to raise children, but keeping your baby alive is difficult enough without dealing with hundreds (and maybe even thousands) of people knocking you for your decisions. Maybe it's time Kardashian gets a break?