Khloe Kardashian's Tweets About How True Changed Her Will Touch Your Heart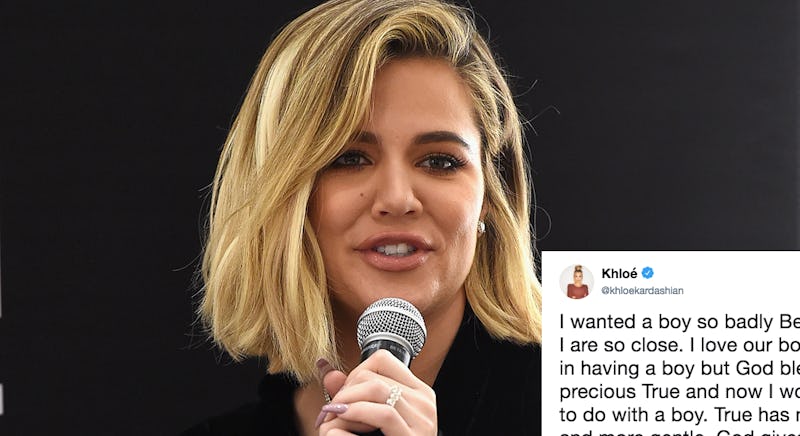 Jamie McCarthy/Getty Images Entertainment/Getty Images; KhloeKardashian/Twitter; Bustle/Screenshot
Now this is True love — literally. Khloe Kardashian tweeted about how daughter True changed her on Saturday, July 28, and the candid post couldn't have been sweeter. Making note of her super tight bond with sister Kourtney Kardashian's 8-year-old son Mason Disick, the new mom confessed she "wanted a boy so badly" before welcoming her daughter with NBA star Tristan Thompson in April. She elaborated in a tweet:
"I felt confident in having a boy but God blessed me with my precious True and now I wouldn't know what to do with a boy. True has made me sweeter and more gentle. God gives you what you need. My BFF 4Life"
Another added bonus of having a girl: Her daughter already has a built-in Kardasian krew. Big sister Kim's 6-month-old Chicago (with husband Kanye West) and lil' sis Kylie Jenner's 5-month-old Stormi with Travis Scott are super close in age.
"ANDDDD she has her two cousins to be her besties," Khloe added in another tweet. "We call them the triplets it's just the cutest!! GOD IS GREAT" (In true Kardashian form, the trio has even done their first "cousin photo shoot" earlier this month, which Auntie Koko also called "the CUTEST" on Twitter.)
Proving that motherhood has been one of the high notes of her life, the Revenge Body host shared a Saturday morning singalong with True on social media. In a video she posted to her Instagram story, Khloe sang a special song to her smiling baby girl to the tune of "Happy Birthday."
"Good morning to you, good morning to you, good morning sweet True, good morning to you," she sang as her daughter held onto her finger, before adorably adding, "That's your song."
When one fan remarked that the precious mother-daughter moment was "sooo cute," Khloe responded on Twitter: "I'm such a dork I sing this song every morning to her. I think she looks forward to it but maybe that's wishful thinking lol"
In another Instagram story post, the Keeping Up with the Kardashians star shared a selfie video of her and True lounging outdoors as another children's song played in the background. "I know every word," she wrote in a text overlay.
Khloe also took some time to answer other motherhood related fan questions on Twitter the same day. In response to one user asking about the best and worst parts about being a mom, she wrote:
"The worst part is the mom guilt. It's a real thing. You feel guilty at all times if you have to leave her side. Or really for anything. The best part is everything about her! The unconditional love and the fact that I get to raise a beautiful, strong and intelligent young lady"
And as for whether or not Khloe wants to have another baby? "Not right now lol" she wrote to another fan in a tweet. "True is only 3 months old so give me some time lol"
Now that Khloe is back home in Los Angeles after giving birth in Cleveland, where Thompson plays for the Cavaliers, she still seems to be soaking up the sweetness of first-time mommyhood. Aside from tricking out True's two identical nurseries (one in California and the other in Cleveland, of course) with neon "Baby Thompson" signs, lucite cribs, and butterfly mobiles, the Good American designer is also busy planning her daughter's christening.
While that may well be the first of many big milestones to come, Khloe's social media posts are proof that the simpler moments with her girl are sometimes the sweetest.