The Reason Khloé Is So Happy To Be Home Is Something All 'KUWTK' Fans Will Appreciate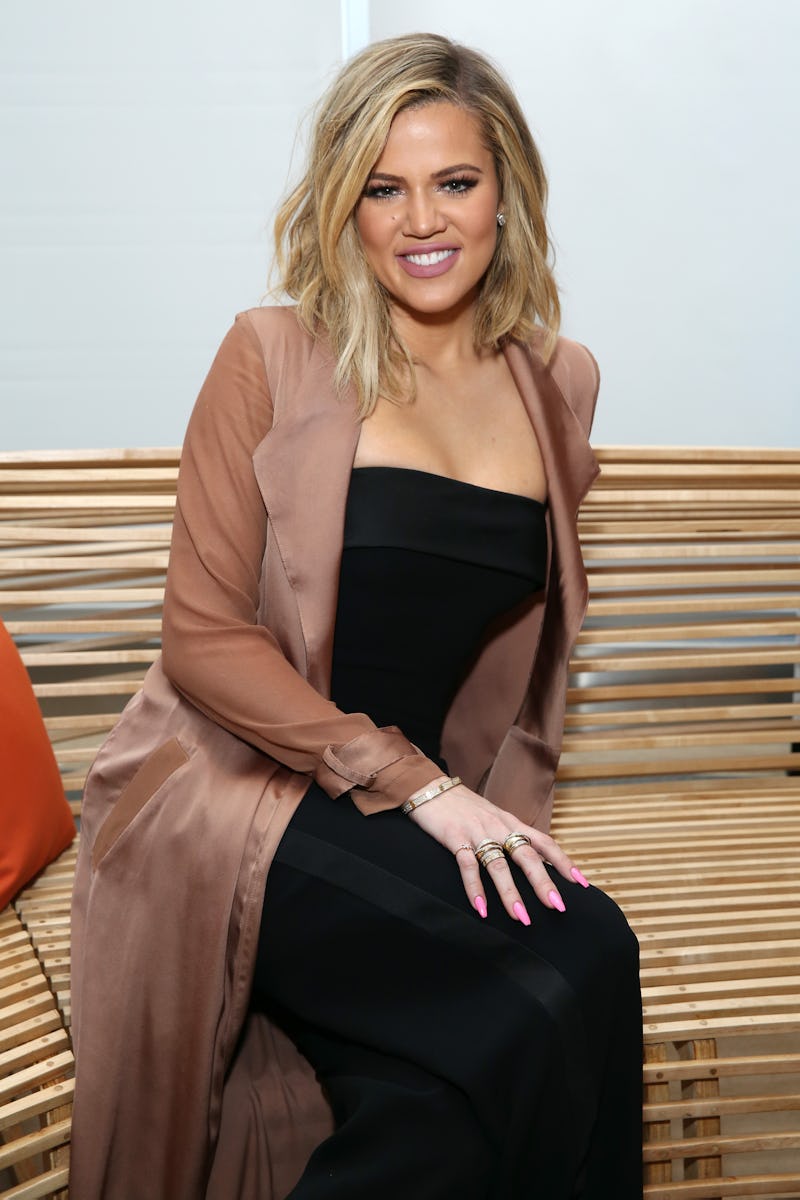 Cindy Ord/Getty Images Entertainment/Getty Images
There really is no place like home. Khloé Kardashian is happy to be in Los Angeles after living in Cleveland at the end of her pregnancy and after she gave birth to her daughter, True Thompson. According to Entertainment Tonight, the Keeping Up With the Kardashians star explained in a July 10 post on her app why she's glad to finally be back home — and it's the sweetest.
"I'm over the moon about being home!" she wrote. "Of course, I missed my actual house immensely while I was in Cleveland — there's nothing like enjoying your own home."
However, that's not the only reason she's overjoyed at being back on the West Coast. As anyone who is close with their family understands, Khloé is thrilled to once again spend time with her family. Plus, this means there are now more opportunities for True to get to know her family, but especially her cousins. As Kardashian fans know, the children of Kylie Jenner, and Kourtney, Kim, and Rob Rob Kardashian are all super tight. Now True can join in on the fun.
"I'm most excited about being so close to my family," Khloé further explained. "Getting the kids together and having True do all of her classes with her cousins is a great feeling!"
This isn't the first time Kardashian has expressed her excitement about True getting to hang out with her cousins. On July 1, after a fan asked when she would share photos of True, Stormi Webster, and Chicago West all together, the Revenge Body host tweeted, "We had a cousin photo shoot TODAY!!!! It was the CUTEST."
These photos have yet to be shared, but hopefully, they'll be posted soon enough. Like Khloé, Kim is also ecstatic about her sister and her niece being on the same coast as her and her family.
"The three little girls are gonna grow up together," Kim told ET in June. "Chi and Stormi are just two weeks apart and then True is just a few months behind so that's really exciting."
Kim added that they'd been making plans. "Me and Kylie and Khloé are planning one of those kids' photo shoots, just like a silly shot that we can have all the girls, 'cause Stormi and Chicago have so many pictures together," she said. "So, we can't wait for True to join the crew."
Also in June, Kim spoke with Access Hollywood about Khloé and True's welcome home. "It's very good to have Khloé back," Kim said. "I feel kind of bad. They came in town on Sunday, and the whole family — we spaced it out so she wouldn't be too overwhelmed. First it was Kourtney and all of her kids, then me and all of my kids, then my mom, Kylie. It was just like, everyone was just coming over to see the baby and wanting to introduce my kids to their new little cousin. So it was really good to see her and have her back."
It's been a little over a month since Khloé officially returned home after living in Cleveland, Ohio, with Tristan Thompson for a couple months postpartum. According to Kim, Khloé stayed in Cleveland for an important reason. "She wanted to have some, you know, alone time with the baby and, you know, figure out what her next steps are," Kim told Ellen DeGeneres in April. "I think it must be so hard to have your heart broken and fall in love all in a day or two, all happening at the same time." Kim, of course, is referring to the cheating allegations involving Thompson. (Bustle previously reached out to reps for Kardashian and Thompson about the cheating rumors, but did not receive a response.)
Upon Khloé's arrival at her LA home, the reality star shared photos and videos of the many gifts from her family. In addition to cookies with True's face on them (seriously!), Kylie sent her the cutest pink and white balloons. "Welcome home Khloé and True," the balloons read. "We Love You, Stormi and Kylie."
After everything Khloé has faced with Thompson, it's good to see her genuinely happy and enjoying being a mom. That's exactly how it should be.