Why Kim Cattrall Is Upset Over Sarah Jessica Parker's Condolences After Losing Her Brother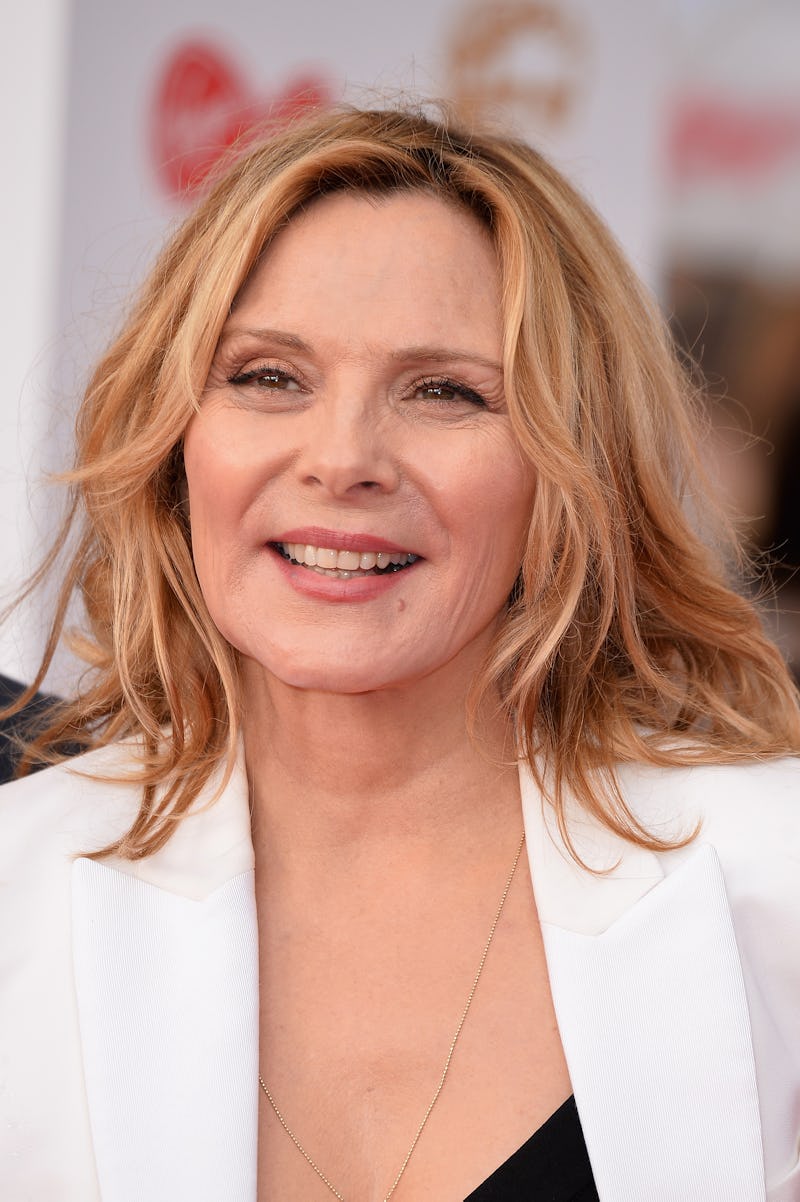 Jeff Spicer/Getty Images Entertainment/Getty Images
It's never been a secret that former Sex and the City stars Kim Cattrall and Sarah Jessica Parker haven't had the best relationship with each other over the years. But now, just days after the death of Kim Cattrall's brother, the feud between both actors has come to a head in Kim Cattrall's pointed Instagram post to Sarah Jessica Parker, in which Cattrall accuses Parker of reportedly exploiting her tragedy and once again stated that the former Sex and the City (series writing: Liz Tuccillo, 28 episodes) co-stars were not friends. Bustle reached out to Parker's reps for comment, but have not yet heard back.
Cattrall took to the app to share a photo with her 445,000 followers with a message to Parker, in which she addresses her former co-star directly: "I don't need your love or support at this tragic time @sarahjessicaparker." Cattrall goes into greater detail in the photo's caption, in which she alleged that her former costar is using her tragedy for personal gain.
"My Mom asked me today 'When will that @sarahjessicaparker, that hypocrite, leave you alone?'" she started off. "Your continuous reaching out is a painful reminder of how cruel you really were then and now. Let me make this VERY clear. (If I haven't already) You are not my family. You are not my friend. So I'm writing to tell you one last time to stop exploiting our tragedy in order to restore your 'nice girl' persona."
Cattrall ended the caption asking followers to copy and paste a link to a recent article from the New York Post about the rumored "mean girls culture" that reportedly existed on Sex and the City.
Cattrall's post comes just days after Parker sent her condolences to the 61-year-old actor following the death of her brother, Christopher Cattrall. Christopher was found dead on Sunday, hours after the SATC alum shared with her followers that he had been missing from his home in Alberta, Canada for almost a week. According to the Royal Canadian Mounted Police's statement to CNN, Christopher was found on his property in Blackfalds, Alberta, though his exact cause of death has not yet been released.
After her former co-star announced her brother's death, Parker attempted to show her support for Cattrall by leaving a comment under her original photo that read, "Dearest Kim, my love and condolences to you and yours and Godspeed to your beloved brother. Xx." The Divorce (program creator: Sharon Horgan) actor also appeared on Entertainment Tonight a few days later to further express her condolences.
"If somebody in your life, whether you're in touch with them or not, [is] suffering for any reason, it's involuntary that you want to convey condolences or sadness or just let someone know you're thinking about them," she said.
In an earlier Instagram post, Cattrall thanked her fans and former colleagues from the show for the support they showed her since making the announcement, though she did not specify in that post to which colleagues she had been referring.
Kim Cattrall recently made it clear that she's not up for doing another Sex and the City movie, which has understandably devastated lots of fans of the series. But the New York Post article that she cited in Saturday's caption detailed the rfumored on-set tension that was present between Cattrall and her costars, as well as an on-going reported feud with Parker. Likewise though, hours after Cattrall's post went up, SJP's Instagram comments sections are now flooded with messages from users attempting to tear her down as a way of defending Cattrall. With that said, it's important for anyone on the outside of the situation to remember that there's likely way more to the story between these two actors than what's being shared online, and that this definitely isn't the time to be pointing fingers and trying to pick sides.
What happened between Cattrall and Parker is their business and it's an inappropriate time for fans to be pitting her and her former costar against each other, and it's important to remember that the issue is way more complicated than anyone will ever know.