Kim Kardashian Got Super Honest About How Having Kids Has Affected Her Marriage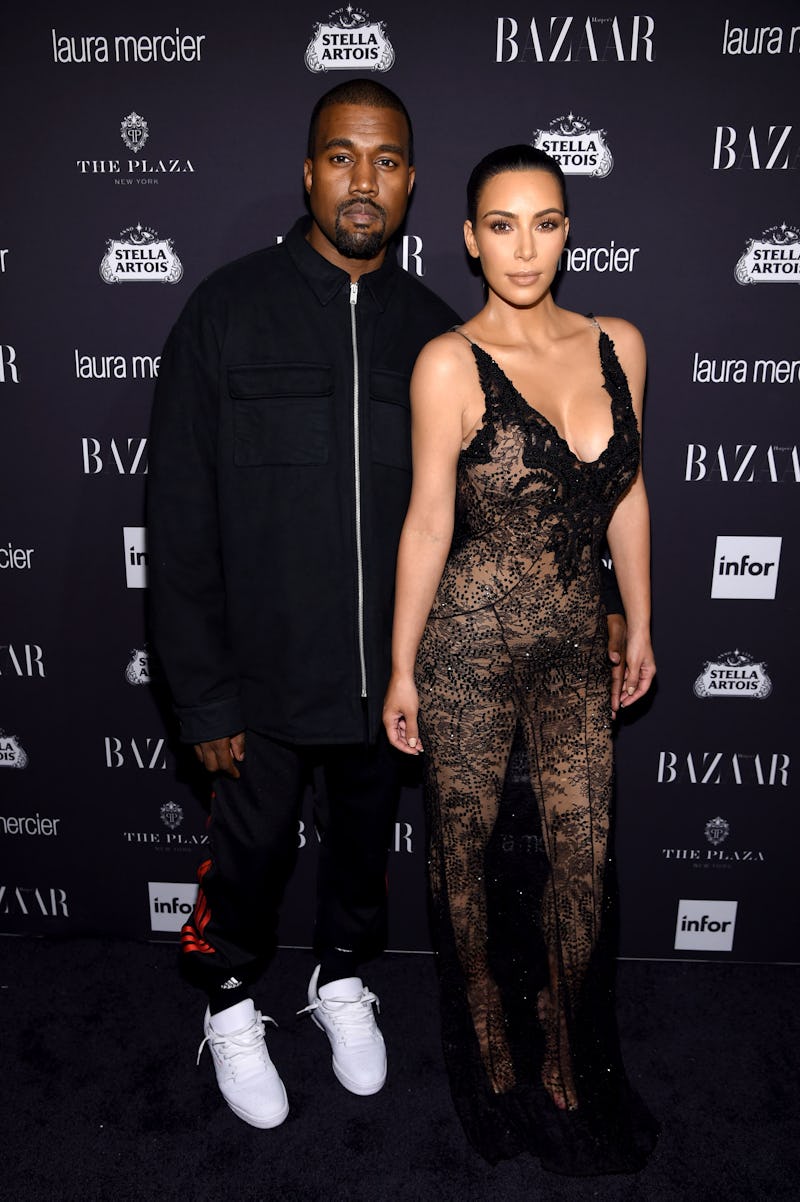 Dimitrios Kambouris/Getty Images Entertainment/Getty Images
It goes without saying that Kim Kardashian is a very busy woman. Between her career, running KKW Beauty, and her family, it doesn't seem like she has any downtime, and now, she's admitting that it does take a toll on her marriage. On Sunday night's episode of Keeping Up With The Kardashians, Kim said she neglects Kanye West in favor of her kids, and even though her relationship should definitely be a priority, having three kids (including a baby and a toddler) is a huge job.
On the episode, Kim addressed the fact that she's been busy making sure that Chicago doesn't take any attention away from her other kids, North and Saint, and because that takes up so much of her time and energy, she doesn't have a lot left to give to Kanye. She said:
"I think so many husbands feel neglected when you start having kids and then all of their attention gets taken away. I remember it was really hard for North when Saint was born, so I kind of put everything into North to make her feel extra special. And now with Chicago, I'm trying to work even [harder] to make sure North and Saint feel like they have enough time with me and they feel super loved and that no one is going to take their place."
It makes sense that Kim's focus would be on the kids over Kanye — after all, he's an adult who can take care of himself, and Chicago depends entirely on Kim for everything, while North and Saint still need their mom for a lot of things, too. At the end of the day, she's probably exhausted, so hopefully, Kanye is understanding of how difficult this part of parenting can be... and that he's also wrapped up in raising their children, too.
Khloé also said that Kim "really has to" make time to take care of Kanye, which is true, but her struggle is something any parent with young kids can relate to. It's hard to manage your time when you have three children, but prioritizing your relationship is important, too.
And where Kanye is concerned? It seems like Kim "neglecting" him might also do with a habit of his that's been frustrating her lately. On KUWTK, she said that he tries to take control over her Instagram feed, which she says she would never allow.
"I was like, 'Oh my God, I can't sit here and organize my Instagram with you,'" Kim said in a scene where she was having a conversation with Kourtney. "He's like, 'I care. Trust me.' He's always right in the end, but I'm just like, it's my Instagram — you can't tell me what to post. That's like, the one thing. No one will tell me what to post. I'm allowed to have an opinion."
Kanye has always taken a hands on approach to his wife's image — she's opened up about how much input he has on her wardrobe many times before. But obviously, Kim has built her massive social media success on her own without his help, so maybe Kanye should have a little more faith in her.
Good for Kim for standing up for herself — and hopefully, after she survives these years where her kids are so little, she'll be able to dedicate more one-on-one time to her husband. For now, though, it seems like she's doing a pretty awesome job.