This Story About How Kim Kardashian & Busy Philipps' Friendship Began Is Too Funny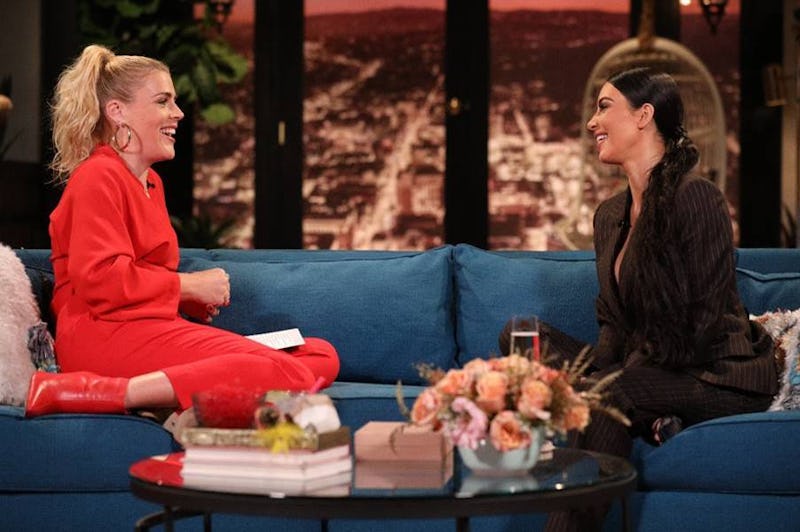 E!'s Busy Tonight/Jordin Althaus
During Kim Kardashian's recent appearance on Busy Tonight, the reality star and the host, Busy Philipps, couldn't help but bond over the unlikely source of their friendship. So, how did Kim Kardashian and Busy Philipps become friends? It all had to do with some very creative candy hearts.
Kardashian and Philipps decided to take a note out of the E! True Hollywood Story playbook — which was a documentary series on E! that gave viewers an inside look into the entertainment world — in order to recreate the story of how they originally came to be friends. The Keeping Up With the Kardashians star was the one to actually share the tale, with the host donning her best Kardashian and Kylie Jenner looks for the reenactments.
In the video, Kardashian explains that she was on a mission to get Philipps one of her large, breakable chocolate hearts complete with a little mallet, that were created to celebrate her Kimoji fragrance launch. "So I get, I see a tweet from Busy asking for one of the hearts but I didn't have any more so I didn't know what to do," the reality star recalled. Since she didn't have any more candy hearts to send to the actor, she had to improvise.
Unfortunately, Kylie had already started chowing down on the chocolate heart. So, Kardashian had to turn to Kendall Jenner, who was in London and hadn't obtained her candy heart, which was in her house. "I text Kendall and said, 'Babe, I need your chocolate heart so I'm going to have someone break into your house and get it.'"
The reality star naturally turned to her mom, Kris Jenner, and her mom's boyfriend, Corey Gamble, for help securing Kendall's chocolate heart. She recalled, in a scene that sounds like it's straight out of Mission Impossible:
"I had him drive over there, break into Kendall's house, steal her candy chocolate heart with the fragrance inside, deliver it to Busy, and that's how she got her chocolate heart. It's a true story. When I told you that story was real, I was stressing, because I really wanted you to have one."
Of course, Philipps shared on social media how she received the fun gift from Kardashian in February. In one video from her Instagram Story (that the actor later posted on her Twitter account), she can be seen opening up the Kimoji-themed present, which she's understandably thrilled to have.
Post-candy heart heist, it's clear that Kardashian and Philipps do have a good friendship, as can be seen during their time on Busy Tonight especially. The late night host also recently posted a fun little ode to the KUWTK star on Instagram when she showed off her Kardashian-approved look (which she wore to portray the star during that fun True Hollywood reenactment). You know what they say, friends who dress like each other, stay together.
The KKW Beauty mogul truly went above and beyond to get one of those fun chocolate hearts for the Busy Tonight host. And considering the great lengths that Kardashian went to in order to secure a Kimoji heart for Philipps, it's really no surprise that the two are good friends now.