Why 'KUWTK' Probably Won't Feature A Kris Jenner Wedding Anytime Soon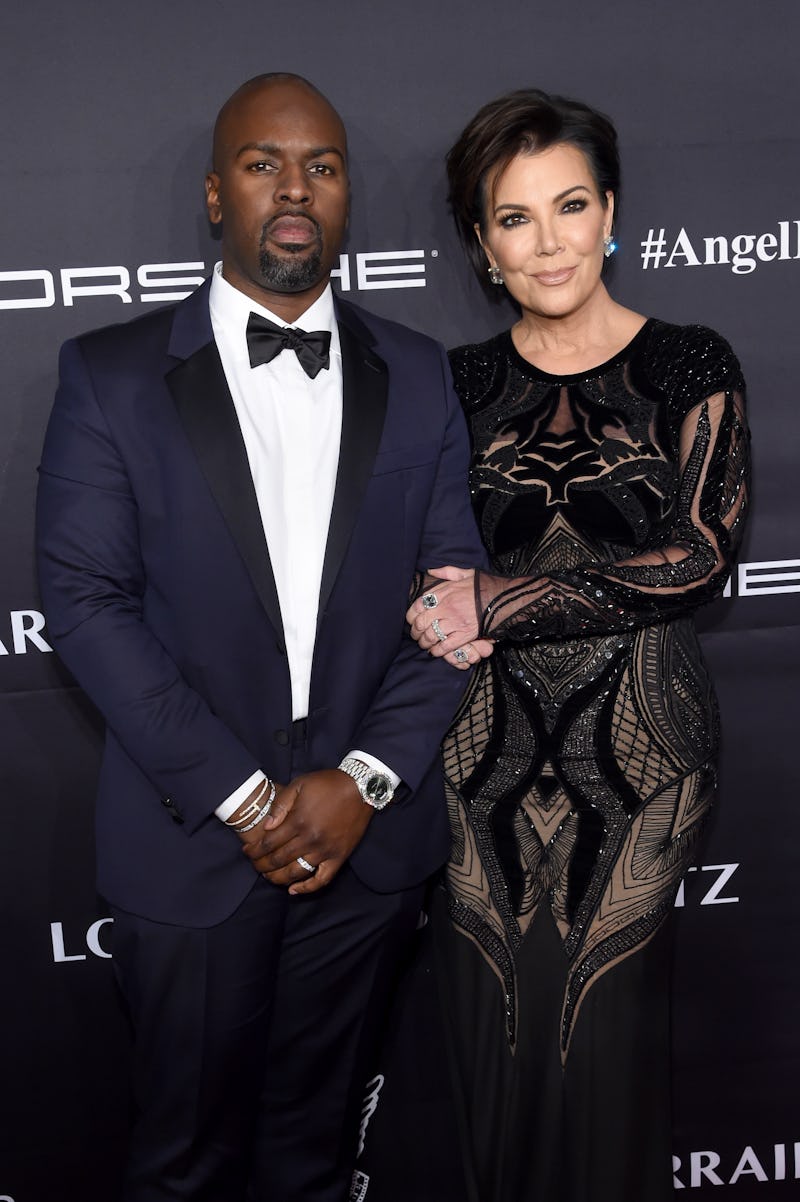 Jamie McCarthy/Getty Images Entertainment/Getty Images
If you were hoping you'd see the Kardashian-Jenner momager's wedding to Corey Gamble on Keeping Up With the Kardashians one day, don't hold your breath. Kris Jenner probably won't get married again, she confessed during the first peisode of Laura Wasser's new Divorce Sucks! Podcast on Monday, according to People. Despite being happy with Corey, her boyfriend of almost four years (they started dating in November 2014), Kris doesn't feel the need to walk down the aisle again at this point in her life.
After being asked, "Do you think you would ever do it again, Kris?" The 62-year-old replied honestly,
"You know, you never say never, but I often say it's just not what I think I need to do again based on my past."
Kris said she's "happy" with Corey and said they have a "really great relationship," but admittedly, she doesn't want "to mess that up." Her logic is totally understandable, but there's an even bigger reason the commitment of marriage doesn't appeal to her right now. She explained,
"I don't have the need to put on a long, white dress and walk down an aisle. I've done that. I've had the big wedding, I've had the babies and the kids — six of them, by the way. It's not like we need to do that again; my body wouldn't cooperate if I wanted it to."
Kris was previously married to Robert Kardashian and Caitlyn Jenner. Her marriage to Robert ended in 1991 after 13 years of marriage. Kris and Caitlyn were married for over 20 years, before splitting in 2013. Kris and Robert had four kids together, Kourtney, Kim, Khloé, and Rob Kardashian. Kris and Caitlyn are the parents of Kendall and Kylie Jenner.
It makes sense why Kris doesn't really want to tie the knot again. She's already done it twice. She's just at a different point in her life and is no longer the same person she was during her first two marriages. She's clearly grown and doesn't want to mess with her current happiness. There's nothing wrong with that. "So, I think to each his own," she told Wasser. "No two people are going to have the same opinion."
Kris also admitted on the podcast for awhile she "didn't understand Kourtney's choice at first" to not marry Scott Disick, the father of her three children, Mason, Penelope, and Reign Disick, before they broke up in 2015 after nine years together. But after Kourtney explained to her mom why she didn't want to, Kris finally understood. "The more her and I communicated, and she told me how she felt and I just felt like, she knows what she's doing," Kris said.
And Kris also knows what she's doing. As long as she's happy and has a great relationship with Corey, that's all that really matters. Like she said during the podcast, "I think that I just feel really grateful and blessed for my past experiences and I'm looking forward to my future and I just don't think that I want to go there."
If she doesn't want to get married right now or ever again, that's fine. In the end, it's her choice and one that should be respected.