Kim Kardashian Just Responded To All That Backlash Over Hiring Private Firefighters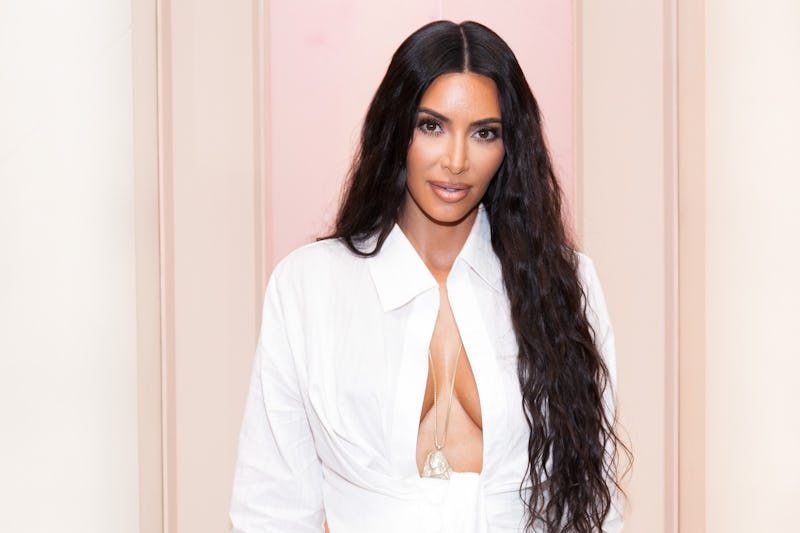 Presley Ann/Getty Images Entertainment/Getty Images
This month has seen devastation for many California residents due to the state's raging wildfires. Kim Kardashian and Kanye West's residence, however, is safe and sound, thanks to a decision she made for her family that sparked a bit of backlash. Now, Kim Kardashian explained why she hired private firefighters — and whatever your opinion is on the matter, her reasoning makes a lot of sense.
During an appearance on The Ellen DeGeneres Show this week, Kim talked about the wildfires and why she decided to take additional measures to protect her home. The Keeping Up With The Kardashians star explained that when one of her friends lost their house in a separate fire, they recommended the private company Kim ended up hiring to protect her home. She told Ellen DeGeneres,
"I feel like we were really blessed to have the help of the firefighters that we did. And our house is right on the end of a big park. So the whole park had caught fire and if our house went, then every other house would go."
Kim also shared that even though her family's house is safe, they're still not living there at the moment, because "the smoke smell is too intense."
Kim also admitted that having private firefighters is a "luxury," and she recognizes not everyone affected by the fires was able to take similar measures. "I don't take that for granted, and that was such a blessing that we were able to do that," she said.
Still, as BuzzFeed pointed out, not everyone supported Kim's decision to hire private firefighters. One person on Twitter suggested that Kim's actions could "remove valuable resources that should be available to all in fighting this disaster." Other people compared Kim's decision to protect her home to what happened to other stars like Miley Cyrus and Liam Hemsworth, who lost their house in the fires.
But what tweets like these aren't explaining is that Kim donated $500,000 to relief efforts in her and her husband's name too. The KKW Beauty mogul shared with DeGeneres that she donated $200,000 to the the California Fire Foundation, $200,000 to the the California Community Foundations Wildfire Relief Fund, and $100,000 to a local firefighter who lost his own house. The donations were made on behalf of West, Yeezy, and Adidas.
Kim's actions protected her home, but she also helped neighbors in the process. And the various donations show that she and West are thinking of those who are less fortunate when it comes to the flames' impact. It makes sense why some fans aren't on board with the decision. But Kim does have more resources than most people, and it's understandable she'd want to do everything in her power to protect her family and their home, too.
Still, as Kim herself has pointed out, not everyone has been as fortunate. As many as 870 people are still missing after the California wildfires, The Associated Press reported on Tuesday. And at least 81 people have been killed by the wildfires, according to the outlet. Other celebrities, like Cyrus, Hemsworth, and Gerard Butler, have also lost their homes. But it doesn't sound like Kim is taking any of that for granted — based on her generous donations, it looks like she's doing everything she can to help other people beyond her own family.