Miley Cyrus Has A Message For Fans In The Wake Of Losing Her Home In The Woolsey Fire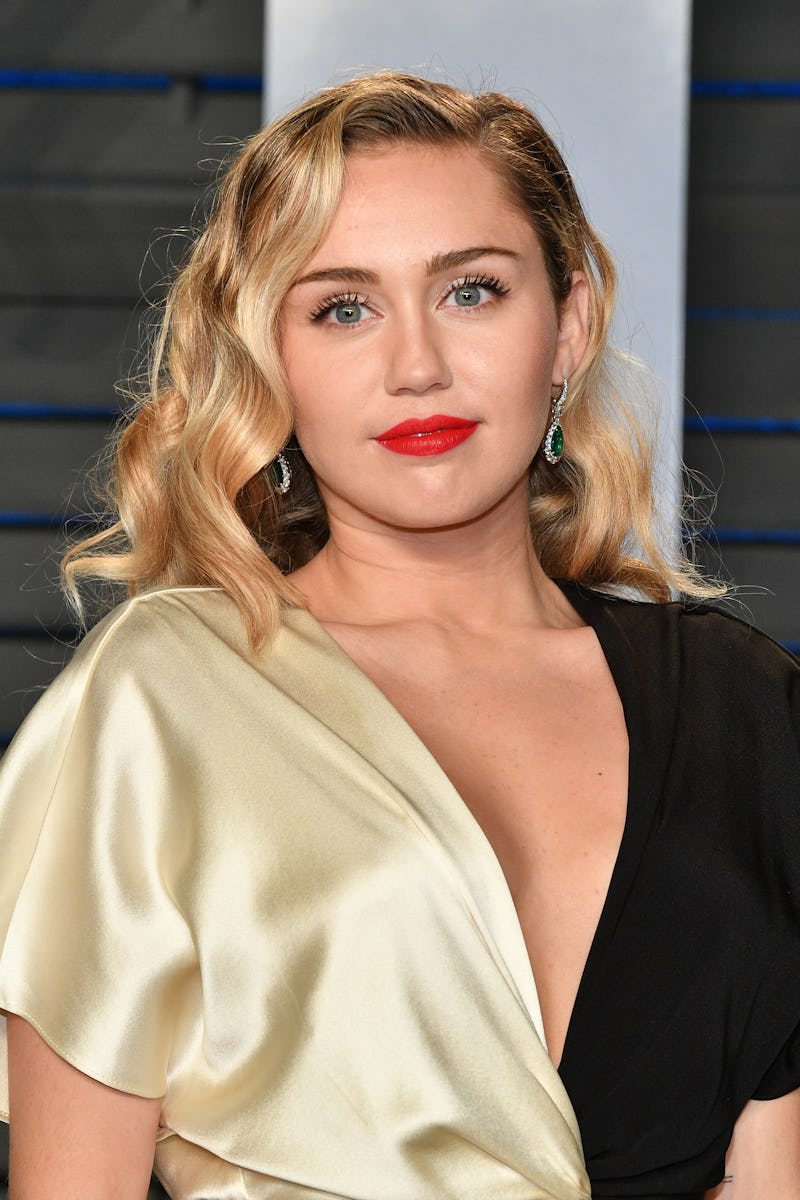 Dia Dipasupil/Getty Images Entertainment/Getty Images
The past several days have led to devastating losses for many who live in the Malibu area due to the wildfires that spread throughout the weekend. And now, Miley Cyrus' name can be added to the list of those who had their homes destroyed as a result. Miley Cyrus confirmed she lost her home in the California wildfires, taking to Twitter to update her fans on the upsetting news. Despite the heartbreaking circumstances she's facing, the singer opted to leave things on a hopeful note with a message about how thankful she is for everything that she still has.
Cyrus' tweet mentioned that she considers herself to be one of the lucky ones since her animals and "love of my life," a clear reference to her fiancé Liam Hemsworth, all made it out of her Malibu house safely before the flames hit. And while it's terrible to see all of your personal possessions destroyed, she is choosing to remain positive in light of everything.
"Completely devestated [sic] by the fires affecting my community. I am one of the lucky ones. My animals and LOVE OF MY LIFE made it out safely & that's all that matters right now," Cyrus tweeted late Sunday night. "My house no longer stands but the memories shared with family & friends stand strong."
The message, which continued throughout a series of back-to-back tweets, continued:
"I am grateful for all I have left. Sending so much love and gratitude to the firefighters and LA country [sic] Sheriff's department! If you are interested in getting involved see next tweet.... Donate $, Time, Supplies I love you more than ever, Miley"
Additionally, she provided links to all the different places people can donate to in order to help with the aftermath of the fires, which have scorched 83,000 acres of Southern California, according to Entertainment Tonight. Firefighters are still trying to contain the fires days later.
The pop star isn't the only celebrity to be impacted by the Woolsey fire. Gerard Butler took to Instagram on Sunday to share a photo of the burnt down remains of his home, though he was grateful for all of the heroic work the firefighters are doing to help stop the fire in its tracks before this can happen to countless others.
"Returned to my house in Malibu after evacuating," Butler said in his caption. "Heartbreaking time across California. Inspired as ever by the courage, spirit and sacrifice of firefighters." The actor also provided video footage on Monday of other homes and neighborhoods in the area that were completely destroyed by the fire in the hopes that the reality of the situation will inspire others to donate and support the efforts to help those who lost everything. The caption to the video reads:
"Driving around Point Dume on Saturday. My heart aches for all those who lost their homes and their lives in California. I was one of the lucky ones, my home was only partially destroyed. A lot of people lost everything and will have to rebuild from scratch. I am ok and so grateful for all of the well wishes. Please turn your support to those who need it most here, and throughout California. There's a Go Fund Me to help people across the state affected by the fires. Please join me if you can. Link in bio."
It's nice to see both Cyrus and Butler use their platform for the greater good. Let's hope the extra support is able to help those suffering through this disaster, and help these two stars as they move forward in the aftermath of losing their homes.