Kim Kardashian Tells Us Why She Wore Fulani Braids To The MTV Movie Awards — EXCLUSIVE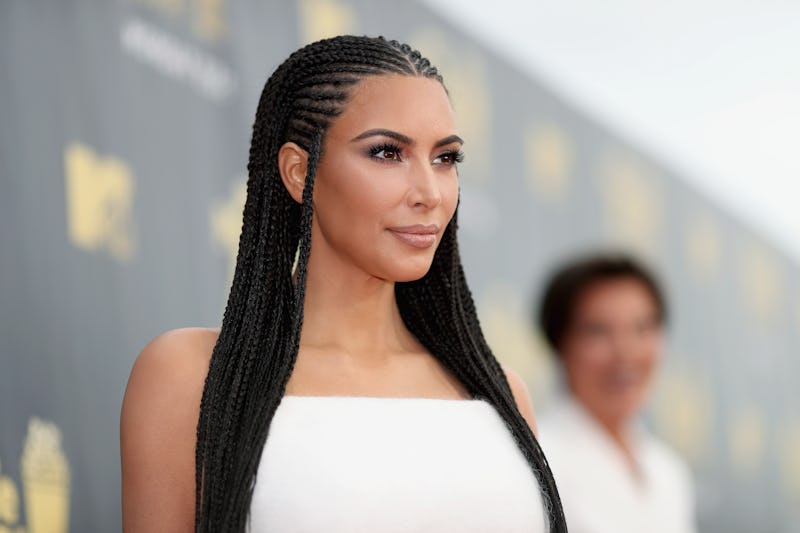 Christopher Polk/Getty Images Entertainment/Getty Images
Kim Kardashian West wants to set the record straight: she knows full well what fulani braids are and she is not trying to offend anyone when she wears them. In an interview at the opening of her inaugural KKW Beauty and Fragrance pop-up at Westfield Century City in Los Angeles, the beauty icon and entrepreneur tells Bustle why she continues to wear her hair in braids despite the backlash she keeps receiving from both fans and critics on the internet.
Most recently, Kardashian West was seen wearing fulani braids to the 2018 MTV Movie & TV Awards on June 16, sparking another outcry on social media. While the reality star says she wasn't aware that fans were disappointed with her red carpet look, she explains that her decision to wear her hair in braids that evening was something very personal.
"I actually didn't see backlash. I actually did that look because North said she wanted braids and asked if I would do them with her. So we braided her hair and then we braided my hair," Kardashian West explains. North West, Kardashian West's 5-year-old daughter, has naturally curly hair and is often spotted wearing them natural or in braids. It's clear that Kardashian West supports and celebrates her daughter's natural, biracial hair and it also makes sense that North would ask her mom to match her hairdo — you've seen mothers and daughters with matching hairstyles for as long as mothers and daughters have existed.
Still, Kardashian West gets why you're so mad. She recalls the first time the internet erupted over her choice to wear her hair in fulani braids and completely understood why everyone was so angry. Generally the backlash was not that she wore braids, but that she credited the style to a white woman.
"I [do] remember the backlash when I had the blonde hair and that I called them 'Bo Derek braids.' But I obviously know they're called fulani braids and I know the origin of where they came from and I'm totally respectful of that. I'm not tone deaf to where I don't get it. I do get it," Kardashian West says. When the mother of three wears her hair in braids, she claims she wears them in honor and with respect of the culture who originated the style — the Fula people from West Africa and the Sahel Region — and at the very least, to celebrate her daughter's hair.
"Maybe if I had come out and explained that from the beginning instead of calling them 'Bo Derek braids,' then it wouldn't have gotten such backlash. But in no way am I ever trying to disrespect anyone's culture by wearing braids. If anything, my daughter was so excited to see me get matching braids with her. [When] we did her hair in these braids, she was so excited."
Kardashian West's hair has not been the only topic of discussion as of late — she has also received flak for how she styles North's hair. Last week, the mother and daughter pair were spotted walking around New York City where North debuted a new look — straight hair. People took to Twitter and Instagram to yet again express their dismay in Kardashian West's decision to straighten her daughter's naturally curly hair, some even accusing her of getting it professionally treated or adding extensions. Kardashian West tells Bustle the real story behind North's temporary new hairstyle.
"She wanted to try straight hair so I said she could try it for her birthday party and then if she liked it, she could do it in New York for her birthday. It's very limited to just that. And she knows that," Kardashian West explains. "I think everyone thought it was this crazy pressed thing — I mean, I just used a flat iron and everyone was saying she was wearing extensions and I was like, 'No, she has curly hair, so that's what the length of her hair is when it's straightened.' I was just seeing these things that [people were saying] online and they were just ridiculous."
When asked if she feels the need to protect North from all the chatter and criticism on Twitter, the KKW Beauty mogul replies enthusiastically, saying, "Absolutely!" Luckily, Kardashian West says, North is still so young and has no idea that people are even talking about her. "I'm not going to comment on everything and get all worked up over it because I wasn't doing anything harmful and she loved it and she had fun with this new look and she was feeling it. She had a great birthday weekend," Kardashian West says.
When North does get older and begins to explore and experiment with her own beauty identity, her mom has some sage advice for her. "I think it's really fun to experiment and try new things. [I would tell her to] do what makes you happy as long as it's nothing permanent and [if] you want to try and experiment with something, let's try fun, new things."
This idea of Kardashian West wanting to experience things together with her daughter is clearly important to her as a mom. And while this could open up a larger conversation about the fine line between supporting your biracial child and appropriating their culture, one thing's for sure: Whether you agree with Kim Kardashian West's beauty choices or not, she won't be letting North battle the world of internet critics alone.