Kim Kardashian Explained Which Sisters She Goes To For Mom Advice & Why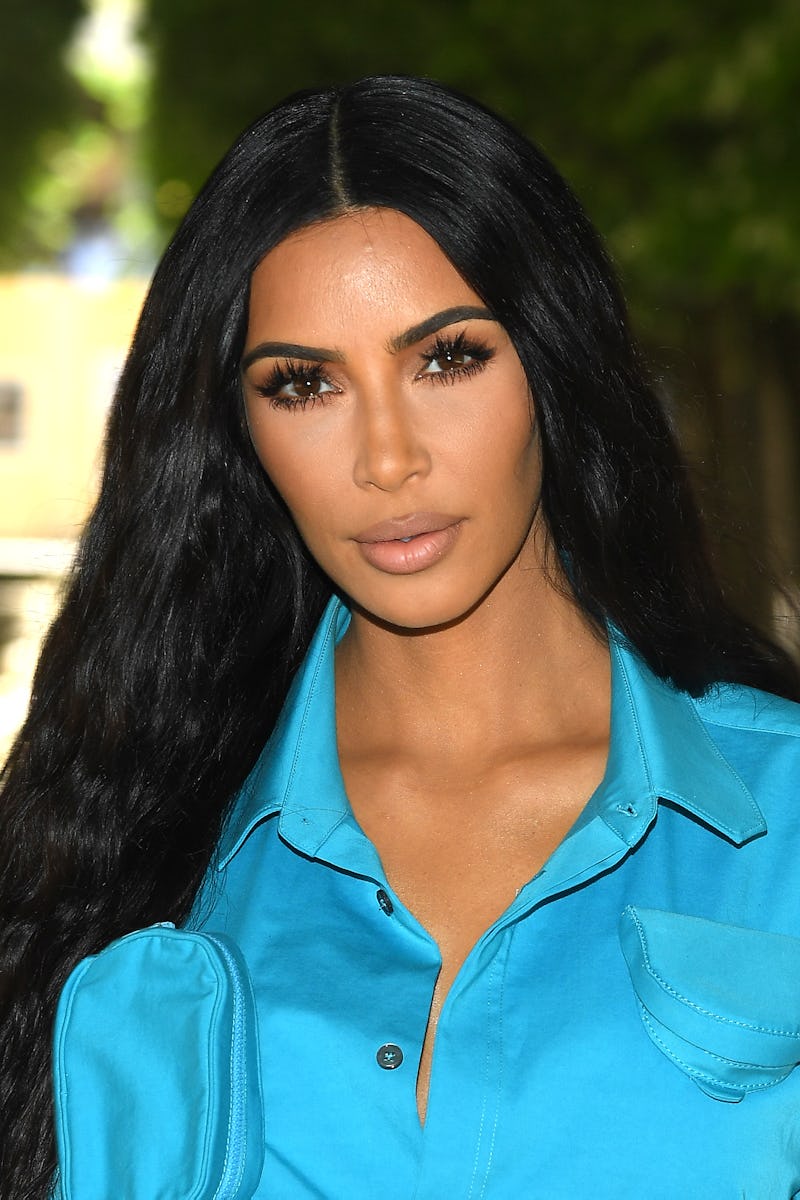 Pascal Le Segretain/Getty Images Entertainment/Getty Images
There are a lot of benefits to being part of a large family. like always having someone to play with when you're a kid. But when you're an adult, those benefits change, and for the Kardashians, it seems like getting advice from several different sources is a big one. While talking to E! News, Kim Kardashian said she gets mom advice from each of her sisters, because all of them have something different to offer. Sounds like a pretty solid parenting support group.
Even though Kim already had children of her own, it has to be pretty cool to welcome a new baby just months apart from two of your sisters having their first kid, and so far, it sounds like this is an experience they've loved sharing — even though each of her sisters is good for different kinds of advice. And according to Kim herself, Kylie is the one she's been going to for mom talk most often these days, even though she and Khloé agree on parenting things more.
She told E!:
"Lately, it's been Kylie. Kylie is up on all the new gadgets and the new baby stuff. But Khloé and I probably have the most similar parenting style and I will usually go to one of my best friends Larsa Pippen because she has four kids for mom advice."
But that doesn't mean Kourtney is left out. Even though she didn't have a baby this year, she still has three kids of her own, and despite the fact that Kim said they disagree on their parenting methods often, they still debate it out.
"I think we're even closer now because Kourtney and I, even if we don't disagree on some parenting tips, we'll discuss them thoroughly and we respect each other's rules, but we pick up the slack for each other too. I know that if Kourtney's out of town, then the kids will sleep at my house and we'll plan these fun things where the kids always feel loved. We're always helping each other out."
If you're a fan of Keeping Up With The Kardashians, you already know how true this is — Kourtney and Kim's kids seem to be more like siblings than cousins a lot of the time, especially North and Penelope. We've also seen some pretty hardcore fights between the sisters on KUWTK, so it's pretty cool that they've gotten to a place where they appreciate their differences rather than argue about them.
And now that Khloé has finally moved back to LA with baby True after living in Cleveland for the first part of her little one's life, it sounds like these sisters are all closer than ever.
"I definitely feel like we are more connected now especially that Khloe's back and we're hanging out with all the babies," Kim said. "All the kids want to hang out. It's just a whole different experience now. It's so much fun."
They haven't shared much of what they've been doing since Khloé got back from Cleveland just yet, but hopefully that's coming on KUWTK. Seeing Stormi, Chicago, and True together would be way too adorable, and judging by how we've seen Kim and Kourtney's kids get along in the past, there's a good chance they'll all grow up to be super close.
Now that four out of five of the Kardashian-Jenner women are moms, it's going to be so much fun to see how they (and their little ones) interact as their kids grow up together. No matter what happens on their parenting journey, these moms always have each other. Isn't that what sisters are for?