Kim Kardashian Hires A Surrogate To Carry Their Third Child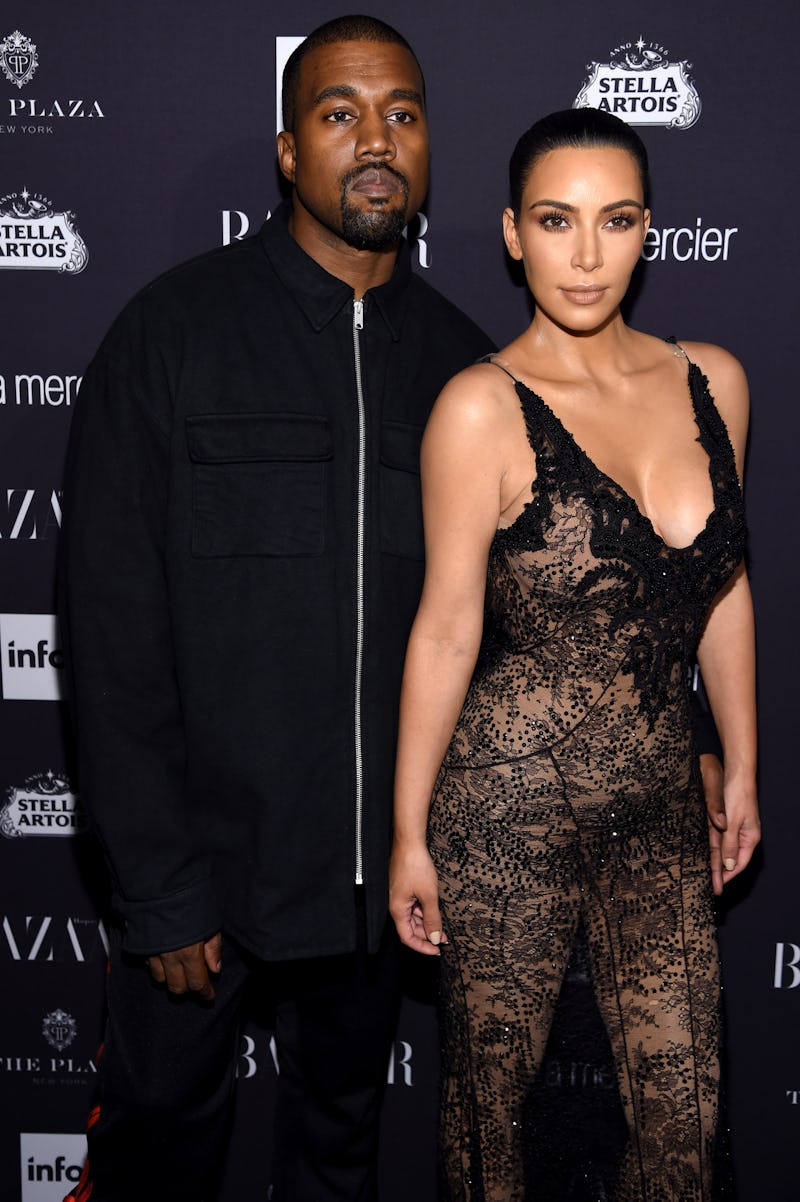 Dimitrios Kambouris/Getty Images Entertainment/Getty Images
Just days after Beyoncé and Jay-Z expanded their brood, the Kardashian/West family may have news of their own — according to People, Kim Kardashian and Kanye West are hiring a surrogate to carry their third child. The couple, who are already parents to four-year-old North and 18-month-old Saint, have expressed their desire for more children, and for Kim — who has been open about suffering from pregnancy-related health problems in the past — this unconventional method may be the healthiest solution. Bustle has reached out to reps for Kardashian and West for comment, but has not yet received a response.
According to People, a "close source" confirmed the couple's decision. It is relatively unsurprising considering that Kim has shared both on social media and Keeping Up With The Kardashians her struggles with placenta accreta, a condition where the placenta attaches itself too deeply into the uterine wall. "My doctor had to stick his entire arm in me and detach the placenta with his hand, scraping it away from my uterus with his fingernails," Kim wrote in a blog post in 2015. "How disgusting and painful!!!" Later, she shared, she had to have surgery to remove a part of it that the doctor couldn't access. In her first pregnancy with North, she experienced issues as well, diagnosed with preeclampsia that led her to be induced at 34 weeks, a full six weeks ahead of schedule.
Despite the complications of her pregnancies, Kim has always been forthcoming about her desire to have more children — particularly in the wake of the robbery of her hotel room in Paris. She even had a procedure done last year in the efforts to allow a third pregnancy. However, it appears based on reports that she has reconsidered what would undoubtedly be a "high-risk" pregnancy.
"I've come to the conclusion in my mind that I can't carry another one. So now I want to explore surrogacy," said Kim to her mother, Kris Jenner, on Keeping Up With The Kardashians. Now, according to People, that exploration is coming to fruition — what is still unknown is who exactly the surrogate will be (although Chrissy Teigen has offered in the past, and let's be real, those tweets would be gold).
More to come ...