Kim Kardashian Is Changing The Name Of Her "Solutionwear" Brand After Backlash From Fans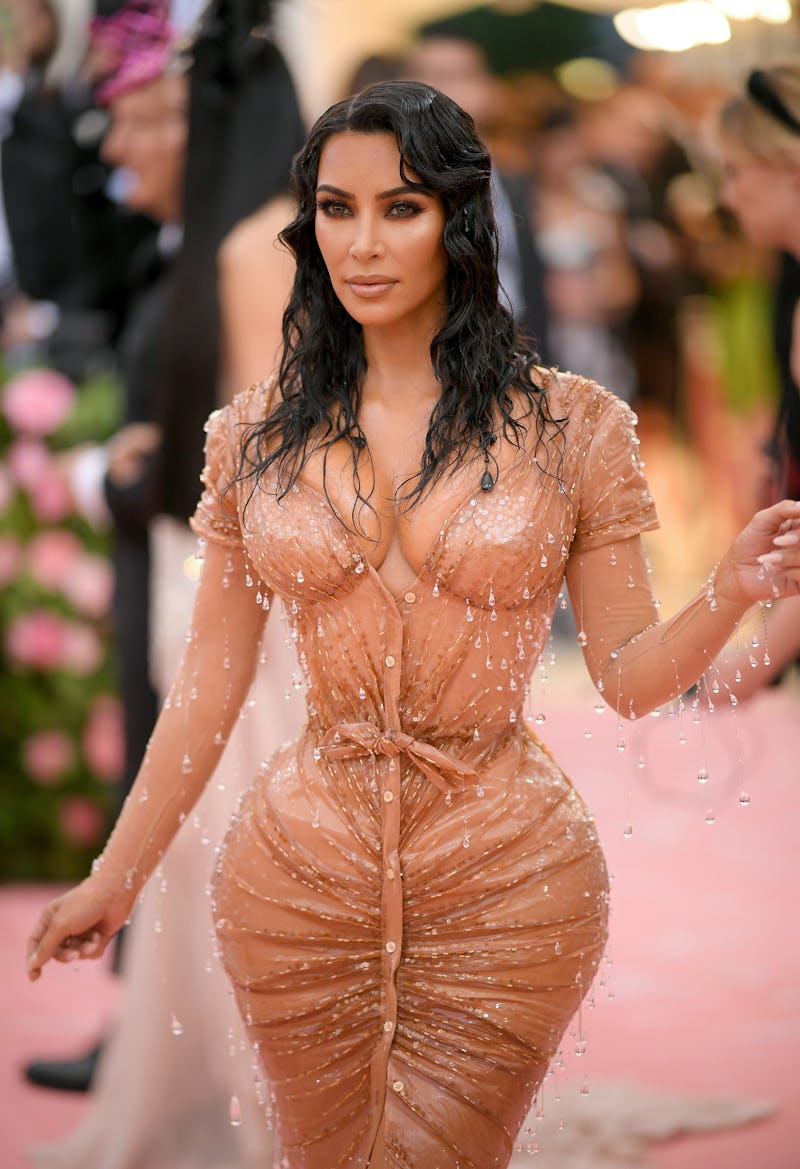 Neilson Barnard/Getty Images Entertainment/Getty Images
On June 25, Kim Kardashian announced her new "solutionwear" line, Kimono. The collection of size inclusive shapewear, however, soon came under fire from fans due to its name. Now, according to an Instagram announcement from the reality star, Kim Kardashian is changing the name of her Kimono "solutionwear" brand.
Kardashian debuted the size and color inclusive range of shapewear less than a week ago on Instagram. In the first images for Kimono, fans could see a diverse range of nude colored pieces in various designs that Kardashian explained in an Instagram post that she'd created herself. According to the KKW Beauty owner, she has cut up shapewear for years in order to get the styles she needed, and she often had issues finding pieces that matched her skin tone. Kardashian explains that this is what has made her "passionate about [shapewear] for 15 years. Kimono is my take on shapewear and solutions for women that actually work."
Following the announcement, however, backlash began over Kardashian's use of the word "kimono" for her brand and her trademarking of the word, People originally reported. In fact, according to Dazed, the mayor of Kyoto, Japan, Daisaku Kadokawa, released a statement inviting Kardashian to come to Japan to experience kimono culture for herself and urging her to not trademark the traditional word.
While initially, Kardashian stood by the name, she has now made the decision to change it according to her Instagram post.
In her post, Kardashian explains that part of being a successful entrepreneur has been her ability to connect to her fans and the public. She goes on to state that she is always "listening, learning and growing" from the perspectives being brought to her, and when she initially launched Kimono, she did it with good intentions. At the end of her statement, however, Kardashian announces that she will be changing the brand's name.
She writes, "My brands and products are built with inclusivity and diversity at their core and after careful thought and consideration, I will be launching my Solutionwear brand under a new name. I will be in touch soon. Thank you for your understanding and support always."
There is no new confirmed date for the line's release, although reps for the brand did confirm to Bustle that the launch will be pushed back from its original July 16 date. However, Kardashian's range of undergarments was already extensive, with sizes beginning at XXS and ending at a 4X with nine different shades of nude. If the pieces were not already marked with a Kimono label, it seems possible that the formerly named Kimono could rebrand relatively quickly.
For now, however, fans of Kardashian and her endeavors will simply have to wait until the KKW Beauty founder and reality television star has created a new name for her "solutionwear." In the meantime, though, Kardashian has no shortage of ventures — from her beauty line to her fragrances — for her fans to shop.