Kim & Kanye's Private Vow Renewal Ceremony Sounds Like The Most Un-Kimye Event Yet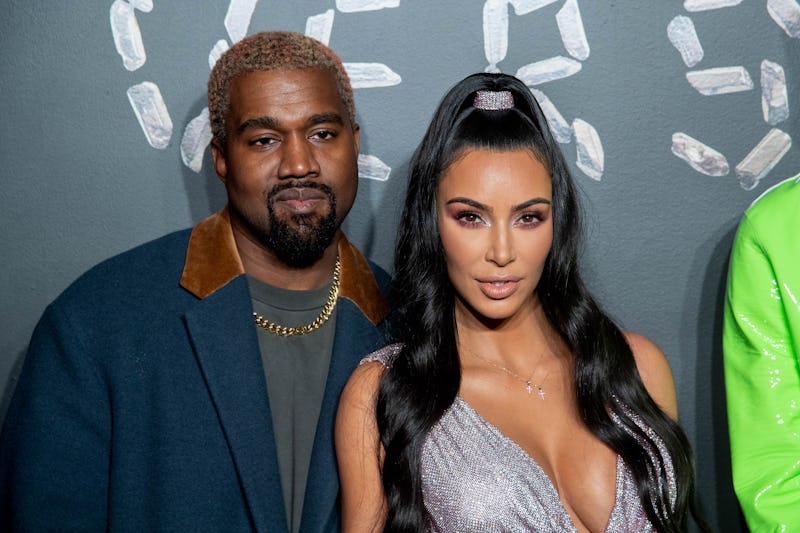 Roy Rochlin/Getty Images Entertainment/Getty Images
From a cheating scandal-fueled breakup to back-to-back cousin births to dramatic family ski trips, it seems like every possible Kardashian-Jenner family milestone has played out on Keeping Up With the Kardashians. But when it came to Kim Kardashian and Kanye West's recent vow renewal, they decided to opt for an event so private that the public is only just finding out about it now — five months later.
On Sunday's episode of KUWTK, Kardashian explained she organized a vow renewal in honor of her fifth wedding anniversary with West. Not only was it "so special" since all of Kimye's kids could be part of it (including the newest addition baby Psalm, who was born May 10), but Kardashian even invited back the same pastor who married them the first time around. She also tried to get her whole wedding party back for the event, which she described as "something fun and sweet in our backyard."
While KUWTK cameras weren't able to capture the actual vow renewal attended by the couple's family and friends (and all four of their children), the reality star shared the first line of vows that she practiced rehearsing with her son Saint filling in for West. "You are my husband. You are my best friend. My biggest believer and my one true love," she said.
Despite the low-key event, their past wedding festivities were anything but. According to Refinery29, West's 2013 proposal to Kardashian cost him upwards of $3 million. At the time, the rapper took his then-girlfriend and mother of their newborn daughter North to San Francisco, where he surprised her with a grand proposal in the city's AT&T Park, complete with an orchestra and family and friends looking on, as well as KUWTK cameras (the episode aired in February 2014).
Kardashian and West's 2014 wedding leaned more private, since they didn't actually allow the show's cameras inside. Leading up to the big day, however, the wedding festivities included: a serenade from Lana Del Ray at a pre-wedding party in France, a horse-drawn carriage entrance to that party, and then a surprise move to an entirely different country for the actual ceremony, which took place in a fortress in Florence, Italy.
Wedding guests were reportedly asked to sign NDAs and avoid using cellphones, although Kardashian later practically made Instagram explode with her flower wall photo from the big day.
While KUWTK cameras didn't capture the recent vow renewal either, someone on the Kardashian-Jenner family is bound to post something, right? Even if it's North taking over Kim's instagram "on accident." Come through, Northie.