Kim K Matched Her Neon Green Hair To Her Lamborghini & Apparently This Is A New Trend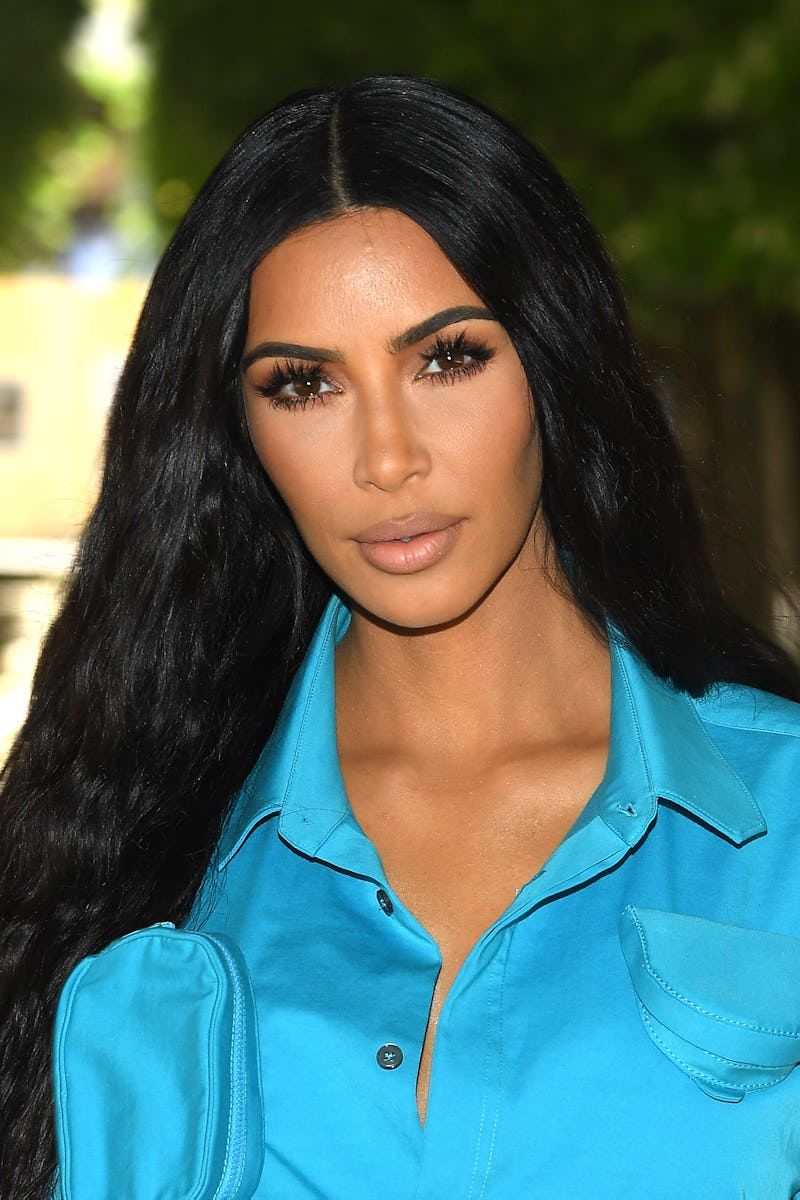 Pascal Le Segretain/Getty Images Entertainment/Getty Images
If there's anyone that loves to switch their hair up regularly, it's the Kardashian-Jenner family. But this time it's big sisters that are playing with color. As People Style found, Kim Kardashian dyed her hair neon to match her Lamborghini. Because apparently that's a thing that celebrities do now.
Kylie Jenner might have added $8,000 worth of hair to her head overnight, but Kardashian is one-upping her. She switched up her traditional dark hair for a neon green wig than almost touched the floor. Strike that. It almost touched the gas pedal on her matching neon green Lamborghini as she drove through the streets of Miami.
Kardashian referred to the style on Instagram Stories as "high-maintenance hair," as her hair stylist, who came to the restaurant with her, brushed through her hair in the bathroom. The look was a whole lot different than her natural, dark hair that she has been rocking during her time in Miami.
The KKW Beauty founder is feeling the neon lately. She wore a neon pink Chanel outfit to go boating in Miami just a day before the hair transformation, according to her Instagram. She also rocked the bright color to Jenner's 21st birthday party.
But she took it a step further and matched her Lamborghini to her locks this time. "Had to get a neon green lambo to match my hair," Kardashian said on her Instagram Stories.
If this story sounds familiar, it's because it is. Earlier in August, Cardi B matched her hair to her Lamborghini as well. Cardi B's color of choice was neon blue. She actually came to visit the Kardashian-Jenner's home with the unconventional hair color, so there's a chance that Kardashian was inspired by the singer's locks and decided to do it herself.
Of course, there is one major difference from the inspiration. Cardi B was inspired by the color of her car first, while Kardashian decided on her hair color first. Either way, this seems to be the new celebrity trend. Because apparently matching your purse to your shoes is for peasants.
As for how long Kardashian will rock the neon green, aka yellow, hair, it seems like this trend is going to come and go fairly quickly. The 38-year-old put up a photo of herself with her natural hair color, saying that she loves it.
"The neon wig last night made me realize I really love my dark hair," Kardashian's Instagram caption reads. "So posting it three times!"
It looks like this trend will only last a night, which seems to run in the family. Jenner recently spent $8,000 on a hairstyle, only to take it out the very next day. She hasn't matched her hair to her car yet though. Unless you count her icy blond hair and the white vintage car that Travis Scott got her for her birthday.
If more celebrities started matching their hair to their cars, it would come as no surprise. Celebrities love to follow along with bizarre beauty trends like this — Cardi B and Kardashian are proof. Ah, to be famous.