Kim Kardashian Posted A Pic Paris Hilton Took Of Her In 2007 & It's Very… Um, 2007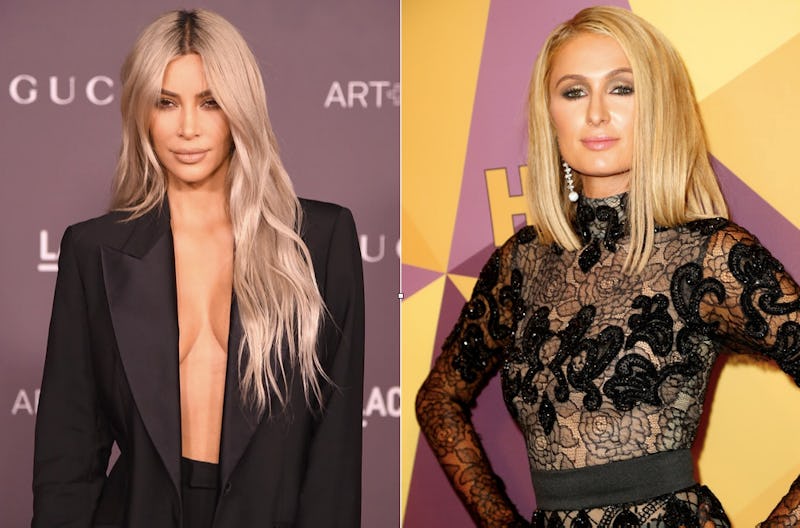 Kevin Winter/Getty Images Entertainment/Getty Images; Frederick M. Brown/Getty Images Entertainment/Getty Images
Apparently, Kim Kardashian and Paris Hilton are reviving the oldies. Kardashian shared an old photo taken by Hilton with her Instagram followers Tuesday night, dispensing nostalgic shockwaves through the channels of cyberspace. In this case, "oldies" really just means "mid-2000s." But, as post-millennial social media mongers already know, in technological years, 2007 might as well have been a lifetime ago.
As far as reminiscence goes, the throwback snapshot — which Kardashian posted to her Instagram account Tuesday night, Feb. 6 — seems to get the job done quite well. The grainy photo, snapped by Hilton back in 2007, flaunts all the typified markers now associated with the rookie digital days of yore: a noticeably younger Kim K (think: early days of KUWTK) sprawled out on a lounge chair, wearing a pair of oversized sunglasses and a white string bikini with that giant ring detailing that was all the rage. The snapshot probably couldn't be more egregiously "2007" if it tried.
But, just in case picture's fuzzy overtones didn't give it away, Kardashian's caption certainly did. "2007 pic taken on my blackberry by @parishilton," the reality star wrote. It was taken on a Blackberry!
It's definitely a marked departure from Kardashian's current social media aesthetic, which, at least on Instagram, generally touts a stacked lineup of photos that scream "overwhelmingly glam" much more than "overwhelmingly outdated." But, as is customary in the business of social media throwbacks, "outdated" is usually synonymous with "charming." Of course, when it comes to the cyber workings of Kardashian (as well as most of the Kardashian-Jenner family, really), "charming" still tends to look pretty glamorous.
Not long after Kardashian's throwback photo graced Instagram, Hilton commented, confirming that she too enjoys a nice, wholesome trip down memory lane. "Such a fun girls trip!" she wrote.
Kardashian and Hilton's friendship has been one for the books for quite some time. Back in 2003, following the release of Hilton's sex tape and the subsequent rise of her reality show, The Simple Life, Kardashian and Hilton's friendship began to garner its first hearty bout of attention. FYI, for those in need of a brush-up on their early 2000s pop cultural knowledge: Before Kim Kardashian was Kim Kardashian, she was Hilton's less famous friend. Kardashian appears on a couple episodes of The Simple Life — sometimes to gossip with Hilton; other times, to organize her closet. Oh, how the times have changed.
And, while Kardashian and Hilton's high-profile friendship reportedly suffered some kind of grave (albeit, somewhat mysterious) falling out back in 2009, it looks there's a friendship revival going on between the socialite duo. Hilton, who has long abandoned her reality star aspirations and now touts an unbelievably successful DJ career, has been buddying up to the Kardashian-Jenners in recent months. Hilton recently modeled for Kanye West's Yeezy Season 6 campaign, donning a get-up meant to represent a "Kim clone." Hilton took to social media last week, sharing several photos from the campaign, which saw her channeling her best Kim K vibes:
Kardashian also sent Hilton one of her special Valentine's Day perfumes that were cased in a box of solid chocolate:
The former reality star also took to Instagram Tuesday night, Feb. 6, to post a sweet photo of herself posing alongside Kris Jenner, the famed Kardashian momager. "#GirlsNight with @KrisJenner," Hilton captioned the photo, which sees the pair hugging sweetly, as one might embrace the mom of their childhood BFF. She also posted the following pic on Twitter:
And when it comes to Kardashian's throwback pic the Blackberry snapshot does serve as more tangible proof that, as far as the pair's friendship goes, it seems Kardashian and Hilton are getting back on track.